The Best Food Processors And Blenders In 2022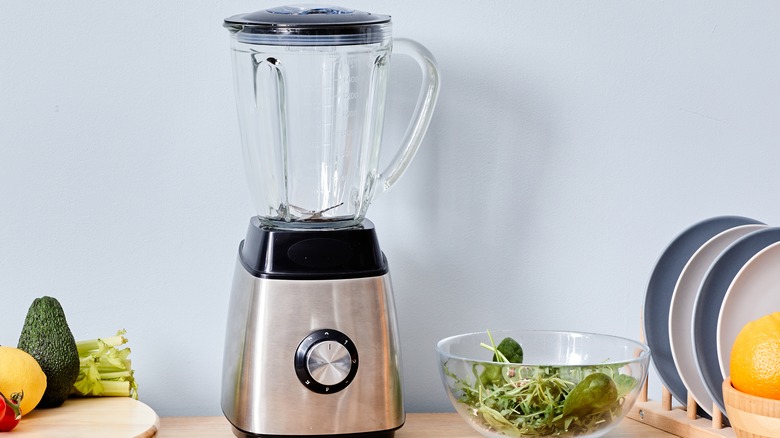 SeventyFour/Shutterstock
We may receive a commission on purchases made from links.
There are hundreds of kitchen items in existence that are totally unnecessary. Most of us probably have something sitting idly in our drawers we wish we could return (here's looking at you, avocado cutter). When it comes to deciding whether to purchase an item for your kitchen, a good rule to follow is Alton Brown's – if it only has one use in the kitchen, you don't need it.
You might have previously thought of a food processor or a blender as one of those kitchen items. Unless you make smoothies every day, it probably seems unnecessary. But we're willing to argue that this kitchen item is actually very, very necessary — even if you hate smoothies. Food processors can chop, dice, shred, and mince. They can aid in meal prep and are the secret to homemade tahini and nut butter. Food processors can be used to make soups, sauces, and so much more. If you fancy yourself a home chef, you need a food processor.
And if you're going to buy a food processor, you should buy a good one. Lucky for you, we've rounded up the best ones worth purchasing. 
How we chose the products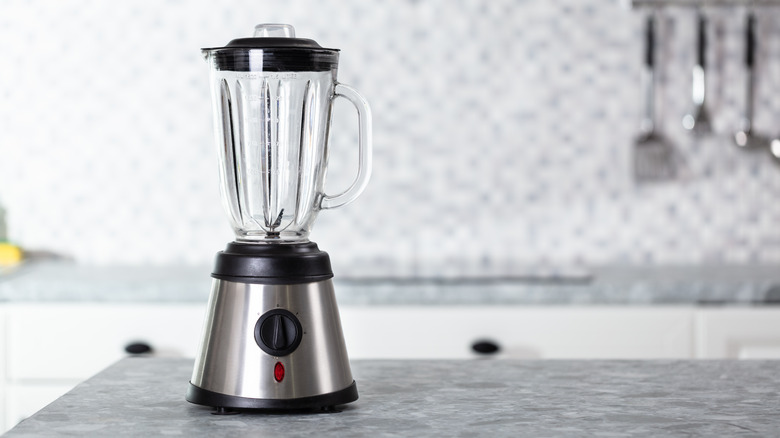 Andrey_Popov/Shutterstock
To choose the food processors and blenders for this list, we followed a step-by-step process to ensure only the best of the best made the cut and that our options served practical purposes. What good is a list of the best food processors and blenders if they don't meet determining factors we use to choose before buying?
First, we chose our categories, catering each to points of consideration we take into account before purchasing kitchen appliances ourselves. Once we had the categories locked in, we started sifting through brands and finding which of their products met our criteria.
Once we'd rounded up our choices, we compared and contrasted the different food processors and blenders. Some could fit into multiple categories on our list, but we thought carefully about each one's elements and deliberately placed them into their final spots. To finish, we factored in customer reviews until we had a clear choice for each category.
Best overall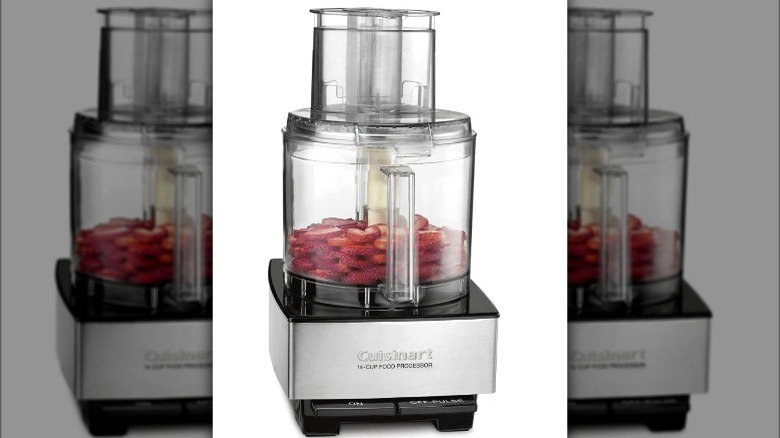 Amazon
Kicking off our list of best food processors is the holy grail of food processors — the Cuisinart 14 Cup Food Processor. For years, this instrument has been used to do everything in the kitchen from making sauces to chopping fruit and shredding vegetables. People have loved it for decades because it not only fits just about everything you could need, but works incredibly well, too.
Cuisinart's food processor buttons allow for choice with a power button that lets the processor do its magic, as well as pulse, where you can control the shredding a little bit more. The Cuisinart food processor comes with a slicing disc, a shredding disc, and a chopping blade, and though the entire thing can't be put in the dishwasher, some of its parts are dishwasher safe. It's easy to store and relatively easy to clean, and almost everyone who's ever purchased one has been enamored with it from the start.
The reviews are outstanding, and this machine continues to prove itself after years of being in production. People love it for different reasons. As one reviewer noted, this machine is made to last, and another reviewer echoed that. "The base is very heavy and feels very sturdy ... The motor is very high quality as it's insanely quiet in operation compared to any kitchen appliance I've used."
At the time of this writing, you can purchase the Cuisinart 14 Cup Food Processor on Amazon for $230.
Best budget food processor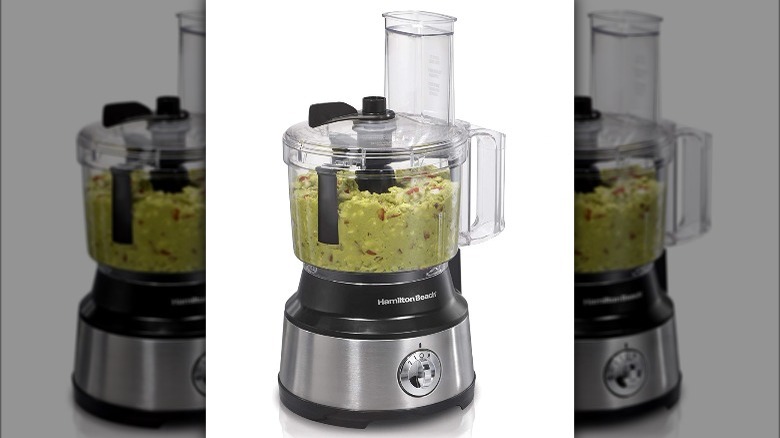 Amazon
We all want to have fresh guacamole whenever we want without having to mash our avocados ourselves, don't we? We can confidently say that yes, we do all want that. But we understand that's not always feasible as food processors can be very pricey. Luckily, there is a food processor that is inexpensive and works well, and that is the Hamilton Beach Food Processor & Vegetable Chopper.
The reviews on this machine are solid. "Looking forward to experimenting with many recipes. This appliance will make easy work of it," one customer said. "I love everything about this appliance. The power is amazing. It is so easy to use. Super easy to clean. Reasonably priced. I'm glad I purchased this one," another reviewer noted.
The Hamilton beach food processor can do just about anything any other food processor can do. It chops, shreds, and slices, and it comes with a couple of different accessories to make it even more versatile. It's easy to use and well constructed, and truly has a price you can't beat.
To purchase a Hamilton Beach Food Processor of your own for $39.99, visit Amazon.
Best splurge food processor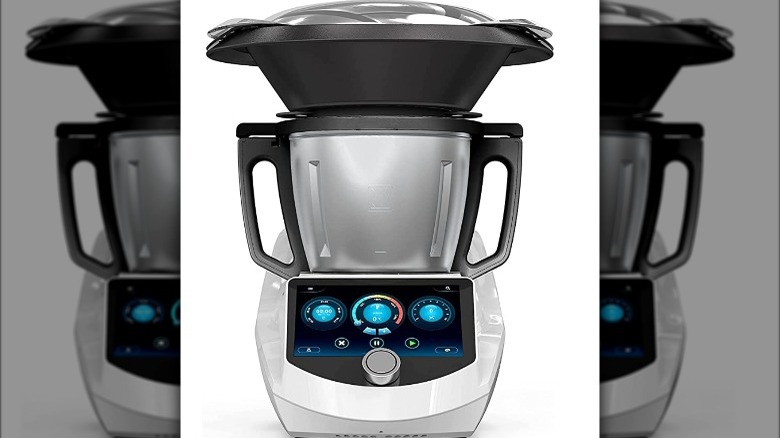 Amazon
Although we love a budget item, there are some things worth splurging on, and that is the ChefRobot Kitchen Food Processor Robot. This retails for almost $800, but you get what you pay for.
ChefRobot does it all. It has over 15 different cooking modes, including emulsify, knead, and grind. It comes with Wi-Fi and a built-in computer that can help you plan for your week and find recipes. The ChefRobot food processor is not just a food processor, though — it also can boil, cook, and even make yogurt. Truly its only downside is its price.
As one reviewer said, "It's an all-in-one solution with a blender/food processor with a heating element ... This machine frees up your precious time; it never overcooks or undercooks, and I think the best thing it does is turn fresh cheap ingredients into gourmet meals with almost no effort."
Thanks to its Wi-Fi capabilities, ChefRobot also features guided cooking, which will help you not only make delicious meals, but also understand the machine itself a little better. Soon you'll be able to create your own meals with the ChefRobot food processor.
If you're comfortable with the price, go to Amazon to purchase this item for $789.
Best small option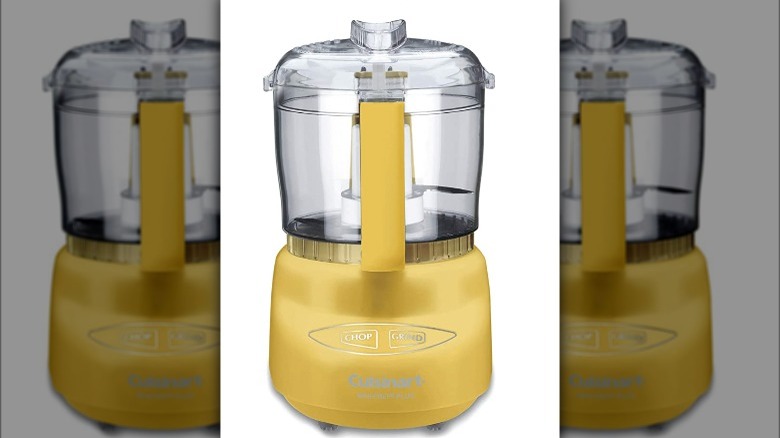 Amazon
For many people, one downside of a food processor is its size. They are sizable machines that likely aren't used every day, and they can be quite cumbersome to store. They don't nest, and if you're low on cabinet space, you might think owning a food processor isn't a viable option.
If that's the case, look into the Cuisinart Mini food processor. As noted, the Cuisinart 14 Cup Food Processor is the best of the best, and its mini version is a very close second. It can do just about everything its larger counterpart can do, it just does it on a smaller scale.
As one reviewer said, "This little 'blender' is compact, easy to clean, and does a great job at chopping and grinding. I needed something smaller than a full-size blender and didn't need all the features of a blender, and this does it."
The Cuisinart Mini is also a great price. While the 14-cup processor retails for over $200, the mini version is just under $40. And it comes in multiple colors, so if you'd like to display it on your countertop, you can match it to your kitchen's aesthetic.
At the time of this writing, you can purchase the Cuisinart Mini for $39.95 on Amazon.
Best large food processor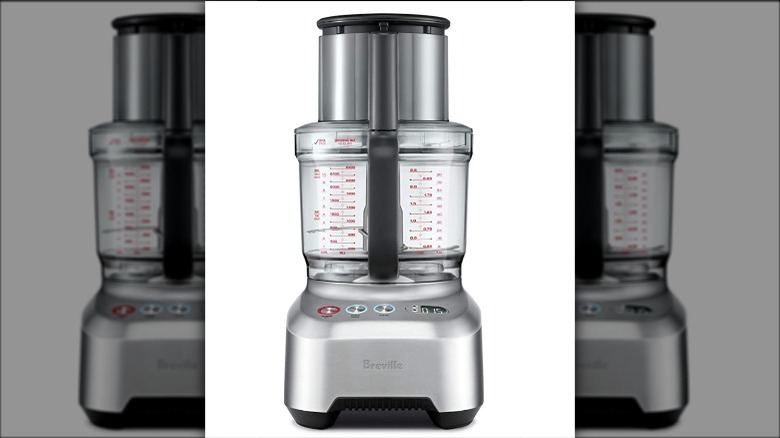 Breville
If you regularly cook for large groups of people, a Cuisinart Mini likely doesn't have enough space for your recipes. If you need a food processor with a large bowl, check out the Breville Sous Chef.
Just as the name suggests, this 16-cup food processor really does act like a sous chef. It completes all of your chopping, shredding, and dicing, and it totally eliminates the need for another hand in the kitchen to perform that grunt work. One of its most impressive feats is that the Breville Sous Chef can dice multiple whole potatoes at once.
Although it is a bit pricey, reviewers have noted that it's worth it. "Although more expensive than many competitors ... it stands out in quality of the material," one noted. And as another reviewer said, "Yes, careful knife, work by a skilled user with sharp knives will always give better results than a mechanical chopper ... but the Sous Chef comes very close in most regards, and how many of us are really skilled enough with knives to be at that level anyway?" The reviewer makes a good point.
If you want to reach that skill level without years of training, you can buy the Breville Sous Chef on Amazon for $549.95.
Best for individual servings
We don't all need food processors to process food. Some of us just need one to blend our individual green drinks in the morning. If you simply need a machine to whip up smoothies in the morning, get the Ninja Blender.
This blender comes with two separate cups and to-go lids that are dishwasher-safe and easy to take on the go. The blade is sharp and blends like a dream, leaving you with smooth foods and drinks. It also comes with a pitcher if you do want to make bigger batches, making it the perfect hybrid. And although it's marketed as a blender, the Ninja will work like a food processor when you want to make your favorite foods like hummus and guacamole.
As one reviewer said, "This product is a game changer. It's amazing, it's fast, it works great with frozen fruit and yogurt for smoothies." Another user echoed that saying, "I was blown away by how well this blender performs and is able to breakdown tough ingredients."
If your main concern is making smoothies, but you'd like something that has the potential to make other things, too, purchase the Ninja Blender on Amazon for $120. 
Best manual food processor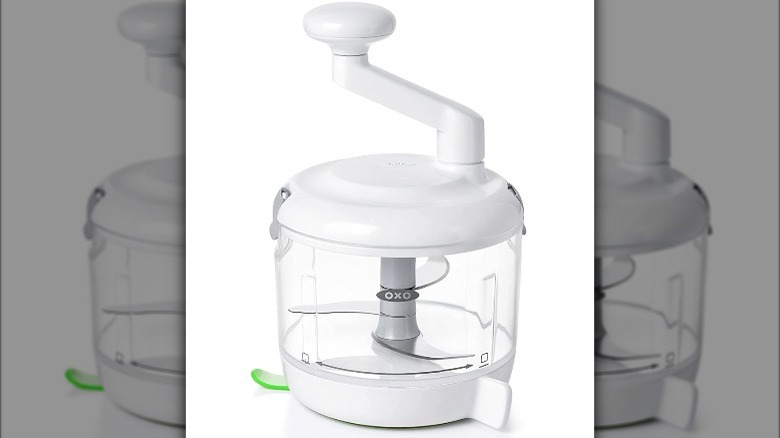 Amazon
Electric food processors are great, but sometimes we don't need all of the fuss. If you only require a food processor for chopping a mincing and don't want to spend the cash, check out the OXO Good Grips One Stop Chop Manual Food Processor.
As far as manual food processors go, OXO's is by far the best. it chops well and is easy to maneuver. And if you do want to make something a little smoother, like a dip or a sauce, you do have the option. You probably aren't going to be able to make tahini or nut butter with this food processor, but if you want an appliance to lessen the burden of mincing and chopping, this is perfect.
The reviews for this product are great, and users love one function in particular: the suction, a feature that is built into the food processor to stabilize it on your counter while you're using it. "The suction is so strong it's almost hard to pull off the counter! Works great," one reviewer noted. OXO is known for designing great products, and its manual food processor is no exception.
At the time of this writing, you can purchase this OXO food processor for $36.95 on Amazon.
Best food processor with one setting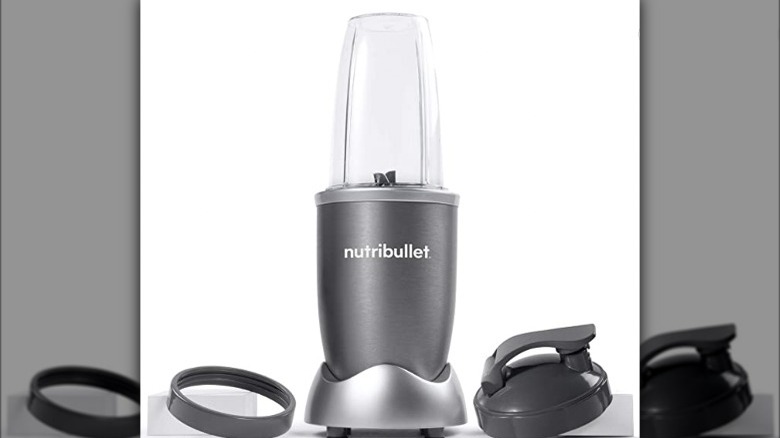 Amazon
Most of us love a food processor with tons of settings, but it's not always necessary. If your sole purpose when using a processor is blending and you're more concerned with speed than control, get the nutribullet Personal Blender. This is the perfect appliance for blending smoothies, and it also works well for food prep.
Users love it for its size and its power, and many have noted that it's easy to clean. It also comes with a to-go lid, and certain parts of the blender are dishwasher-safe.You can let the reviews speak for themselves. Out of 40,000 ratings on Amazon, the nutribullet Personal Blender has nearly five stars. For some,  it's totally transformed their time in the kitchen. "The sleek little blender has completely changed my life," one reviewer said. Another noted, "I use this product every day," and added, "Can't live without this."
We can't say that the nutribullet will change your life or become a product you can't live without, but we are confident you'll love it. It only has one setting, but that one setting does just about everything you need it to do.
To buy this potentially life-changing machine for $62, visit Amazon.
Best food processor with accessories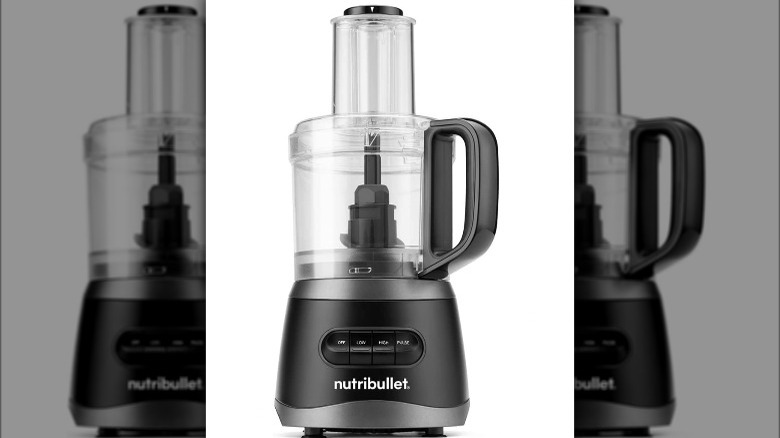 Amazon
A food processor isn't only as good as its accessories, but accessories can certainly improve its functionality. Such is the case with the nutribullet Food Processor. This food processor isn't very big, but it does come with great accessories for a decent price.
Along with the machine itself, you get a lid with a feed chute, food pusher, blade adapter, chopping blade, dull blade, spiralizer disc, and two shred discs. All the accessories fit inside the work bowl, making the nutribullet Food Processor a dream to store. "This is a really great product that I use in my kitchen almost every week. It makes cooking so much easier," one reviewer said. 
And don't let the 7-cup work bowl turn you off. As one buyer said, "Larger than I thought it was, plenty of power, easy to use, works as it should." How could you argue with that?
If you want a machine that gives you tons of versatility in the kitchen, purchase the nutribullet Food Processor on Amazon for $80.
Best attachment food processor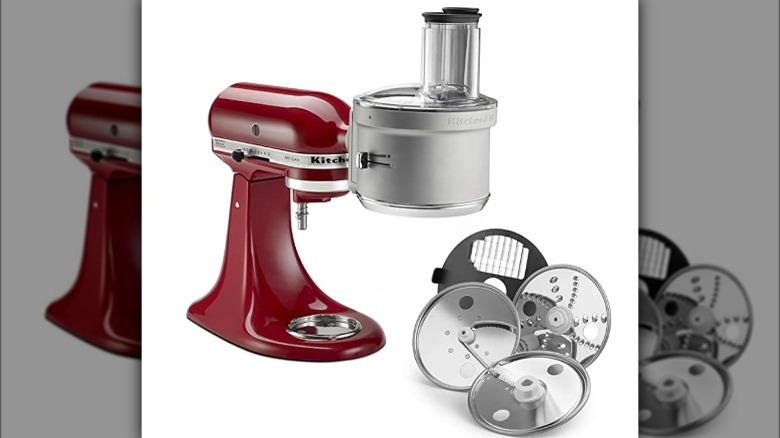 Amazon
We know how much space a food processor can take up in the kitchen. If you want to minimize space waste and still have a food processor that works well, get the KitchenAid Food Processor Attachment.
This food processor attaches to a KitchenAid stand mixer. It comes with multiple discs and takes up less space than most traditional food processors. You do need a KitchenAid stand mixer to use this food processor, but if you spend a lot of time in the kitchen, you likely already have one.
Many users are very pleased with their KitchenAid Food Processor Attachment, especially those who garden and can use it with their harvest. "I grow a large garden and can relishes, etc. The dicer is a huge time-saver!" one reviewer said. The user added, "Even if you don't can produce, it is great. I diced a carrot in seconds. Perfect with a salad. Diced potatoes for breakfast."
Another reviewer said, "I bought this to help chop veggies to make salsa! I'm amazed ... Great piece of equipment!" If you haven't already started gardening and canning, perhaps the KitchenAid Food Processor Attachment will inspire you to begin.
As of October 2022, you can purchase this attachment for $160 on Amazon.
Best food processor with technology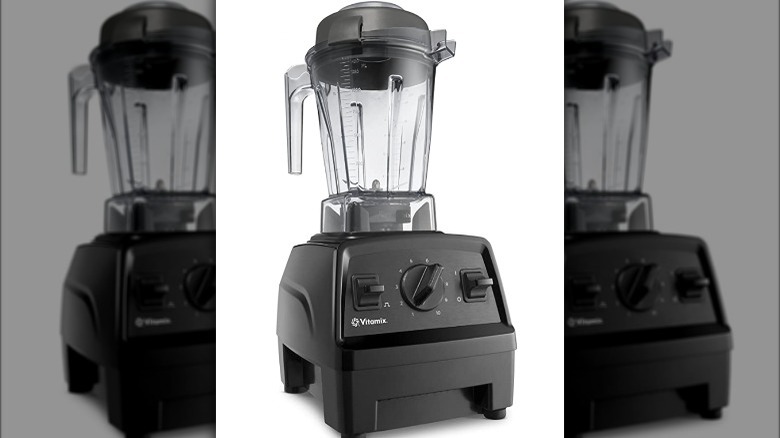 Amazon
Technology moves fast, and it allows our blenders and food processors to move even faster. For a product that utilizes technology as well as possible, get the Vitamix E310 Explorian Blender. Vitamix has long been regarded as one of the best blender brands on the market, and its Explorian Blender proves why.
The Explorian Blender has 10 separate speed settings, which is about eight more than the average blender. The variety of speeds gives you ultimate control as the user, making for even better smoothies, dips, sauces, soups, and more. With that speed comes the potential for the appliance to overheat, but Vitamix accounted for that possibility and included a built-in fan to cool it. This machine costs over $300, but it won't ruin itself because it got too hot.
Vitamix makes use of its technological advances by giving us one particularly incredible feature: self-cleaning. That's right — by just adding some soap and water, the Explorian Blender will clean itself. Who needs a self-driving car when you have a self-cleaning blender? Vitamix gave the people what they wanted.
Reviewers love this machine, too. One user said, "I don't know why I hesitated to buy the Vitamix E310 Explorian Blender." Another buyer added, "Absolute beast of a blender ... I love how easy it is to use and clean."
To purchase this technological beast for $349.95, visit Amazon.