Beer-Braised Boneless Short Ribs Recipe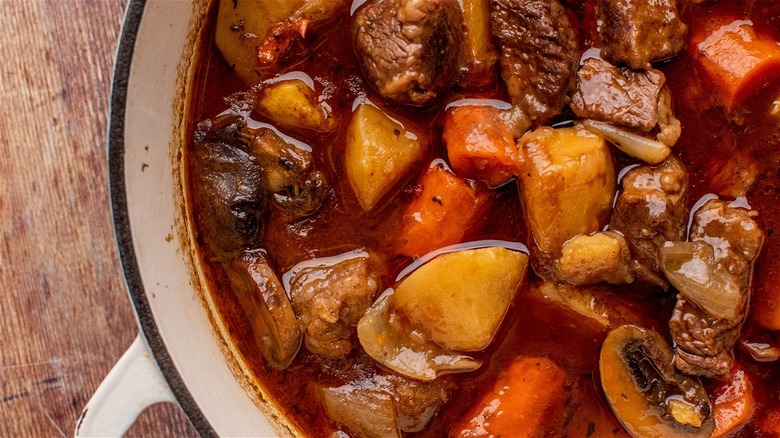 Michelle McGlinn/Mashed
You've heard of luxuriously braised bone-in short rib recipes, but did you know that boneless short ribs are just as delicious, cheaper, and easy to make? While we miss out on the flavor of the stewed bones in the full ribs, there's an advantage to using boneless. Boneless short ribs offer the same deep, rich flavor of bone-in short ribs but can be used for saucy dishes like beef bourguignon, chili, and ragù. In this recipe from developer Michelle McGlinn, we are braising the boneless ribs into a hearty stew using rich, chocolatey porter at the base. Any porter will do, but we would recommend a deep, velvety, peppery porter for savory dishes.
While easy, this stew takes some time to prepare, so be sure to plan ahead. You can also make it in the crock pot by heating the meat, onions, beer, and broth on low during the day and adding the vegetables about an hour before dinnertime. Either way, because of the long cooking time, the beef will be impossibly tender and so flavorful, making this your new favorite winter stew.
Gather your beer-braised short rib ingredients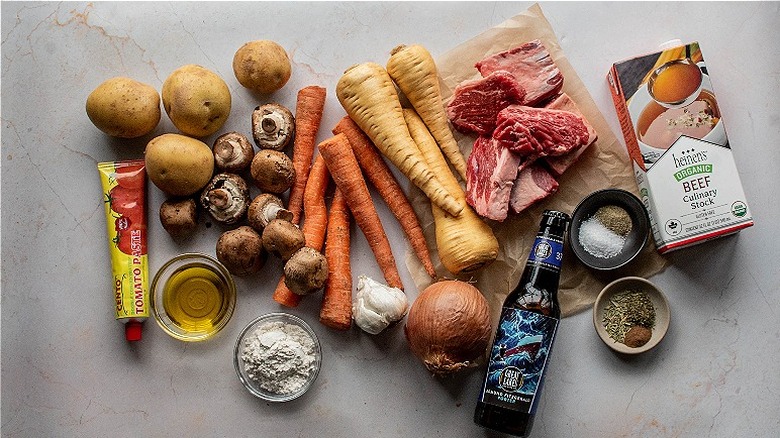 Michelle McGlinn/Mashed
For this stew-like recipe, you'll need a hearty amount of meat, a rich porter beer, and a plethora of vegetables. Boneless beef short ribs are fortunately less expensive than bone-in, but if you can't find this cut, try standard stew meat like chuck or round. You can also use bone-in short ribs and follow the recipe as-is. We'll coat the beef in all-purpose flour and cook it in some olive oil. Before we get braising, we'll toss in some aromatics: an onion, garlic, and tomato paste. In addition to the previously mentioned porter (preferably one with roasted and chocolatey notes), we'll be braising the beef in beef broth. Rounding out the seasonings are rosemary and thyme (we use dried but fresh is great, too), allspice, and salt and pepper.
To round out the stew, will incorporate some root veggies near the end. We love parsnips for their nutty, slightly sweet flavor and carrots for a beautiful pop of color. Gold potatoes are best for a creamy, soft carb addition, and baby bella mushrooms add just the right amount of umami flavor.  If you want more vegetables, try peas, corn, or even squash.
Brown the beef and soften the onions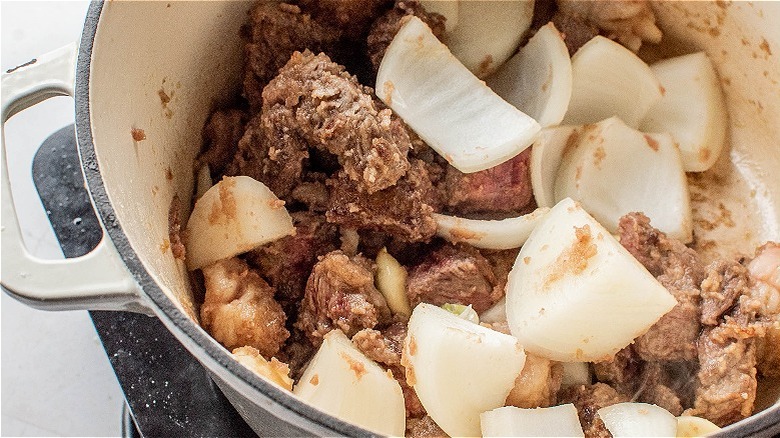 Michelle McGlinn/Mashed
To properly braise, you'll want to sear the short ribs until they are deeply brown on each side before adding the liquids to stew. This develops that rich, deep flavor braised dishes are known for.
Once the beef is well-browned, add the onions and garlic and begin to soften. The large chunks of onion won't completely soften here, and that's okay. Just cook them long enough for those aromatics to become fragrant, then coat them in the tomato paste.
Stir in the beer and broth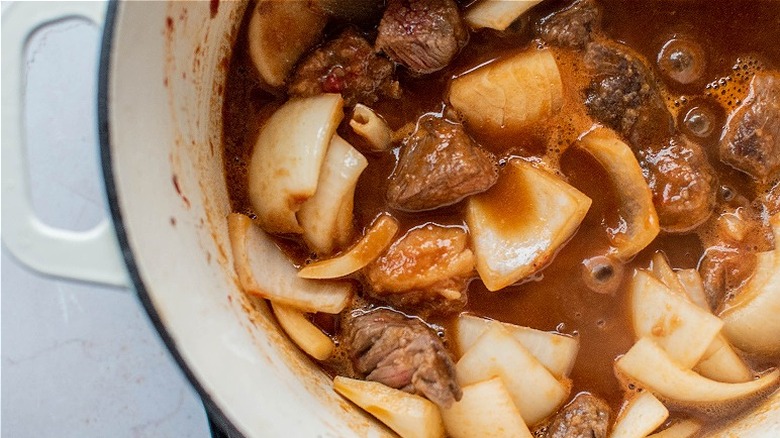 Michelle McGlinn/Mashed
At this point, you might notice the tomato paste sticking to the bottom of the pot. Without letting it burn, pour in the porter and scrape any of those browned beef bits from the bottom of the pot (that's where all the braising flavor is!). Add the beef broth so that all the beef is covered, then bring to a gentle simmer and add in the seasonings. You can use fresh rosemary and thyme sprigs and remove once cooked, or use dried seasonings and keep them in. Cover the stew and simmer on medium low for around 2 hours, or until the beef is fork-tender.
Add the remaining vegetables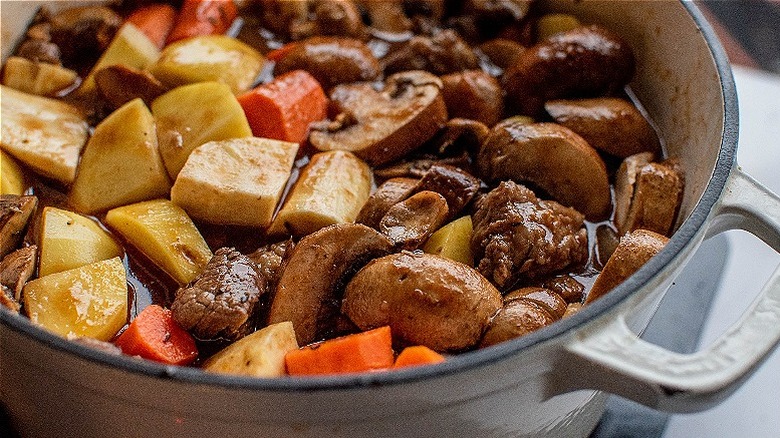 Michelle McGlinn/Mashed
Short ribs may look and sound luxurious, but are surprisingly foolproof. If you stew the boneless ribs for a little longer than 2 hours, don't worry: They'll still be deliciously tender. Short on time? You can even get away with stewing the meat for 1 ½ hours instead. What you're looking for, though, is tender beef that can be pulled away with a fork. It won't be as smooth as butter yet, but we have nearly an hour longer to cook.
Since vegetables like mushrooms and carrots risk turning mushy with long stew times, add the vegetables after the beef is already tender. Add the potatoes, parsnips, carrots, and mushrooms to the pot and pour the remaining beef broth on top. The vegetables won't be completely submerged, but push them into the broth as much as possible. As they cook, they will shrink to fit. Cover the pot again and simmer for another 40 minutes to an hour.
Serve your short ribs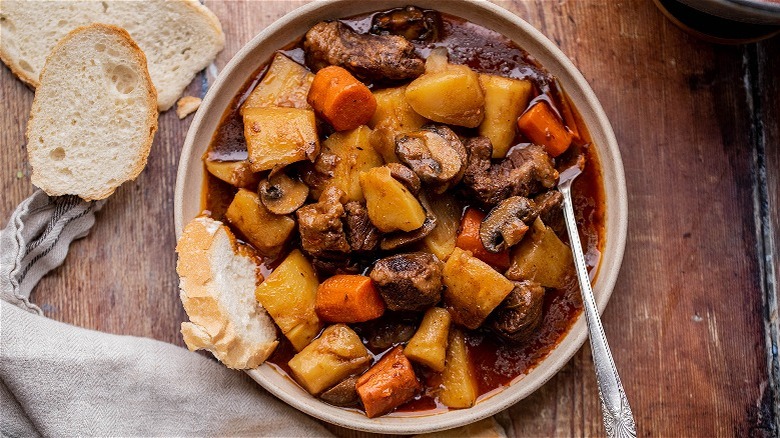 Michelle McGlinn/Mashed
To thicken the broth, cook the mixture uncovered for up to 30 minutes after the vegetables are fork-tender. This is optional; the stew is ready once the vegetables are super soft, and the brothy gravy is delicious with crusty bread. Filled with meat, veggies, and starches, this dish hardly has a need for sides, but serving each hearty portion with bread to soak up the delicious gravy is a must!
While a meal on its own, this beer-braised boneless short rib stew pairs perfectly with leafy kale salads and roasted asparagus. If serving a hungry crowd, try tiding them over with delicious appetizers while the beef ribs are simmering away. After all, their mouths will be watering from the tantalizing smell of your beer-braised stew!
Beer-Braised Boneless Short Ribs Recipe
You've heard of luxuriously braised bone-in short rib recipes, but did you know that boneless short ribs are just as delicious, cheaper, and easy to make?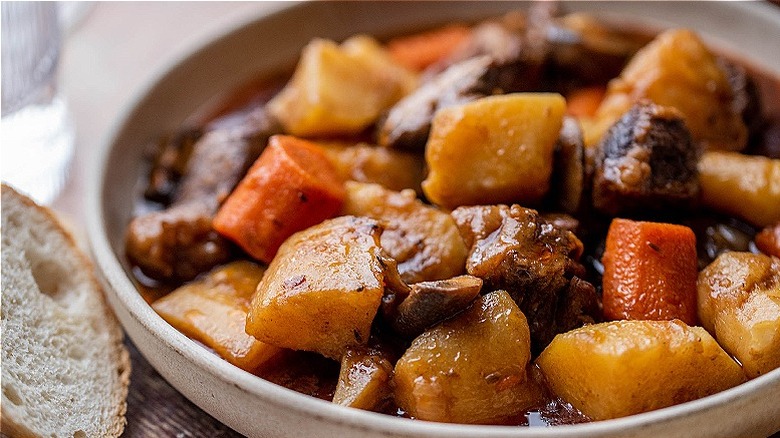 Ingredients
¼ cup olive oil
2 pounds boneless beef short ribs, cut into 1-inch pieces
4 tablespoons all-purpose flour
1 onion, halved, then quartered (8 pieces total)
5 cloves garlic, peeled and smashed
2 tablespoons tomato paste
1 cup porter beer
2 ½ cups beef stock, divided
1 tablespoon dried thyme
1 tablespoon dried rosemary
1 teaspoon ground allspice
1 tablespoon salt, plus more to taste
1 tablespoon black pepper, plus more to taste
4 Yukon gold potatoes, peeled and quartered
3 parsnips, peeled and cut into 1-inch pieces
4 carrots, peeled and cut into 1-inch pieces
10 ounces baby bella mushrooms, thickly sliced
Directions
Heat olive oil in a large pot or Dutch oven over medium-high heat. Toss beef in flour until well coated.
Add beef to the pot and sear on each side. When each side is deeply browned, add onion and garlic and turn the heat down to medium.
Cook the onion and garlic until fragrant and slightly softened, about 5 minutes. Stir in the tomato paste until well combined.
As the mixture begins to stick to the bottom of the pot, pour in the beer and scrape any browned bits from the bottom. Bring to a simmer and reduce slightly, another 5 to 10 minutes.
Pour in 1 cup beef stock and add the thyme, rosemary, allspice, salt, and pepper to the pot. Stir well to combine, then bring to a steady simmer. Cover and simmer over medium low for 2 hours.
Once beef is very tender, about 2 hours, add the potatoes, parsnips, carrots, mushrooms, and remaining 1 ½ cups beef stock. Submerge the vegetables as much as possible, then cover and cook the stew until vegetables are very tender, about 40 minutes.
To thicken the broth, cook uncovered for an additional 30 minutes.
Nutrition
| | |
| --- | --- |
| Calories per Serving | 701 |
| Total Fat | 38.7 g |
| Saturated Fat | 13.8 g |
| Trans Fat | 1.7 g |
| Cholesterol | 110.4 mg |
| | |
| --- | --- |
| Total Carbohydrates | 54.2 g |
| Dietary Fiber | 9.5 g |
| Total Sugars | 9.3 g |
| Sodium | 1,471.0 mg |
| Protein | 35.1 g |