Reddit Is Stunned By The Price Of A Popeyes Thanksgiving Turkey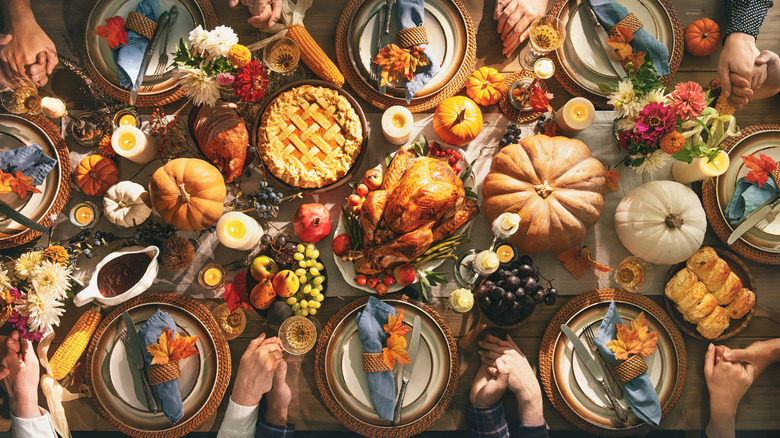 Alexander Raths/Shutterstock
Turkey and Thanksgiving remain linked together in a seemingly unbreakable bond (even though, according to Smithsonian, the bird probably wasn't the main event during that first Thanksgiving). The good thing about turkey is that it's large enough to feed many people, but the downside is that it can be difficult to prepare. Tue turkey takes up a large amount of oven space, and there's a lot of prep time with the basting and stuffing. Some people wake before the sun rises to get started on their entrée, let alone the prep work and cook time for all of the side dishes and desserts. While some people enjoy roasting a turkey and the challenge that comes with it, for many, it's just not practical. 
As families become smaller, for example, a large Thanksgiving turkey doesn't really make sense. Plus, for the time-poor, it's an unnecessary burden that's easily replaced with a pre-cooked bird. (The only cooking difficulty with a pre-cooked turkey is that you have to be careful with how you reheat it, as the meat dries out easily due to how lean it is, per Foster Farms.)
Whether pre-cooked or not, though, turkey prices are soaring for a number of reasons, including supply chain issues and inflation, reports The Wall Street Journal. And unfortunately, the Thanksgiving turkey price news just keeps getting worse, even for birds cooked away from home. One Reddit user took to the platform to share their surprise over the price of Popeyes' pre-cooked Cajun-style turkey.
Surely, inflation alone isn't behind this high price tag
Seeing their post titled, "I know inflation's messing everything up but holy hell..." and the photo of a Popeyes Cajun-style turkey with a price tag of $94.99, you might understand the Reddit user's shock. The turkey is rubbed with various Louisiana spices including paprika, garlic, and red pepper. It's available online through The Cajun Fix and feeds between eight and 12 people, which, for 10 guests, works out to around $9.50 per head. 
One commenter noted that shipping is included in the price of the turkey, pointing out that the heavy bird's need for a big box and dry ice could be behind the high cost. The original poster agreed with their theory, writing, "Last year I bought it for 50 bucks and picked it up locally." Another concurred, saying, "Correct — it's much cheaper in restaurant!!"
Shipping costs aside, the Popeyes turkey dinner's average price of $9.50 is comparable to specials from other restaurant chains. Cracker Barrel is offering a fully cooked Thanksgiving meal for $149, or about $14.90 per head for 10 people. This deal, however, includes dressings, sweet potato casserole, sides, and two pies along with the turkey.
As usual, though, the most cost-efficient Thanksgiving option is to buy a fresh or frozen turkey and cook it at home. The average price of a frozen 16- to 24-pound Butterball turkey is $1.18 a pound at Walmart, while its cooked options feed four to six and cost around $24.
What's the difference between Popeyes and a standard pre-cooked Turkey?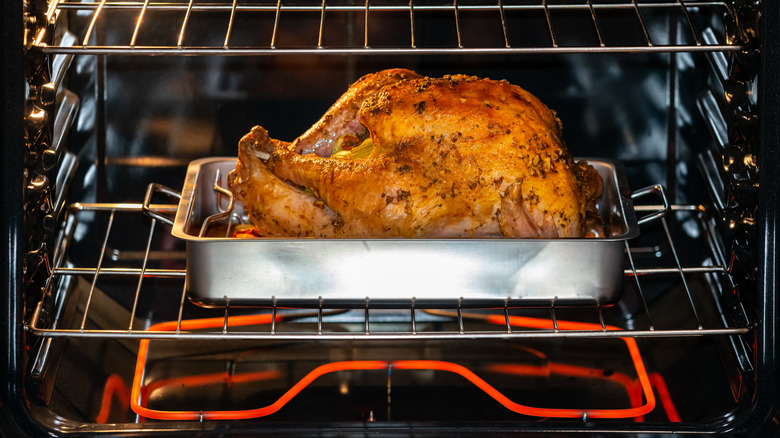 Dominic Gentilcore PhD/Shutterstock
Popeyes describes its turkey as being "marinated with our signature blend of Louisiana seasoning, slow roasted, and then flash-fried for a crispy coating." And according to The Washington Post, it's important to reheat it according to the instructions. Popeyes recommends letting it thaw in the fridge for three days before baking it in foil at 375 F for 1.5 hours, followed by a further 30 minutes without foil to help it stay crispy. You can also reduce the cooking time to keep the bird from drying out.
Popeyes originated in Louisiana, so the fast-food chain know a thing or two about Cajun flavors. If you've ever been to this southern state, you'll know that they do things differently than the rest of the country. Flavors and dishes are inspired by the Arcadians, who came into the area in the early 19th century from Nova Scotia, explains NewOrleans.com. Dominant Cajun flavor profiles include paprika, parsley, garlic, thyme, and black pepper; you can expect a number of those to show up on the Popeyes turkey.
As for how the Popeyes cajun turkey tastes, Insider writer Irene Jiang hosted "A Very Popeyes Friendsgiving" back in 2019. While her guests felt the turkey was tender and full of flavor, they were more impressed with the stuffing and drippings. So if you're after less headache in the kitchen and something out of the ordinary, Popeyes' cajun turkey might be just the thing you need.