Starbucks' Festive Menu Is Back And So Are Its Holiday Cups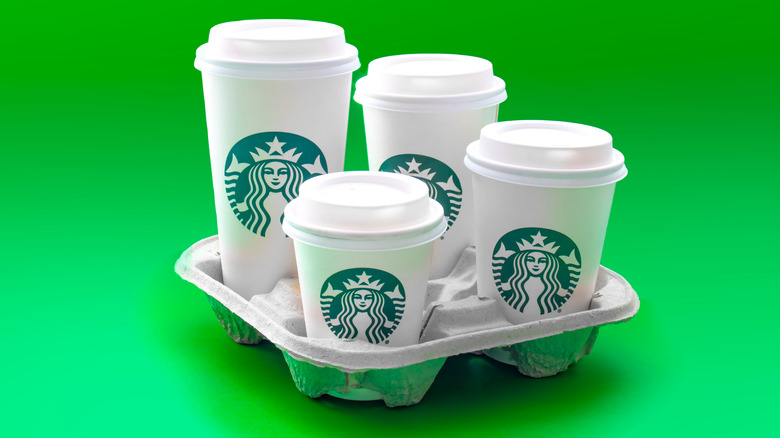 oasisamuel/Shutterstock
Starbucks' festive cups have grown to become the unofficial start of the holidays — when you see them being served, you know Christmas is right around the corner. It's hard to imagine, but there's a time when we didn't have this marker, as Starbucks' holiday cups weren't released until 1997 (per its website). Designed by Sandy Nelson, the first cups came in magenta, sapphire, emerald, and purple. They instantly became popular, and they've only risen in status since.
And now, the largely beloved cups are back for the 2022 season. To express their excitement, Starbucks' fans have been posting to Twitter since the news first broke. "This is not a drill. Starbucks red holiday cups are back tomorrow. I repeat. This is not a drill," wrote one excited consumer. Another anticipated the switch a few days ago after they noticed a change in the Starbucks app. "Starbucks app has officially switched to holiday mode. Red cups switch this week?" they wrote.
You can't have new cups without new menu items, either, which is why both have returned to stores this week (per Starbucks).
A few favorites are returning
Four new cups have been introduced for the 2022 holiday season. The first is Gift-Wrapped Magic — a red and green cup decorated with sparkles and ribbons — followed by Frosted Sparkle, which is a green cup with red festive shapes. The next is Ornament Wonder, a cup with a white base covered in ornament-like patterns such as trees and stars. Finally, there's Cozy Evergreen — a red cup with Christmas tree graphics.
You can't have a cup without a beverage to go in it, which is why Starbucks also unveiled six new holiday beverages (via a press release). Returning for its 20th year is Peppermint Mocha, which includes the aforementioned ingredients topped with chocolate curls. Then, it's the espresso-based Caramel Brulée Latte, followed by the Chestnut Praline latte decorated with spiced praline crumbs. The next release is the Toasted White Chocolate Mocha, an espresso with whipped cream, holiday sugar sparkles, and crispy white pearls. For a dairy-free option, there's the Iced Sugar Cookie Almondmilk Latte, and the final new beverage is the Irish Cream Cold Brew topped with vanilla foam and cocoa powder.
As far as food goes, the festive menu includes the chocolate pistachio swirl with mint chocolate chips in "buttery brioche-style dough," a reindeer cake pop, and a sugar plum cheese Danish. Additionally, there is the cranberry bliss bar garnished with orange zest and a snowman cookie made of buttery shortbread. The food and drinks are expected to hit all locations on November 3.