Jet-Puffed Just Dropped A Pillowy Product Fluffier Than Its Marshmallows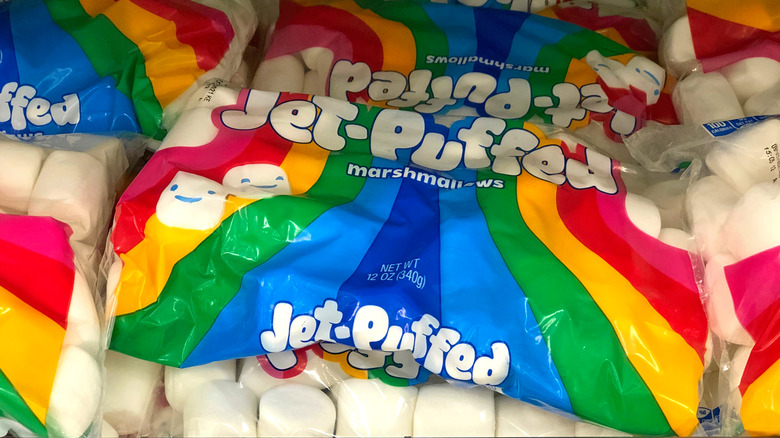 Sheila Fitzgerald/Shutterstock
We may receive a commission on purchases made from links.
At some point, you learn to expect the unexpected. Sometimes, this means not questioning why food brands extend to include products that aren't exactly edible. Jet-Puffed is the most recent company to branch out, but it certainly isn't the first. 
In early October, Hidden Valley Ranch publicized an entire home collection, complete with posters, blankets, a shower curtain, and a bed set. Perhaps the most notable addition was the pizza-shaped ranch couch, made complete with throw pillows resembling Hidden Valley bottles. The couch, which sold for $10,000, is now out of stock.
And in 2019, KFC unveiled a candle designed to smell like gravy, per Insider. The limited-edition candle was available exclusively in the U.K., with only 230 produced in total. A few years before that, the Kentucky-based chicken joint released a candle with a fried chicken scent. Only 25 candles were made, and they were only sold in New Zealand. Now, Jet-Puffed has brought a new item to the table... or, perhaps, to the bed (via Amazon).
A product for a queen-sized sleep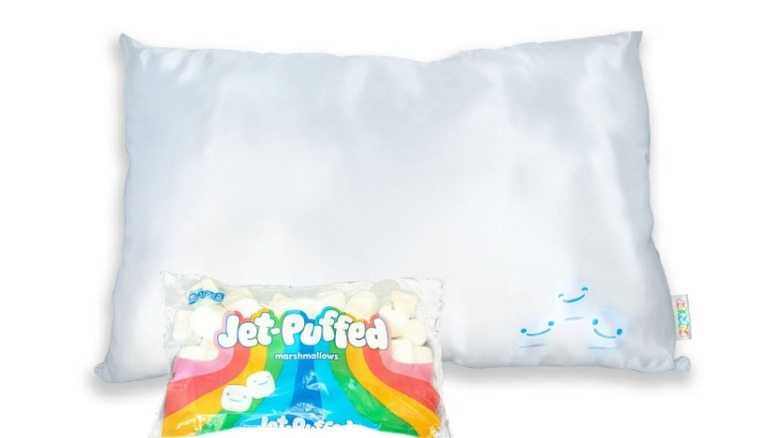 Jet-Puffed
Jet-Puffed has dropped a new product on Amazon: a Jet-Puffed Pillow, which is retailing for $1.79. Available for a limited time, the pillow's price point matches that of a bag of actual marshmallows, per a press release sent to Mashed. Just like marshmallows, which are filled using jet-puffing technology, the pillow is designed to be exceptionally fluffy. It contains white satin and is designed for queen-sized beds.
The brand released this product "In case this is the last time for that 'extra hour' of sleep," referring to The Sunshine Protection Act passed in March (per NBC News). This makes the prospect of a year-round daylight savings time uncertain, as the bill was approved in the senate but not yet the house. According to Current Biology, the risk of a fatal accident increases by 6% when the clock "springs forward." "There's some strong science behind it that is now showing and making people aware of the harm that clock-switching has," Florida Senator Marco Rubio said during a senate meeting, via NBC News. 
Still, as of now, nothing has changed. You should still prepare to switch your clock on Sunday, November 6. And if you want to enjoy that "extra hour" of sleep on a marshmallowy pillow, more power to you.