Cracker Barrel Subtly Shaded Its Mega-Traditional Customers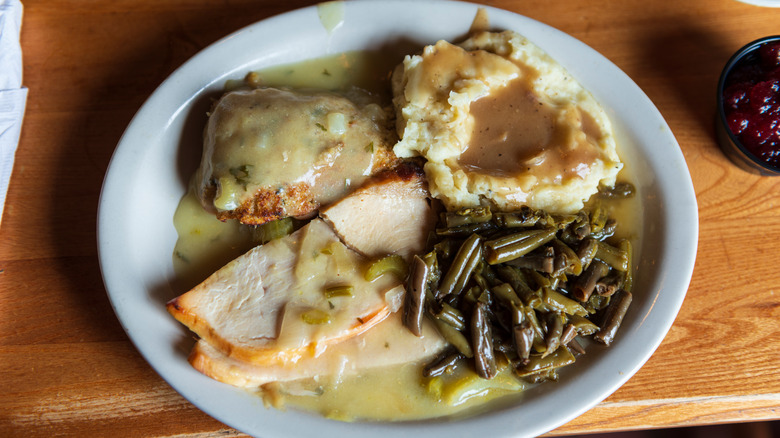 Barry Fowler/Shutterstock
Whether it's warranted or not, Cracker Barrel has been the subject of much scrutiny as of late. This began in 2020 when the old country store added alcohol to its menu, a decision that was meant to drive a wider demographic of customers (per CNN). According to a spokesperson at the time of the announcement, many guests admitted to dining at a different restaurant due to Cracker Barrel's lack of alcoholic beverages. This was met with an op-ed on The Christian Post, in which consumer Mark Creech voiced his concerns regarding the addition of alcohol. "I find it disturbing a restaurant such as Cracker Barrel ... finds it more important to have alcohol on its menu than to continue serving good ole American apple pie!" he wrote.
The situation only got worse when Cracker Barrel announced on Facebook its decision to add plant-based Impossible Sausage to its menu this year. "I used to love your store now no way," wrote one angry commenter. Another wrote, "Bye bye old friend. When you get rid of the imitation sausage, I would like to come back. Until then, goodbye." Comments like these are probably why Cracker Barrel has caused laughs on social media by roasting its "old-fashioned" customers.
Customers averse to change were gently roasted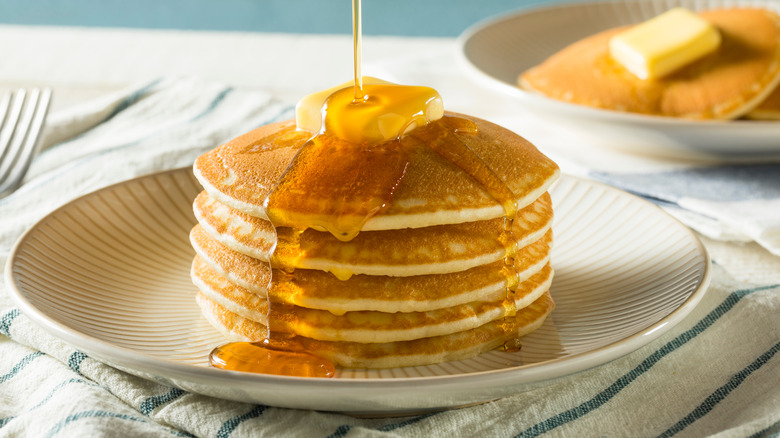 Brent Hofacker/Shutterstock
Lately, Cracker Barrel representatives have been responding to the backlash the company has received from recent changes. After hatred surrounding the addition of Impossible Sausage, the Tennessee-based brand issued a statement (per The Hill). "At Cracker Barrel, we're always exploring opportunities to expand how our guests experience breakfast and provide choices to satisfy every taste bud — whether people want to stick with traditional favorites like bacon and sausage or are hungry for a new, nutritious plant-based option like Impossible Sausage," the company wrote.
Now, instead of the usual statement, Cracker Barrel is throwing shade. Last month, Cracker Barrel shared a video on Facebook of syrup slowing being poured on a stack of pancakes. In the caption, the brand wrote, "'I love trying new things'" *Always orders Momma's Pancake Breakfast at Cracker Barrel*" This immediately seemed like a slight slap to traditional diners who've protested the addition of alcohol and plant-based meat. Folks in the comments didn't seem to catch on, writing things such as "The world's best pancakes in my opinion," and "Yummy, love Cracker Barrel." With a two-year-long stint of company slander, it remains to be seen whether more potential issues are on the horizon.