Trader Joe's Shoppers Are Freaking Out Over Its New Cinnamon Bun Kettle Corn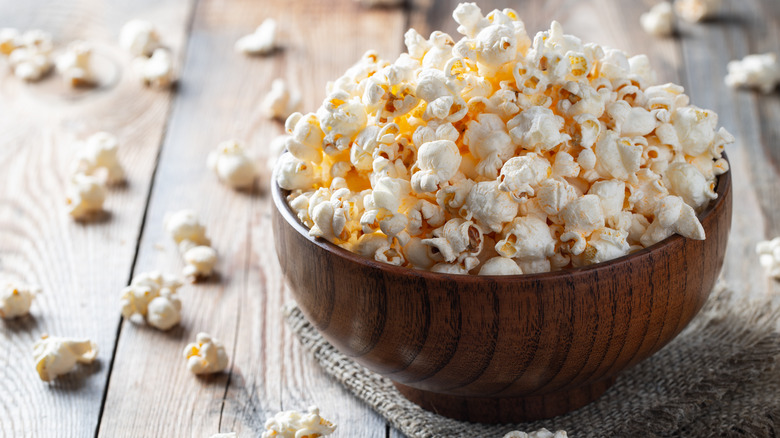 VasiliyBudarin/Shutterstock
Of course, one of the most popular ways to enjoy popcorn is with butter and a dash of salt, but if you have a sweet tooth, you might reach for kettle corn instead. Since it first became a thing back in the 1700s, kettle corn is traditionally popcorn that's tossed with a sweet syrup — like honey or molasses — and cooked in a cast iron pot (via the Gold Medal Products Co.). It's a favorite at state fairs and local festivals but these days, you can also buy kettle corn pre-packaged in the snack aisle at most major retailers and grocery stores.
Trader Joe's has long had kettle corn on its shelves and has branched out beyond the traditional formula. TJ's kettle corn flavors have included maple and sea salt, key lime, and a chocolate-drizzled variety. But now the brand is coming out with a more indulgent version: Cinnamon Bun Inspired Kettle Corn. Spotted on Instagram, the snack is already getting shoppers excited. Here's what you need to know about it.
It's the latest in a string of cinnamon-themed product releases
Trader Joe's is on a cinnamon roll kick lately, with Cinnamon Bun Spread, Cinnamon Bun Blondie Baking Mix, and now this. Fan account @traderjoeslist recently shared a photo of the Trader Joe's Cinnamon Bun Inspired Kettle Popcorn on Instagram found at their local store. Many fans quickly chimed in with how excited they are to try it (with one commenting that the grocery store is really ruining their diet with all these sweet releases!). One user lamented that TJ's cinnamon-themed offering "was killing my diet" while another declared, "I need to go to Trader Joe's lol."
It's supposed to have the same flavor as the wildly popular Cinnamon Bun Spread, which Junk Banter described as "a rich gooey honey butter base spread with cinnamon bun spices, aka it is spoonable cinnamon rolls." One ¾-cup serving of the new kettle corn contains 140 calories, 16 grams of sugar, and just 4 grams of fat. While popcorn is often a good source of fiber (via Healthline), this kettle corn is not — each serving contains only one gram of fiber.