Ted Allen Has Bold Takes On What A Chef's Sink Should Look Like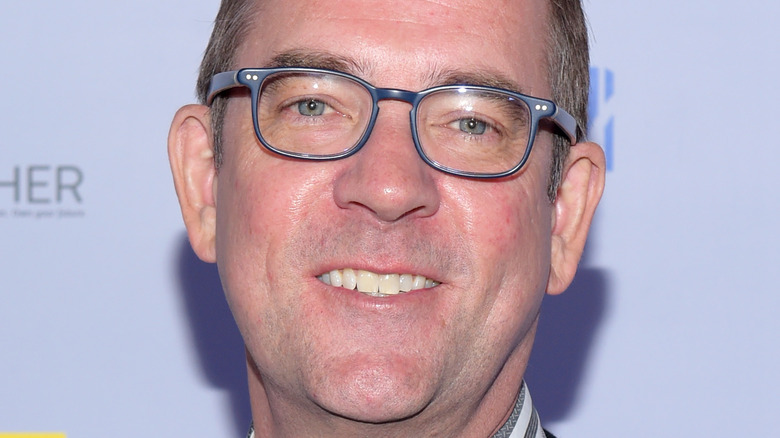 Jason Kempin/Getty Images
When it comes to kitting out your dream kitchen, certain things seem more important than others. You'll likely pay painstakingly close attention to your appliances, what material your countertops are made from, and how much storage space your cabinets will provide. Interestingly, the kitchen sink rarely receives such careful consideration. You may simply opt for a double-basin and move on. 
But were you aware that there are many things to consider when selecting a kitchen sink? HGTV, for instance, points out that basins come in a variety of materials, like traditional stainless steel, time-honored enameled cast iron, and modern composite varieties. To make things more complicated, it would seem that stainless steel ones come in different gauges. Who knew? 
Kitchen sinks also come in myriad styles. Lowes offers that you can choose from farmhouse models, ones that are dropped into the counter, undermount styles, bar sinks, varieties designed for food prep, and corner designs. Clearly, selecting a kitchen sink is not as simple as you thought. When it comes to creating a user-friendly cooking space, few are better equipped to give you advice than those who've made their living in the culinary realm. Ted Allen of "Chopped" is one such foodie that has some helpful suggestions worth considering when purchasing your next sink. 
Allen believes sinks should be large and made of stainless steel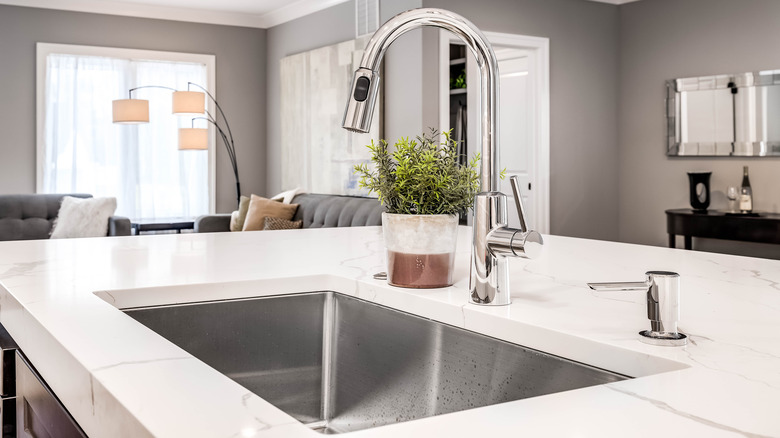 Hendrickson Photography/Shutterstock
What advice does Allen have to offer to anyone outfitting their kitchen with a new sink? For starters, the Food Network star is not a fan of porcelain basins, telling Food & Wine that they're "brittle" and likely to shatter whatever glasses you might accidentally drop into them. He much prefers stainless steel, which he considers more durable. Allen also comments that the majority of kitchen sinks aren't big enough, adding that you should be able to "fit a cookie sheet easily in the bottom" in order to facilitate a thorough cleaning. 
When Allen remodeled his own Brooklyn kitchen, he turned to his interior designer partner, Barry Rice, to create the perfect space. Rice told Consumer Reports that they went with a massive sink allowing for the inclusion of an integrated draining board, so the dripping dishwater stays in the sink. And that's not all. Allen revealed to Dwell that his kitchen has more than just one big sink. It also has a small prep variety and a bar sink. Clearly, this is a man who takes his sinks seriously. 
When you're outfitting your kitchen, you may want to go the opposite route of "everything but the kitchen sink." In fact, you may want to forgo that saying completely and, instead, hold the sink and its many forms in the highest possible esteem. Allen would certainly approve.