Angry Orchard Cider Launches Thanksgiving Boozy Baked Apple Pies In New Collab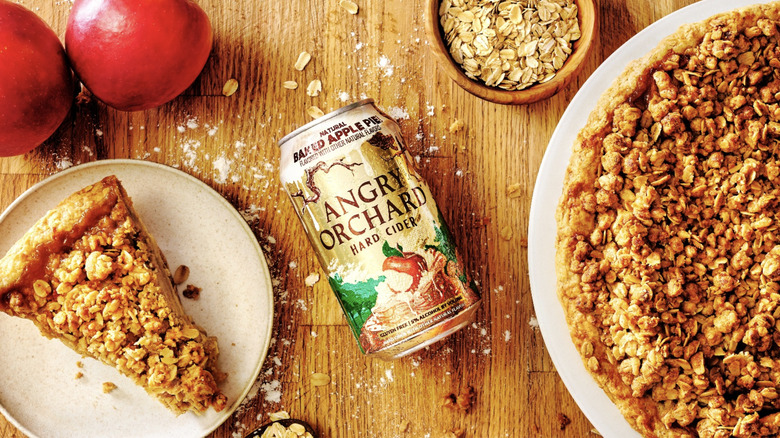 Angry Orchard
Is there a better way to ring in the holiday season than with a hot and fresh slice of pie? After a filling meal, pie remains one of America's favorite Thanksgiving desserts. Real Simple notes that pumpkin pie takes the number one spot for most popular fall pie, while apple pie came in at a strong second place. Apple pie is the perfect fall pie because apples are in peak season between August and December (per Ask the Food Geek). While you can make a homemade pie in the oven or even in an air fryer, store-bought pies can be a great timesaver — especially if you're hosting a holiday meal.
Whether you make your pie or buy your pie, no dessert is complete without a digestif or an after-dinner drink. Wine Enthusiast reports that common digestifs include liqueurs like Sambuca and Grappa. However, when it comes to pie, beer or hard cider is the ultimate accompaniment. Several beers and ciders share similar notes and flavors to those found in a pie. Luckily for hard cider fans, Angry Orchard is combining pie and hard cider for the ultimate pie mashup this season.
Pie and cider go hand in hand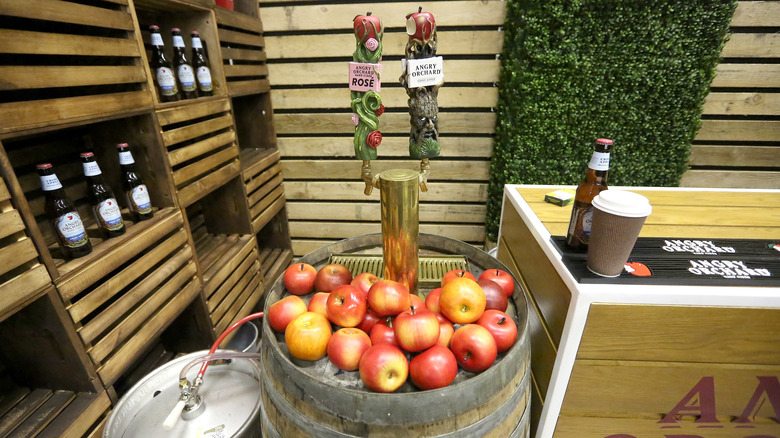 Rob Kim/Getty Images
For a limited time, Angry Orchard cider fans can order their own boozy baked apple pie. Angry Orchard partnered with Brooklyn pie shop Four & Twenty Blackbird to create an apple made with the brand's newest release, its Natural Baked Apple Pie Style Hard Cider (via PR Newswire). Angry Orchard described the apple pie-flavored cider as, "A sweet blend of juicy apples paired with nutmeg, notes of creamy vanilla ice cream and topped off with buttery, baked flavors," that, "tastes just like a classic baked apple pie in a can."
Four & Twenty Blackbird's goal was to make an apple pie that celebrated locally-grown Empire and Jonamac apples, while also highlighting the flavors of the cider. The hard cider is cooked down and added to a caramel sauce for the pie, and oat crumble tops the treat instead of a traditional pie crust. Those eager to score a pie for their Thanksgiving table can order one on Four & Twenty Blackbird's website for $44, and ships nationwide for free. 
If you want to score a pie in time for the holiday, be sure to place your order on or before November 20. It goes without saying that it's highly recommended to serve the pie with a cold can or glass of Angry Orchard's newly released hard cider.