The Best Vitamix Blenders Of 2022
We may receive a commission on purchases made from links.
Blenders make life easier. Delicious smoothies, hot soups, homemade nut butters, healthy protein shakes, freshly ground whole grains for baked goods — the sky's the limit when you have a self-contained cyclone of spinning blades at the ready. That said — as any well-seasoned vet who's handled their fair share of models will tell you — not all blenders are created equal. While more inexpensive blender models might be tempting due to their cheaper price tags, it's good to keep in mind that sometimes you get what you pay for. After all, who wants to waste hard-earned money on a blender with subpar performance that also generates excessive, brain-piercing levels of noise? The good news is that there are plenty of high-quality blenders on the market that make blending a breeze — and some of them even come with a special shield to muffle sound.
When it comes to top-notch blenders, Vitamix is at the top of the game. There's a reason why so many professional chefs say Vitamix is the best blender out there (via Vitamix). As chef Rocco Whalen of the restaurant Fahrenheit wisely proclaims, "You can't make the very best products if you don't have the right equipment to take you there." With impressive power, superior design features, and glowing recommendations from professionals, there's no doubt that Vitamix makes premium products. But there's a whole world of Vitamix models to choose from, so how should you know which one will best suit your needs? Luckily for you, we have some great deals lined up to look at.
How we selected products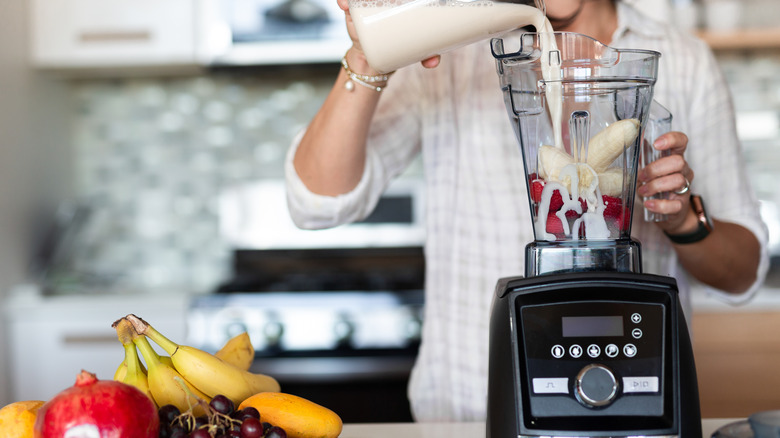 Karen Culp/Shutterstock
In order to provide you with the best Vitamix blenders on the market, we took several factors into consideration during the selection process. As one of the best ways to gather honest insights about products, one of our main methods at the beginning stage of our selection process was analyzing customer reviews with verified purchases. By combing through user reviews of different Vitamix blender models, we took careful note of each product's unique strengths and setbacks. Our final selection here represents the models with the best features and overall highest ratings.
We also gathered and evaluated press coverage and professional reviews to gain a more comprehensive perspective of each blender's overall value and general performance. To provide an eclectic list with a wide range of options, product variation was another main focus. From the cheapest model available to more high-tech options with state-of-the-art features, rest assured that we have a top-notch Vitamix blender model on this list that can suit your needs. Here are the best Vitamix blenders of 2022.
Best overall Vitamix blender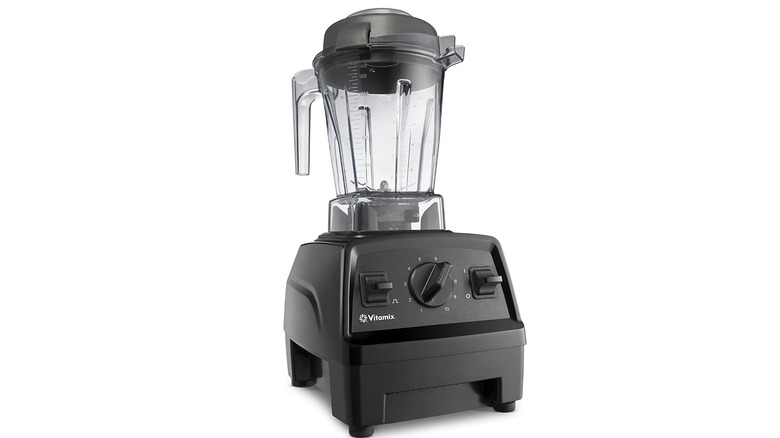 Vitamix
If you're looking for an excellent Vitamix blender that strikes a perfect balance between cost and quality, then this model should do the trick. This Vitamix blender comes with a 48-ounce container that's a reasonable size — not too big, not too small — with more than enough space to whip up a nice batch of smoothies (or any other blender favorites) for a few people. It also comes with 10 different speed settings and a pulse function to provide you with plenty of control with its blending options.
This blender's durable blades are made with aircraft-grade stainless steel to ensure maximum strength and longevity. It's also self-cleaning: Just add a drop or two of dish soap with some warm water, let it blend, and kick back as your Vitamix thoroughly bathes itself in a cyclone of suds. RTINGS gave this particular model high marks for its impressive design and construction quality.
You can buy this 48-ounce Vitamix Explorian blender on Amazon for $289.95.
Best budget Vitamix blender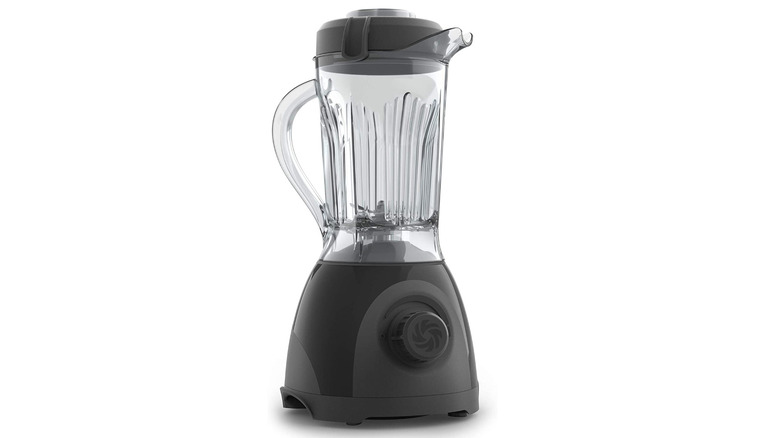 Vitamix
While it's true that Vitamix blenders are on the pricier side, there are still some great deals out there that won't break the bank. Vitamix's ONE 32-ounce blender is its cheapest model yet, clocking in at only about 200 bucks — a total steal for such a high-quality appliance.
This Vitamix blender comes with a simple design that's easy to use. With just a single dial on the machine to adjust speed, one thing's for sure: you won't find a Vitamix blender that's more straightforward to operate than this. While it doesn't really have any bells and whistles like a digital interface or programmable settings, it has everything you need to get the job done: a powerful motor, premium stainless steel blades, and a BPA-free container with a smooth, ergonomic handle. Epicurious praised this particular Vitamix model for its impressive performance and exceptionally smooth results. You'll be hard-pressed to track down a high-powered premium blender that's better than this one.
Purchase the Vitamix ONE 32-ounce blender on Amazon for only $214.95.
Best Vitamix blender for smoothies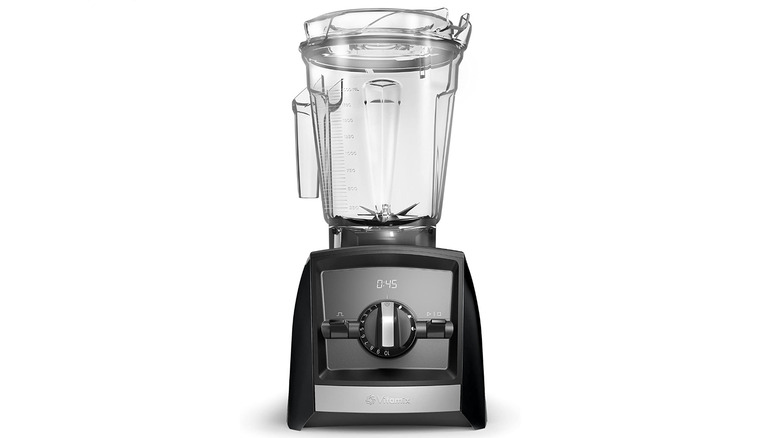 Vitamix
Considering you're currently immersed in the finer nuances and intricacies of blending, we'll go out on a limb and take a wild guess that you're also into smoothies. Which makes perfect sense: Smoothies are delicious, easy to consume, and a great way to get some fresh fruit and veggies in your diet. And while all Vitamix blenders offer powerful motors that produce top-notch results, each model has its own particular strengths — and for something like smoothies that requires (ideally) an exceptionally velvety texture, it can be highly convenient to utilize a blender with a built-in smoothie setting. This Vitamix Ascent model comes with three program settings to choose from: hot soups, frozen desserts, and — yep, you guessed it — smoothies.
With a capacity for 64 ounces, the blender container in this package is spacious and has enough room to cater to several people at once in a single batch. It has a convenient built-in timer and wireless connectivity that enables the motor base to automatically adjust program settings based on the container size. This blender features premium steel blades that can hit speeds fast enough for friction heating and a cool-running motor to ensure it can power through without getting overexerted. This Vitamix blender was also given high marks by GearLab for its consistent ability to produce amazingly homogenous liquid — which creates the smoothness we're all really looking for in a great smoothie. All things considered, there's no doubt that this blender is a top-notch choice for any smoothie-enthusiast.
You can buy the Vitamix A2500 Ascent Series blender on Amazon for $499.95
Best quiet Vitamix blender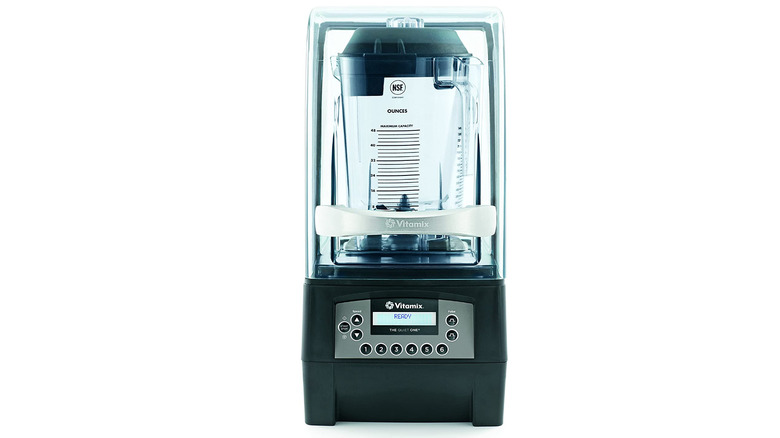 Vitamix
Using a high-powered blender is awesome for many reasons — most of them revolve around saving lots of time and doing all the hard work for you. But all of that speed and convenience comes with a price that all of us ultimately end up paying with our precious eardrums: noise. Ear-piercing, eye-twitching noise is the deafening downfall that curses just about every high-powered blender in existence. That said, some models are quieter than others — and even come with a special design to muffle sound, like this Vitamix Quiet One blender that comes with a secure plastic enclosure.
According to Juicing Journal, high-powered blenders that lack any soundproofing equipment can hit nearly 100 decibels at their peak revolutions per minute (RPM) — which is about the auditory equivalent of a jackhammer. The good news is that this Vitamix Quiet One blender significantly cuts down on the noise factor, reducing it to only about 64 decibels. This Vitamix blender can hold up to 48 ounces and also features six different program buttons. With adjustable speed and two different pulse settings, there are plenty of options to choose from to customize each blending session to meet your changing needs. Jump on this deal and spare your eardrums some needless suffering — preserving your hearing is worth every penny.
Purchase the Vitamix Quiet One blender on Amazon for $1,081.28.
Best Vitamix blender package for bakers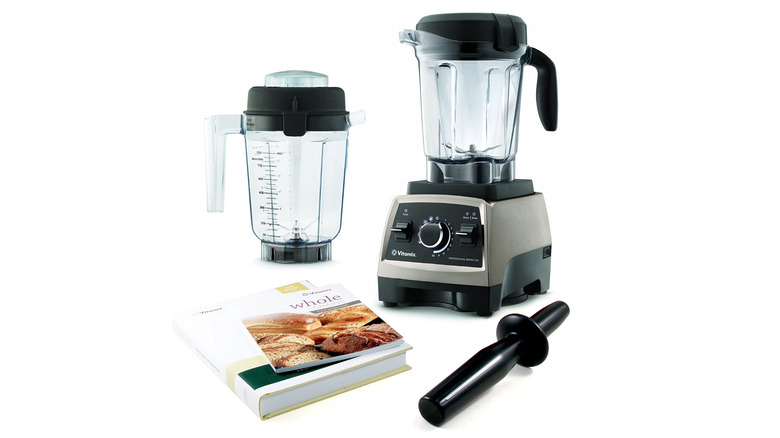 Vitamix
All the bakers in the house will appreciate this next deal. The beauty of this package is how comprehensive it is, considering that it includes just about everything you need to start making fresh baked goods from scratch (aside from the ingredients, of course). It even comes with a set of two different cookbooks to help get you started: one about grinding whole grains and kneading dough and another that contains healthy, whole food recipes.
The deal keeps getting better from here. This package also comes with two different blender containers: a 32-ounce Tritan container with a dry blade and a 64-ounce Tritan container with a wet blade. Having access to both of these containers and blade types empowers you to make your own flours from scratch in addition to your own fresh doughs and fillings. Rounding out this deal is a complimentary tamper to assist with any thicker batches that need an extra nudge or two along the way. With 10 different speeds, dishwasher-safe parts, a new design that's 40% quieter than previous models, and a removable rubber lid with an open slot so you can keep adding ingredients while blending, this is definitely an all-around great deal (via Cove Cutlery).
You can buy the Vitamix 750 professional artisan premium baker set on Amazon for $752.95.
Best high-tech Vitamix blender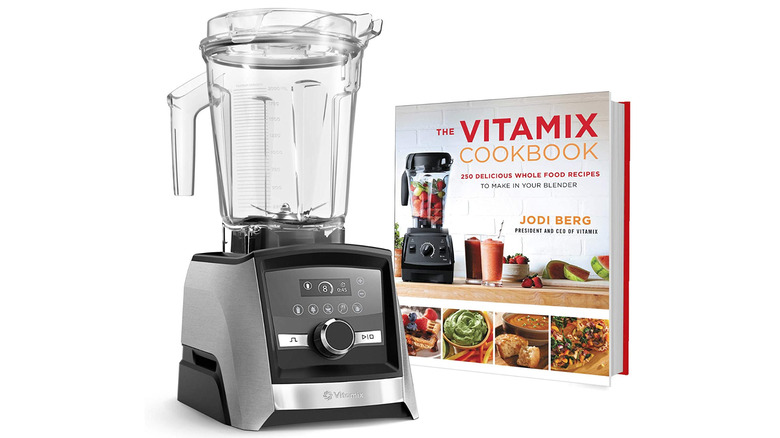 Vitamix
Praised by Homes and Gardens for its "unbeatable power," this Vitamix smart blender comes with some impressive state-of-the-art features. For starters, it's equipped with five different settings that include specialized programs for hot soups, dips and spreads, and frozen desserts. It also features wireless connectivity that allows the motor base to automatically adjust settings depending on the container unit that's connected.
Its simple touchscreen controls are easy to use, and it also comes with a cookbook that contains 250 recipes. Still not convinced? You might want to take a peek at its 4.7-star rating after nearly 200 customer reviews, or consider the fact that Homes and Gardens writer and editor Millie Fender has reported that this blender produced the best consistency she's ever achieved with homemade soup. At the end of the day, this Vitamix blender offers some of the nicest customizable features on the market — all wrapped up in a powerful motor. The bottom line: there's a lot to love about this deal and if you're serious about upping your blender game, this is the package to pounce on.
Purchase the Vitamix A3500 Ascent Series smart blender on Amazon for $574.95.
Best mid-range Vitamix blender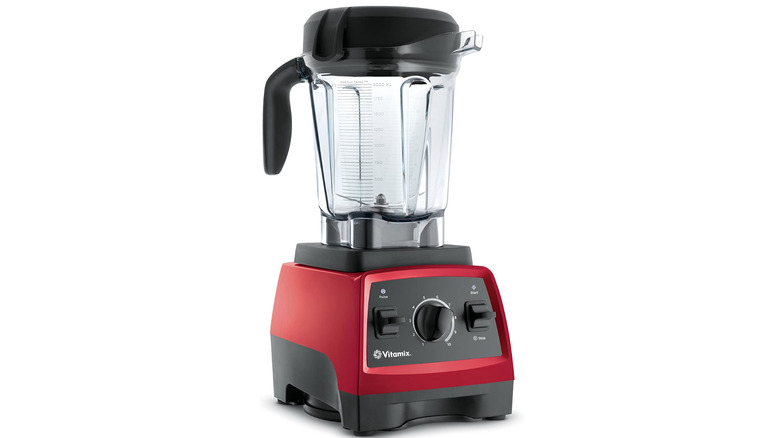 Vitamix
When it comes to price, sometimes it's best to aim somewhere right in the middle. It can be hard to justify the cost of more expensive models, yet cheaper prices often mean a lower quality product. A mid-range price often strikes the perfect balance between cost and quality — and this Vitamix 7500 blender is a shining example of that.
This model has 10 different speed settings to choose from, along with a pulse function that's ideal for customizing textural consistency. RTINGs gave this blender high marks for its impressive performance and straightforward design. With a 64-ounce container cup and aircraft-grade stainless steel blades that can heat food through high-speed friction, this blender comes with a specially designed tamper and a powerful, high-performance motor that can pulverize frozen fruit and other solid food items into deliciously smooth, luxurious liquid. If you want one of the best models on the market but you're willing to make a few technological sacrifices to save a few bucks, this blender is match made in heaven.
You can buy the Vitamix 7500 blender on Amazon for $476.99.
Best handheld Vitamix blender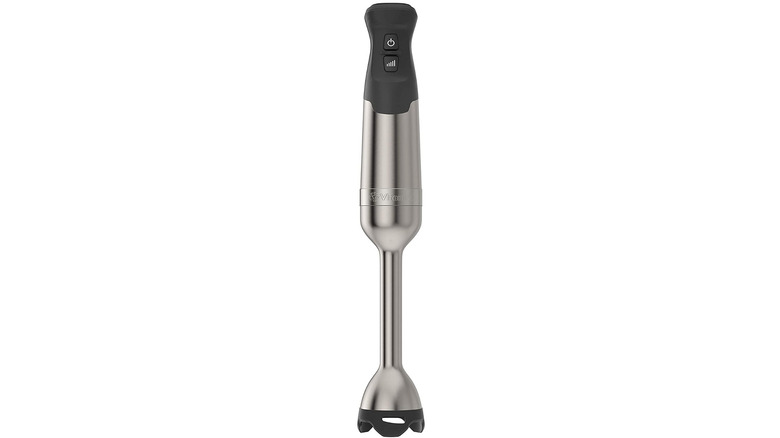 Vitamix
Bigger countertop blenders certainly have their uses — tougher jobs like crushing ice and pulverizing frozen fruit into fresh smoothies comes to mind — but there are plenty of smaller tasks in the kitchen that don't require the high-powered assistance of a big-bladed beast. Hand blenders, also called stick blenders or immersion blenders, tend to be much more affordable and compact and ideal for blending dressings, soups, and sauces (via TechRadar). Convenience is a key reason for buying a hand blender: Sleekly-designed, most models can be easily stored in a drawer, snapped together in seconds, and ready to blend.
This immersion blender from Vitamix comes with five different speed settings and ultra-sharp, four-pronged stainless steel blades. It also comes equipped with a bell guard to mitigate suction, protect your cookware, and allow liquid to easily pass through the blades. Don't let this blender's relatively modest size fool you — even though it's compact, it still has a powerful 625-watt motor. It can blend in any container that's at least 3 inches wide, making it a great choice when you want to quickly whip up dressings or sauces in mason jars.
Purchase the Vitamix hand blender on Amazon for $149.95.
Best professional Vitamix blender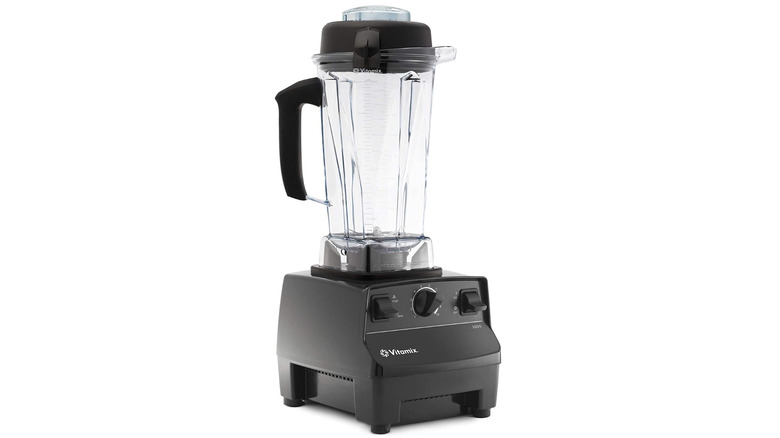 Vitamix
Blenders take a beating — especially in commercial kitchens and restaurants. For that reason, it's important for professionals in the food industry to select blenders that can handle the strain of constant usage. This Vitamix 5200 blender model comes equipped with aircraft-grade stainless steel blades that spin fast enough to create hot soup from cold ingredients and also boasts a large 64-ounce capacity.
As Digital Weekly pointed out, this blender was built to last, with durable construction. Keep in mind that even though this blender is often used for commercial and professional purposes, there's no reason it can't call your own kitchen home. Its powerful 2.0 horsepower motor can handle any job you toss its way, setting you up to make some of the most evenly blended smoothies, sauces, and soups you've ever created. While it might be a little on the bulky side considering its height and 64-ounce container, there's no doubt that it's durable and well-constructed. If you're looking for a large capacity, high-powered blender that you can depend on, then look no further.
You can buy the Vitamix 5200 professional blender on Amazon for $479.95.
Best Vitamix blender for frozen ingredients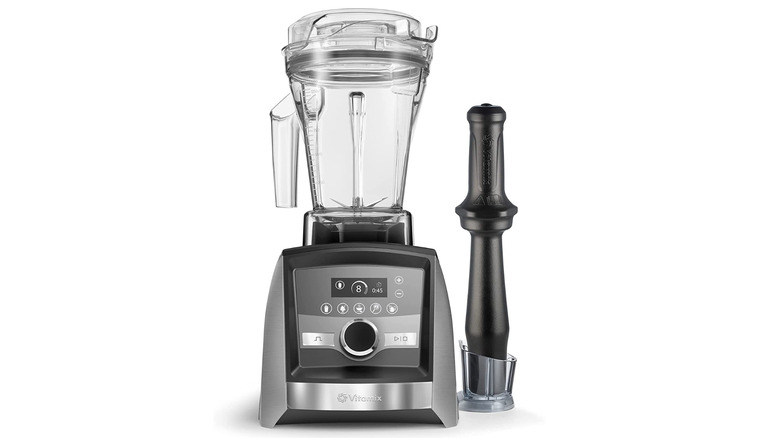 Vitamix
While you can use a blender for all kinds of dishes, the reality is that much of the time, there's usually some amount of frozen ingredients in the mix. After all, blending frozen ingredients is often when a blender comes in handy most. That said, not all models are created equal, and certain accessories can make blending frozen ingredients much easier. This Vitamix model has some features that make it particularly well-suited for the task.
For starters, this deal comes with a complimentary tamper. This tamper empowers you to ensure a smooth blend even when your container is full of extra thick or frozen mixtures — all you need to do is nudge any unwanted clumps and food chunks back towards the blades with the tamper. This blender even goes the extra mile by providing a tamper storage slot on the side of the unit for easy and convenient access. Beyond the tamper, the laser-cut stainless steel blades on this model are resistant to dulling and bending, making them exceptionally fortified for heavy-duty usage. Blended margaritas and all kinds of freshly spun treats await you.
Purchase the Vitamix A3500 blender on Amazon for $574.95.
Best Vitamix blending cup for travel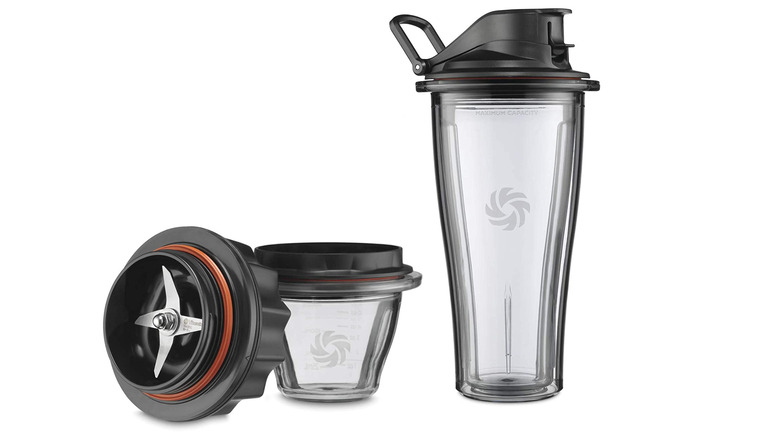 Vitamix
Smoothies are an easy way to incorporate some fresh fruit and veggies in your diet, but buying smoothies at restaurants can really add up. If you want to enjoy delicious smoothies on a regular basis and save a few bucks, the best thing to do is to make them fresh at home yourself. And when you're on the go, having some travel cups that attach to your blender can be a real time-saver.
This deal comes with two Vitamix blending cups that directly attach to the blender. Note: these cups are compatible with the Ascent and Venturist Vitamix blender series motor bases. What this means is that you can whip up a protein shake or smoothie in the blender, pop the top on your blending up, and head out in the world with a freshly made drink in hand. The blending cups in this package come in two different sizes: a 20-ounce cup and an 8-ounce bowl for the storage of smaller portions or snacks. This is an ideal set-up for anyone who wants to bring some easy mobility to their own homemade snacks and blended drinks.
Purchase the Vitamix blending cup and bowl starter kit on Amazon for $139.95.