The Raising Cane's Location That Can't Legally Sell Chicken Fingers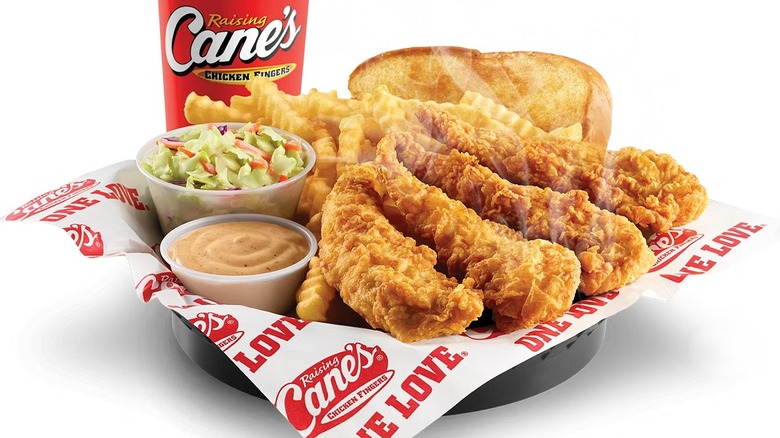 Raising Cane's
Imagine walking into an ordinary-looking McDonald's and asking for a cheeseburger and fries. The cashier tells you they can give you the fries, no problem, but they can't sell you cheeseburgers because it's against the law. What? How can McDonald's not be allowed to sell burgers? That's pretty much one of the only foods it's known for. How can a place whose menu is mostly burgers not be able to sell them? With this in mind, you can begin to understand the confusion people have if you tell them a certain Raising Cane's isn't legally allowed to sell chicken fingers.
For a bit of context, Raising Cane's is a restaurant that is known primarily for selling chicken tenders, crinkle fries, and Texas toast. Nation's Restaurant News calls it one of America's top 10 "limited-service chicken restaurant chains," placing it above Zaxby's and below Popeyes. Erin McDowell of Business Insider raved that Raising Cane's chicken fingers were both super crispy on the outside and juicy on the inside, especially when paired with the chain's famous sauce. McDowell even went so far as to claim that Cane's "has [her] favorite fast-food chicken tenders"– high praise indeed.
But how could a restaurant that literally sells very little else besides chicken fingers be refused, by law, to sell them? It would be like Mashed not being allowed to write about food. The answer to this controversial decision doesn't lie in the bureaucratic maze of Washington, but in a shopping mall in Indiana.
The mall refuses to allow Raising Cane's to sell chicken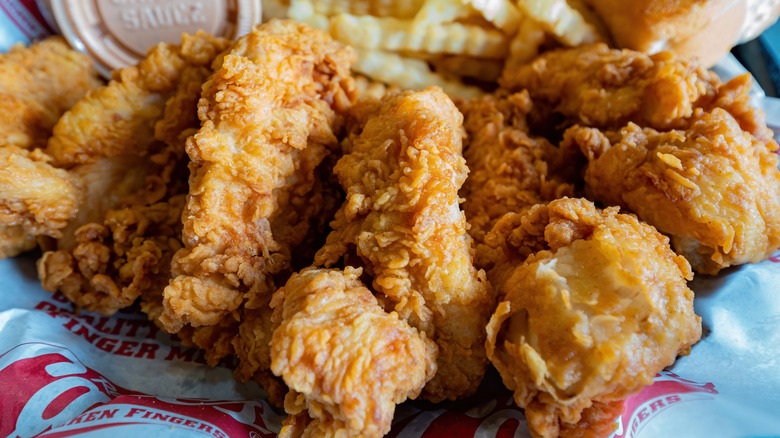 Kit Leong/Shutterstock
How exactly could a shopping mall forbid Raising Cane's from selling chicken fingers? If the owners didn't want someone peddling fried poultry, why did they allow Raising Cane's to set up shop? As The Takeout explains, Raising Cane's alleges that Crossings of Hobart in Indiana had never told the company it wouldn't be allowed to sell its chicken fingers due to a secretive deal made with the nearby McDonald's, which gives McDonald's the exclusive right to sell chicken at the shopping center. Raising Cane's is now suing the mall and its owner, claiming the mall tricked the company into signing a 15-year lease.
The shocking allegations don't stop there. In fact, despite the deal between McDonald's and the mall owners happening in the 1990s, it seems the mall owners actually found themselves tricked by the Golden Arches. FOX 59 News reports that just before Raising Cane's began construction, the mall sent a letter to the McDonald's asking them to give up its "exclusive rights" so a Chipotle location could also be built. Perhaps unsurprisingly, given that it now had full chicken control, McDonald's declined the request. The shopping mall even stated that McDonald's had demanded that Raising Cane's "cease construction." Although the mall claimed to have its hands tied, Raising Cane's still planned to carry on the lawsuit, which FOX 59 says "accuses the defendants of multiple counts of fraud." If the chicken chain wins, it could get millions of dollars and get out of the lease it signed.
It seems the world of fast-food chicken is one of power and control.