You Can Now Get Andrew Zimmern's Spice Line On Amazon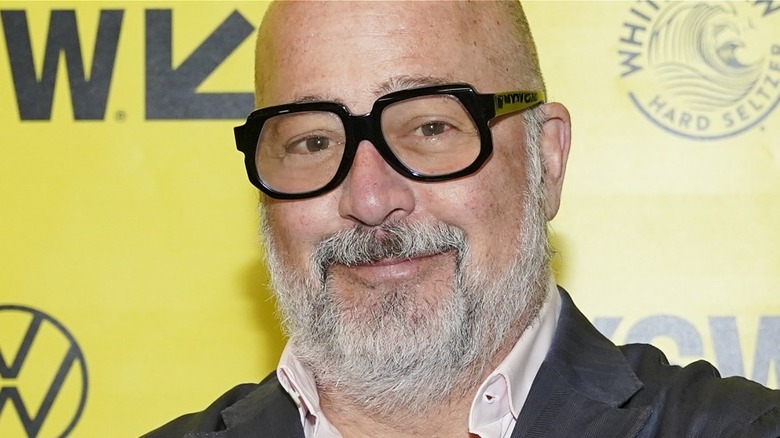 Amy E. Price/Getty
We may receive a commission on purchases made from links.
Filling up an empty spice drawer can seem like a tedious task. Thankfully, once you're stocked up, you won't need to worry about purchasing more too often since dried spices and herbs can last one to two years, according to Spices Inc. But some people might get tired of using the same (literally) old seasonings. One great way to spice things up is to try a new blend. For instance, you can make your own at home by following a recipe for all-purpose chili seasoning. But expert chefs sometimes make their own spice combinations for people to buy.
On Twitter, Andrew Zimmern recently shared a post about his spice line, which is made in collaboration with the company Badia Spices. It has become available for purchase on Amazon, possibly easing the frustrations felt by some fans who looked for the products elsewhere. If you've been struggling to find these spices in stores, you're not alone. User @KentuckySpirits enthusiastically responded to Zimmern, "Thank You !!! Been waiting for them on Amazon, since hunting them in retail groceries can be futile."
What spices are included in Andrew Zimmern's spice line?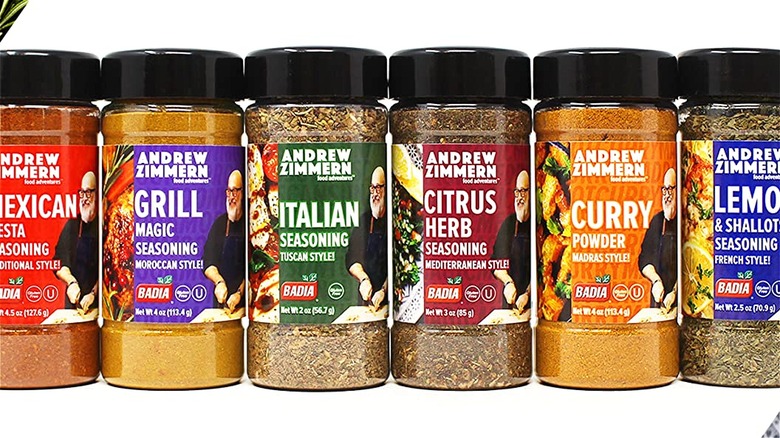 Badia
According to Badia's website, Andrew Zimmern's spice line includes a few styles of seasoning like French, Madras, Mediterranean, Tuscan, Mexican, and Morrocan styles. Zimmern's Lemons & Shallots Seasoning French Style is recommended for meat marinades and dips while Badia suggests using the Curry Powder Madras Style in curries with some coconut milk.
The Citrus Herb Mediterranean Style seasoning blend features orange, chile, and mint that might pair well with eggs, meat, or salads. The Italian Seasoning Tuscan Style blend is said to be suited for homemade dressings and sauces while the Mexican Fiesta Seasoning Traditional Style could be added to tacos and fajitas. Finally, the Magic Seasoning Moroccan Style is good for grilling meats and dry rubs, according to Badia. On Amazon, these spices come in containers ranging from 2.5 ounces to 4 ounces, and each individual spice blend costs about $5. Looking for more spice advice? Here are the spices that Gordon Ramsay thinks you need in your pantry.