Mary McCartney Serves It Up! Is Inviting Some Familiar Faces To The Kitchen - Exclusive Interview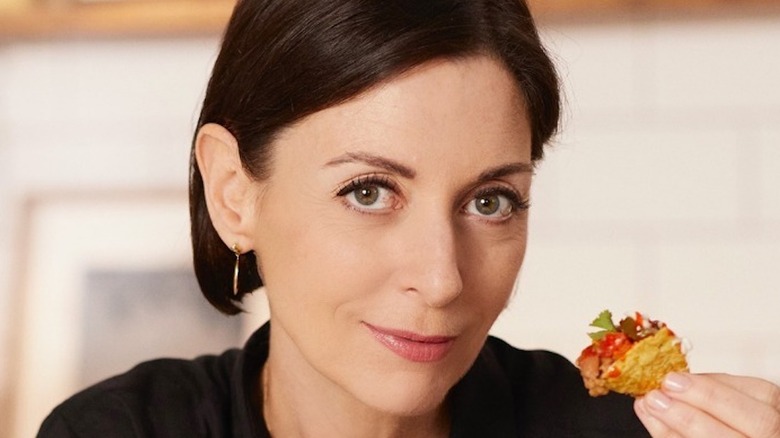 Discovery+
Just in time for the holidays, "Mary McCartney Serves It Up!" returns for its second season. Mary McCartney creates all kinds of approachable vegetarian dishes in half-hour blocks, from decadent ice cream cakes to hearty mushroom loaves. While preparing each dish, McCartney is joined by famous friends such as Bryan Adams, "Bridgerton" star Simone Ashley, and Oscar-nominated singer Celeste. They tell stories about bringing food and community together, all while providing easy-to-follow, step-by-step instructions for viewers.
A longtime vegetarian advocate, McCartney is co-founder of the non-profit organization Meat Free Monday and is the author of several vegetarian cookbooks, including "At My Table: Vegetarian Feasts for Family and Friends." Through elegant yet uncomplicated dishes, McCartney makes approachable meals that are great for family or for guests. We spoke with McCartney to find out her best tips for meatless cooking and what is in store for the new season of "Mary McCartney Serves It Up!"
Mary McCartney Serves it Up
You've written numerous cookbooks, and you've been a strong plant-based food advocate for years. What made you want to branch out and do a television show?
I like to be able to connect with the audience or connect with people and share recipe ideas, and it feels much more natural to be able to show somebody how to make something than write it down. Sometimes people just like to be shown the recipe. Also, I love the idea of people being able to bring their laptop or TV or iPad into the kitchen and put on the show and cook along with me. I talk down the camera to the viewer, so it's about a way of connecting more with people, and that way, I get messages on my social media and I can get feedback, and it's quite accessible. It is a good way of showcasing recipes and life startups.
Who can we expect to see on this season of the show?
Oh, we've got some great guests. We've got Bryan Adams. He is on the "Instant Comfort"-themed episode. We make a skillet caponata pizza, which is packed full of flavor. Then we have Celeste, who's an amazing Oscar-nominated singer. We do the episode which is called "Grill Time." Jamie Dornan is "Quick Classics," the actor, and there's Simone Ashley, who's an actress who's in "Bridgerton." She is on the "20 Minutes or Less" episode.
We have good guests, and they come and join me in the kitchen, and they have ... The tone of this season is even more relaxed [and] spontaneous, hanging out in the kitchen, cooking easy food together, and enjoying each other's company, making it casual and accessible.
The show always seems to be a very low-pressure cooking show. It seems to be very accessible to people.
Yes. This season, the more I do, the more I try to simplify the recipes [and] simplify what you need to do. There's an amazing ice cream cake that I do in this season [that] is actually pretty much more of an assembly job than a recipe. You put it all together, but it's something that I've been making for years that my mom taught me, and I've adapted it a little bit and tweaked it over the years. It's a really fun recipe.
Recipe challenges and preparations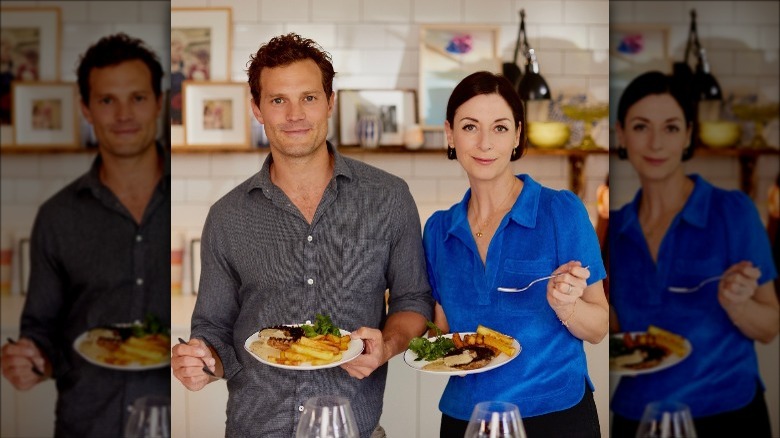 Discovery+
What was your favorite meal or food that you prepared on the show this season?
I love each one of the recipes. There's a tomato soup that reminds me of my childhood — that's my comfort food. But there's a pad Thai noodle dish that Simone Ashley and I make together, which is packed full of flavor, and it's easy, and it's fun in a bowl. It's vibrant, and we make it together. Then we make a little cocktail called Em's Kick. She makes a cocktail while I make the noodles, so that was fun.
Was there a recipe for this season that was particularly challenging?
One of the things that I challenged myself to do when Jamie Dornan came on was to do a recipe or a meal that felt quite traditional. I veganized steak and chips, and I do these big mushroom steaks, which you fry and flavor and season. Then I make chunky fries, which I bake in the oven, which are great and sort of party.
The most challenging thing [was] I was watching a cooking show, and it had this traditional French sauce called beurre-less blanc sauce, which is a butter white wine sauce. I [was] like, "I wonder if I could make that and if it would work." It feels quite fancy, but it's really quite easy, and it worked. It's amazing. It's olive oil, white wine ... I use olive oil instead of butter, and it's great. That pours over the whole plate, all over the mushroom steak and the fries. It's a little bit different but quick, and it's something that I would do if I was going to entertain. I'd be like, "Come over," and try that out on someone.
A meat-free legacy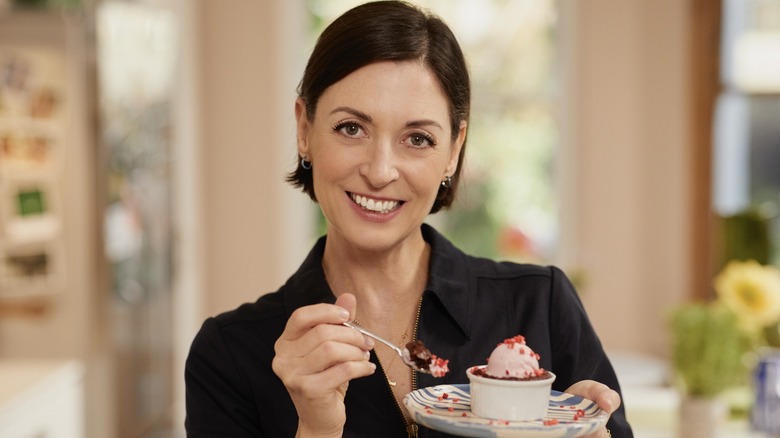 Discovery+
You've been vegetarian since you were a child, before it was very mainstream. How has vegetarian cooking evolved since then?
It's really developed and changed ... There's so many more exciting conversations about food and recipes, and it doesn't feel like a chore. It feels exciting and vibrant. So many restaurants have the options. We walk down the street in New York, and it has vegan and vegetarian options everywhere. It feels like it's being embraced by a lot more people. People are enjoying it because they want to do it, not because they feel like they have to do it.
Having grown up in a meat-free household, what made you continue and expand on that into adulthood?
When I left home, I was in charge of buying my own food, and I thought, "Am I still going to be vegetarian?" I realized that I had picked up enough and I enjoyed cooking enough that I knew how to do it in a way that felt satisfying. I stuck with it because I wanted to rather than feeling like I had to, which is important. I'm not interested in preaching to people or telling people off. It's more about ... enjoying each other's company and feeling foodie and talking about flavors, and surprising people with combinations and recipes.
What advice would you give to people who are looking to start meat-free cooking?
If you are interested in meat-free cooking, first of all, look for ideas. Look through cookbooks [and] lots of things on websites. Watch the cooking show. Get some ideas so that you have a bit of an idea of what it is you like before you start. You then see it and you're not like, "What am I going to do for dinner? I don't know what to do." Try and get inspired by looking through recipes and ingredients that you do like, and there's so many different places that can share recipes.
Then, don't be too hard on yourself. You don't have to be perfect. None of us are perfect. You can start gradually. You don't have to do everything in one go. Pick something you like, then think of something else you like, or find a local cafe that has something. Try and make it an adventure that you enjoy, so then you're more likely to stick with it.
Foods for the whole family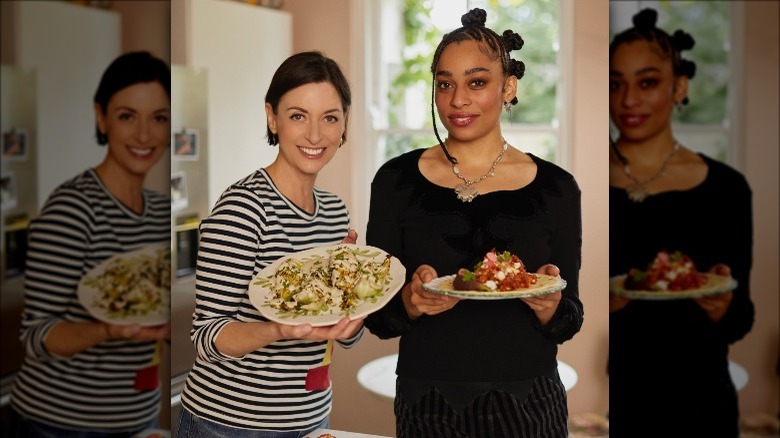 Discovery+
On your show, as well as in your cookbooks, you promote a lot of very family-friendly recipes. How do you develop foods that'll appeal to children and adults alike?
What I try to do is make something — say I'm making the one-pot chili. I'll make it and I won't add so much spice or chili heat. You can feed that to kids, and when you eat it as grown-ups, you can season it with a little bit more chili and chipotle paste and add another dimension that's more for a grown-up palate. In answer to your question, [when] I make something, I don't season it or make it as spicy, and then you add more — you add a bit more flavor to make it a bit more grown up.
With the holidays coming up, do you have a go-to vegetarian holiday food?
Yes. We love to have a festive meal, so I'll buy a roast. I have recipes for roasts that you can put together, like a meatloaf or something, but use meatless products. It is one of the episodes in Season 2 — my dad joined me in the kitchen and we go through the festive recipes. I make a red wine gravy and Yorkshire puddings, roast vegetables, stuffing, and stir-fried Brussels sprouts. I share all those recipes.
That's the great thing about the show, being able to share my favorite recipes that I've grown up with, and then daydream and think of new recipes with the viewer in mind. What would they want? Something quick, something easy, something accessible. It's an extension of Meat Free Monday and promoting that with that thing of trying. It's a community. I like it when it feels [like a] community, and I like eating with friends and cooking for people, so it's an extension of that.
Mary McCartney's favorites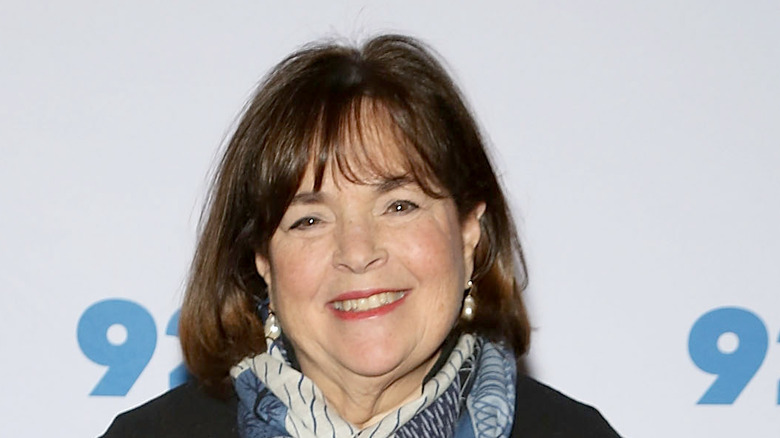 Manny Carabel/Getty Images
What is the one ingredient in the kitchen you cannot live without?
One of the things that I love that is surprising is lemon, because you might sauté some veg or make the pad Thai noodle. We like citrus, the lemon or lime ... With the pad Thai, you make it and it tastes delicious, but you get a little wedge and do a little squeeze of lemon or lime onto something, and it elevates it and brings it alive. That's a super impossible question, but right now, I have to say lemon. Tomorrow, I'll say something completely different.
Who is one chef or one other person that you would love to cook with?
In America, I love the Barefoot Contessa, Ina Garten. I love her. Again, I like the way she cooks for her husband. I love the fact that it's community. That would be good.
I don't know a lot more chefs in America. That's the thing. I'm more U.K.-based. There are some amazing people; I just don't know them all by their names right now.
What is the thing that you hope people will take away from your show?
I hope people take away that it's something [that] makes them want to feel inspired to cook. Sometimes it can get to be a bit like, "Oh, I've got to cook a meal now." I hope that you'll be looking forward to cooking and not find it a chore, and use it as a way to invite friends around and be together more, and talk and socialize and be together and enjoy each other's company.
Do you have a go-to fast food order?
I love fries. I love a fry.
Season 3 of "Mary McCartney Serves it Up!" is now streaming on Discovery+.
This interview was edited for clarity.