Wendy's Is Launching A Breakfast Biscuit Bowl, But There's A Catch
Bowls seem to be a pretty popular concept in restaurants. You have Chipotle bowls, bowls from Applebee's , and even from Papa John's. In layman's terms, a "bowl" is a dish that usually has protein, grains, and vegetables placed together in a serving bowl. It would seem that, joining the slowly emerging trend of "bowling over" customers, hamburger magnate Wendy's has placed a very similar item on its ever-expanding breakfast menu.
Wendy's is no stranger to introducing new and fantastical items to its breakfast menu to keep ahead of the other fast-food giants striving to grab the stomachs of those in the morning commute. Whether it was the "Breakfast Baconator" and the "Frosty-ccino" when the breakfast menu first launched nationwide in 2020 (via CNBC) to the recently-released French Toast Sticks (via CNN), Wendy's breakfast menu does everything it can to stand out from the McMuffins and croissant sandwiches offered by its two biggest rivals. 
The newest addition to Wendy's breakfast menu isn't a burger or a drink, but a breakfast bowl. But this bowl of breakfast side dishes isn't going to be at a Wendy's near you– at least, not yet. Instead, this early-morning meal is only available in one select U.S. state and you're gonna have to be a "Hoosier" if you want to get your hands on it.
Wendy's new Biscuit Bowl is only avaliable in Indiana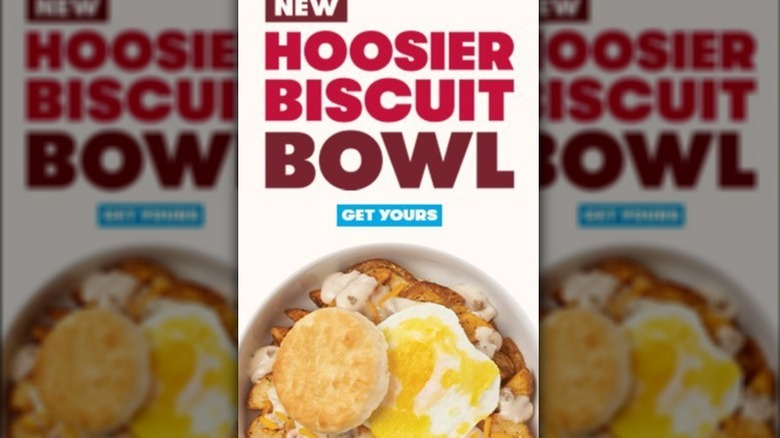 Wendy's
According to PR Newswire, Wendy's newest breakfast item is the "Hoosier Biscuit Bowl," a bowl that is made up of "buttery biscuits, homestyle seasoned potatoes, southern-style sausage and gravy, a fresh-cracked fried egg, and topped with shredded cheddar cheese." It's pretty much a whole Southern breakfast in a serving bowl.
If the term "Hooiser" sounds odd to you, it's because this breakfast item is avaliable on in participating Wendy's locations in Indiana. "Hoosier" is a nickname for Indiana residents (via Indiana Historical Board). In fact, residents of Indiana can get a free Biscuit Bowl from 7am to 10am at the West Morris Street Indianapolis Wendy's on November 18 (via ChewBoom).
This isn't the first biscuit-themed menu item that Wendy's has released. In 2020, as it launched its nationwide breakfast menu, Wendy's also introduced the Honey Butter Chicken Biscuit. Brand Eating's review describes it as a "a seasoned and crispy-fried chicken filet topped with maple honey butter and served on a buttermilk biscuit." The review noted that the biscuit, while a bit dry on the surface, was surprisingly moist and buttery, the chicken was sufficiently meaty instead of flat and mostly breading, and that it wasn't too overpoweringly sweet.
Whether or not the Biscuit Bowl will expand beyond Indiana territory remains to be seen.