Katie Lee Biegel's Budget Friendly Tip For Your Thanksgiving Turkey - Exclusive
One week until the big day for foodies and culinary enthusiasts everywhere: Thanksgiving. Inflation is in the air this holiday, as AP News reports food prices will increase up to 10.5%. For reference, it's never risen over 2% annually. There are many factors that are driving costs upwards, including: the bird flu the war in Ukraine, transportation, and high labor prices, among other things. The bird flu has specifically affected Turkey Day as the disease continues to ravage the United Kingdom.
Inflation may have changed what you provide on your Thanksgiving table, but that doesn't mean your dinner has to be any less delicious. In an exclusive interview with Mashed, Food Network star Katie Lee Biegel revealed her best budget friendly food tip as we enter the holidays. The Thanksgiving turkey is the holy grail of the holiday, but the higher the poundage, the more expensive it gets. Biegel explained that there are other ways to lessen your cost while still maintaining a delicious meal.
Buy a frozen turkey instead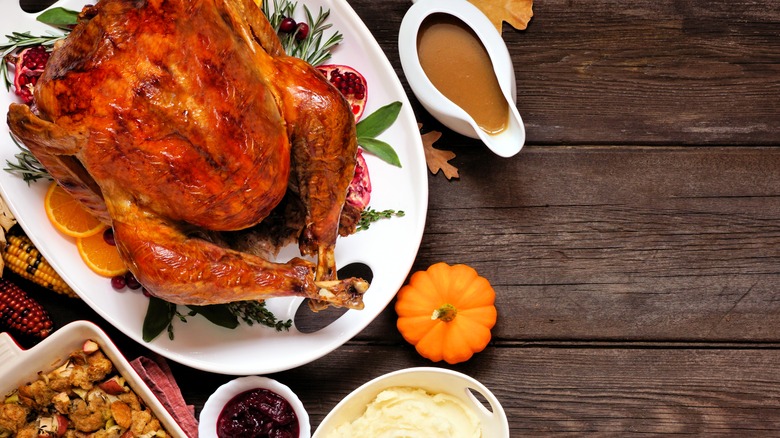 JeniFoto/Shutterstock
When you head to Costco or your local grocery store to stock up on that 20 pound turkey, take Katie Lee Biegel's advice and save some money. She told Mashed, "A lot of times, a frozen turkey is less expensive than a fresh one." Biegel added, "Just allow yourself enough time to thaw it, again with schedules." The cookbook author mentioned that for every five pounds, you'll need one day in the refrigerator to thaw.
Biegel also recommends heading to your local bakery and asking for their day-old pastries. The television personality introduced her pumpkin chocolate croissant bread pudding with Sub-Zero, Wolf, and Cove (an appliance brand) which is sure to be a household hit. Biegel's pudding includes six chocolate croissants, with many other price inducing ingredients that will definitely add up.
"They [bakeries] want to offload those [day-old pastries]. A lot of times, they'll be 50 cents or $1, versus being, let's say, $3 a croissant. That's a great way to budget," Biegel said. As we all feel the wrath of inflation, there is nothing wrong with getting creative when it comes to cooking. Use up those foods sitting in your pantry and feast up!
Learn more about Sub-Zero, Wolf, and Cove's appliances on its website, and head to Katie Lee Biegel's Instagram page to keep up with her future projects.