Brooklyn Beckham Just Co-Founded A Japanese-Inspired Sake Brand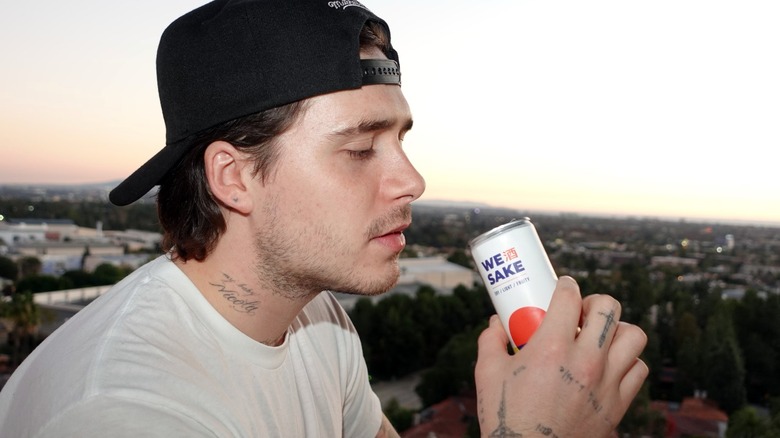 WESAKE
Though Brooklyn Beckham's career in the food industry arguably began when he started posting very casual cooking videos on Instagram reels, he's come a long way since then. Now, he's the host of his own Facebook Watch cooking show, "Cookin' With Brooklyn," and he's also been in the kitchen with Chef Nobu Matsuhisa, who founded Nobu, the luxurious Japanese restaurant with locations across the globe.
When he was younger, Beckham dabbled in the football (soccer) and fashion industries, in which his very famous parents have roots in (via ELLE). However, it's clear that cooking is one of his biggest passions, and although he states in the official "Cookin' With Brooklyn" trailer, "I'm not a chef — yet," he reveals his plan that he's going to work hard to see what he can accomplish. He also shares in the trailer that he truly enjoys the act of making food for the people he loves.
Beckham is now taking the next step in his culinary career as the co-founder of a Japanese-inspired sake brand.
The brand's goal is to introduce more people to sake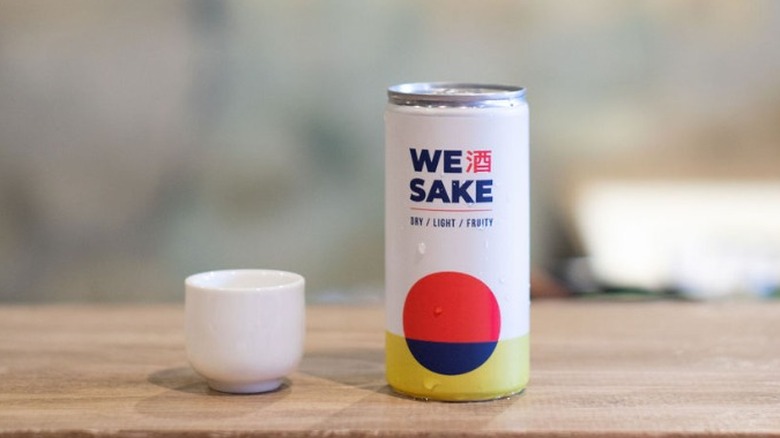 WESAKE
Beckham worked with co-founder, Pablo Rivera, to produce a canned sake drink that is light and refreshing, according to a press release. Their new sake brand, which is called WESAKE, aims to honor the roots of the traditional Japanese alcoholic beverage while also exposing it to new drinkers.
Sake is a Japanese rice wine that is typically served with appetizers and enjoyed with friends and family, according to Roka Akor. Rivera states that for him, sake is an "everyday drink," but there are still many people who haven't given it a try. Thus, WESAKE's beverages, which are all canned, are made perfect to share at gatherings and dinners. Like traditional sake, which typically has an ABV of 9% to 16%, WESAKE's drinks contain 13% ABV and have a fruity and crispy flavor. Furthermore, according to its website, Beckham and Rivera have partnered with one of the oldest sake breweries in Japan to make the products, which further demonstrates their commitment to preserving the drinks' traditional roots.
According to a press release obtained by Mashed, you can learn more about WESAKE on an upcoming "Cookin' with Brooklyn" episode, where he will talk all things sake with the director of the Sake School of America, Eda Vuong.
WESAKE is available for purchase on the website and in-store in select states.