Lead Singer Of The Band Train Makes Wine And Chocolate Named After Their Songs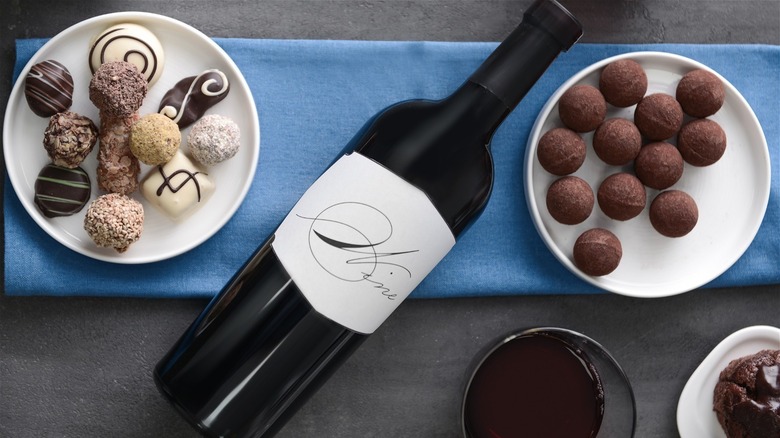 Africa Studio/Shutterstock
Pat Monahan, the lead singer of the band Train, known for his untrimmed chest and sultry lyrics, joined the growing list of celebrities with a private wine label, including fellow musicians Dave Matthews, Nicki Minaj, and Jon Bon Jovi. Celebrating over ten years in business, over 10 million bottles sold, and over 100 medals won, the rock star's wine company, Save Me, San Francisco, is the familiar name of the band's 2009 studio album (per People).
Grammy winner Monahan and acclaimed winemaker James Foster teamed up to offer wine from the San Francisco region where the band began decades ago in 1993. Wanting to give back and connect to their community, proceeds from Save Me, San Francisco wine company, are donated to the Bay Area's non-profit organization "Family House," which offers temporary housing to the families of ill children seeking treatment at the University Of California San Francisco Benioff Children's Hospital.
Save Me, San Francisco operates under the "Drops of Jupiter Winery," named after the Grammy-winning 2001 hit single off the album of the same name. Accompanying each well-crafted bottle of wine are chocolates, a natural pairing, which are also created in the Bay Area by the San Francisco Chocolate Factory. Deeply involved and connected to the winery, Monahan has named each wine and gourmet chocolate after the band's very personal song titles, many of which were written by Pat Monahan, perhaps elevating the expectations for each bottle.  
Save Me San Francisco wine
"Wine and music have been in love since they met" is the sentiment driving the wine's success, according to Pat Monahan and James Foster. According to Save Me, San Francisco,  the winery currently offers eight types of wine under its label. Each variety is named after one of Train's celebrated songs. A 2015 sauvignon blanc, "Bulletproof Picasso," a 2014 cabernet sauvignon, "California 37", a 2014 chardonnay, "Calling All Angels," a 2014 California red blend, "Drops of Jupiter," a 2015 rosé, "Marry Me," a 2014 merlot, "Hella Fine," a 2014 pinot noir, "Soul Sister" and a limited reserve 2018 cabernet sauvignon called, "Save Me, San Francisco." Only 200 cases of the "Save Me, San Francisco," California cab were bottled, and the wine can only be purchased online.
In 2017, Monahan and Foster expanded beyond the grapes in the Bay Area, launching Drops of Jupiter, a stand-alone wine label outsourcing grapes from around the world. The premium price point wines launched with an Australian cabernet sauvignon, a pinot noir from California, and a New Zealand sauvignon blanc. Proceeds will also go to the organization "Family House" (via PRN News Wire).
Monahan and the band have been busy. Train just released a new album, "AM Gold," they are embarking on a 2023 tour in January and sold out of the seventh edition of the "Sail Across the Sun" cruise from Miami to the Dominican Republic in February, where hopefully they will be serving your favorite wine.