GBBO's Janusz Threw Some Subtle Shade At Paul Hollywood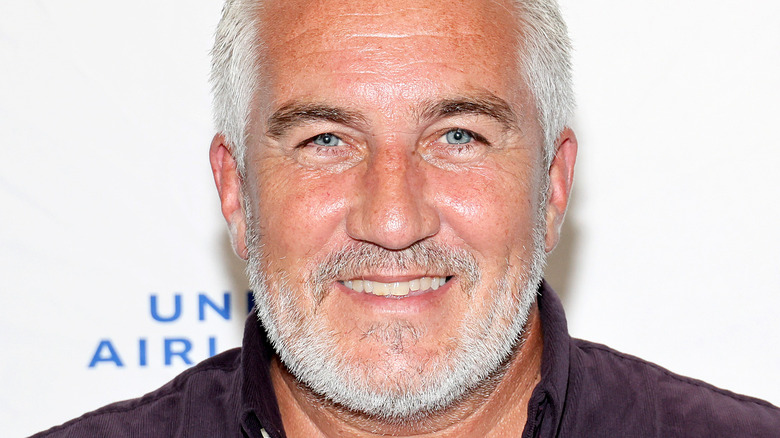 Dia Dipasupil/Getty Images
Paul Hollywood can be one tough cookie. "The Great British Bake Off" judge is known for his lack of expression, stern critiques, and for being rather stingy with any sort of approval, the latter of which is given in the form of the much-coveted and fairly elusive Hollywood handshake. Speaking with Radio Times, he called himself "the most hated man in the country." And while he admitted to making more than one contestant cry during the 2019 season, according to the Mirror, he also noted, "We always give constructive criticism. We want them to get better, we want them to enjoy it."
Janusz Domagala of Season 13 was one of the bakers who received such criticism. Domagala was a favorite in the tent, making it all the way to the semifinals before he was eliminated in Patisserie Week (via Daily Mail). Domagala, who said his baking style is "cartoon-like, colorful, and camp" (via "The Great British Bake Off" website), was known for his cheery smile and colorful shirts, which he wore to represent and honor the LGBTQ+ community, per Instagram. Domagala wowed fans and GBBO alums alike, such as Crystelle Pereira, who commented on Instagram upon his elimination, "You absolutely smashed it hun, so so proud of you." While at the end of the day, it all comes down to what the judges think, after it was all said and done, Domagala revealed what he thought about a judge.
Janusz looked to 'impress Prue' with his bakes
In an interview with The Sunday Times, Janusz Domagala wasn't shy about sharing his thoughts on which judge's opinion he valued most in the tent. "This might be an unpopular opinion, but I was always trying to impress Prue [Leith] more. She is a figure I really look up to," Domagala said. While that might not mean he doesn't admire Paul Hollywood, it's clear that he admired Leith more. And his opinion might not be as unpopular as he suspects.
Hollywood's criticism isn't always interpreted as constructive. An Esquire writer shared their observation of Hollywood's interactions with the contestants, writing, "Paul Hollywood is dispatched to deliver hypercritical comments and withering stares, chipping away at the bakers' self-confidence." The piece seemed to have a more favorable view of Leith, calling her "stern but sensible." However, it seems that Domagala wasn't too worried about seemingly unfair criticism from Hollywood, considering that he threw some subtle shade at the judge.