Redditors Are Torn On Taco Bell's Containers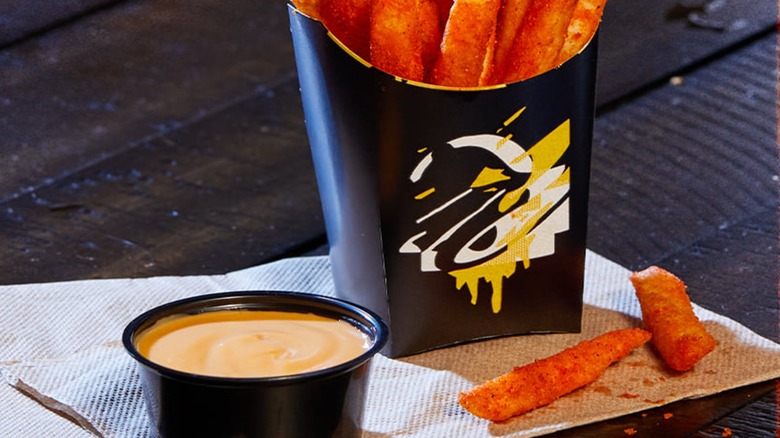 Pooh Yuphayao/Shutterstock
Environmentally friendly products and practices are on the rise, particularly over the last few years. Countless fast food chains have hopped aboard the sustainability train, whether that means ditching straws and lids, finding alternatives to plastic and styrofoam, or partnering with green-minded organizations.
Back in 2020, for example, Taco Bell pledged to replace all its current packaging with "reusable, recyclable, or compostable" packaging by 2025, per Fast Company. As one of the chain's first big moves, it partnered with TerraCycle on a sauce packet recycling program in 2021. The service accepts not only Taco Bell condiment packages, but also plastic packets from any brand.
However, since Taco Bell began its sustainability era, it has received a few complaints from customers, particularly when it comes to the nacho cheese cups. No, we're not talking about how Reddit called out the cheese cups for allegedly getting smaller (although they do raise a good point). Rather, complaints have more to do with the nature of the compostable cups themselves.
Taco Bell fans find the new cheese cups a little flimsy
Although swapping out plastic cups for compostable ones sounds great, there are some drawbacks to keep in mind. As one Reddit user pointed out, Taco Bell's new paper cheese cups are definitely "more environmentally friendly," but they're also prone to disintegrating. The user's post includes a picture of the new containers, depicting bits of the paper cup peeling away as they scraped out the last of the cheese.
True to the lighthearted nature of Reddit, many people were quick to joke about the situation. One person commented, "Now with FiberBoost," while another wrote, "Probably don't get enough fiber in your diet anyway." Someone else asked, "MicroPlastics or MicroFibers? Your choice." Others simply commented that they would eat the paper along with the cheese.
On a more serious note, another Redditor pointed out how Taco Bell has access to avocados, and avocado pits have recently proven to be excellent bioplastic material. Avocado bioplastics can decompose within 240 days, per Mental Floss, whereas something like a plastic straw would take more than two centuries. Who knows, maybe we'll soon see Taco Bell partner up with a bioplastics company on sturdier cheese cups made from the remnants of its guacamole-making.