Here's How Many Restaurants José Andrés Really Owns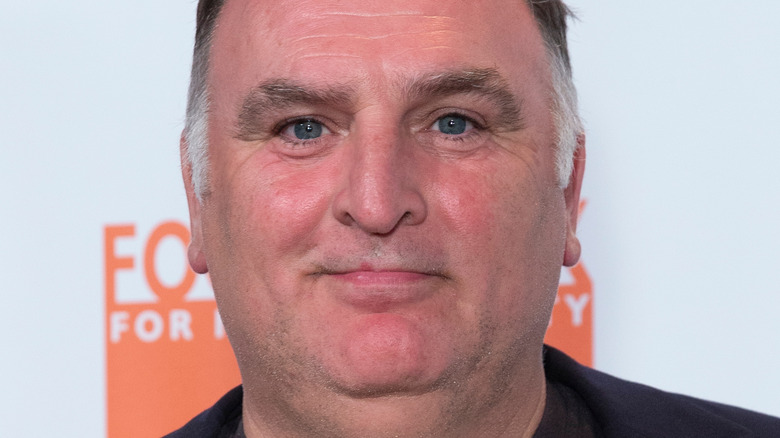 lev radin/Shutterstock
In the world of celebrity chefs, José Andrés is a particular treasure, having been credited with introducing American palates to the traditional cooking of his native Spain, per PBS. His work has been widely recognized, with the prestigious James Beard Foundation putting him on the "Who's Who of Food & Beverage in America" roster in 2007 and Time magazine naming him one of the world's 100 most influential people not once, but twice. Celebrating his 2018 designation, fellow celebrity chef Emeril Lagasse called Andrés "a culinary icon" who "elevates his food to an art form that is also incredibly delicious."
Like many other celebrity chefs, Andrés has also ventured into television, serving as both the host and executive producer of the culinary-focused PBS television series "Made in Spain" (via IMDb). In addition, he has been a guest on several talk shows and cooking series, and his Spanish show "Vamos a Cocinar," airing on Televisión Española, gained considerable popularity. And more recently, his "We Feed People" documentary highlighted his humanitarian work. Despite Andrés' lengthy resume, he still finds time to run an eye-popping number of restaurants all over the world.
Andrés runs upwards of 30 restaurants (and counting)
Andrés, perhaps surprisingly, owns far fewer restaurants than other tenured celebrity chefs. Likely at the head of the list are Gordon Ramsay — who has upwards of 50 restaurants (though the most updated figure may be closer to 60) — and Guy Fieri, who runs around 70 restaurants. Andrés has roughly half the number of restaurants owned by Ramsay, according to the José Andrés Group. With 19 restaurant concepts (including food trucks, fast-casual Spanish dining, and the avant-garde minibar by José Andrés in Washington, D.C.) spanning multiple locations, his total is at 31 restaurants, with more "coming soon."
Andrés' eateries are highly regarded, but the chef still seems to be best known for his work with World Central Kitchen, the nonprofit organization he founded in 2010 to feed people in areas afflicted by natural or human disasters. Andrés founded the organization after cooking with residents of Haiti when an earthquake devastated the country. Currently working in war-ravaged Ukraine, World Central Kitchen has also aided Lebanon after a bomb blast, Australia as brushfires burned, and people at the United States-Mexico border where crowds of immigrants seek political asylum in the U.S. Beyond feeding people, World Central Kitchen works to prepare the places where it works for future disasters. "You'd be amazed at the power of a plate of food," Andrés says on the organization's website.