The Hell's Kitchen Contestant Who Isn't Impressed By 'Battle Of The Ages'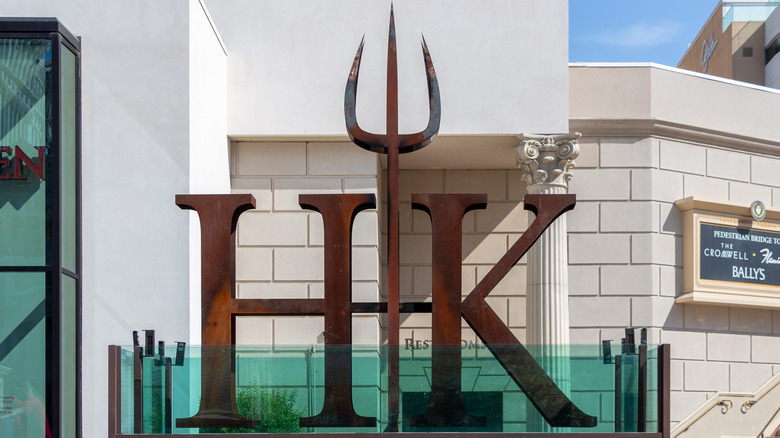 MakingMovesPhotography/Shutterstock
"Hell's Kitchen" contestants have many hurdles to leap. For one thing, they are on television, a reality that would make many people nervous. After all, Psychology Today reveals that 25% of people possess a fear of public speaking — let alone public cooking. The show's competitors must also cope with being completely shut off from the outside world. According to Delish, they must hand in their electronic devices to ensure that they can't talk to their family members or friends. Another reason why so many "Hell's Kitchen" contestants struggle is that they live in cramped dorms that house up to four people and function on five hours of sleep at most (via Fame 10).
Once they settle into the kitchen, things don't necessarily improve. They must not only contend with the inherent pressure of being in a cutthroat competition for a life-changing prize, but they must also endure the backstabbing of fellow contestants and Gordon Ramsay's infamous tongue-lashings. 
Season 21 of "Hell's Kitchen" offers yet another complication for some chefs to overcome: their age. One contestant on the show was not impressed by the concept.
One contestant admits that younger chefs are at an advantage
"Hell's Kitchen: Battle of The Ages" pits a group of young twenty-something chefs against a seasoned team in their forties. On paper, it sounds like this idea could prove interesting. One contestant, however, hasn't warmed up to the idea. Blue team star, Alex Belew, told Guilty Eats that when he found out the season's theme, he wasn't overly thrilled. He confesses that being "in the old person's crew" was daunting as many had transitioned away from the kitchen into managerial positions. Plus, he admits that the world of food has changed a great deal in the past two decades, giving the younger chefs a distinct advantage. 
He is not the only critic of this generation-based approach to the competition. A few months ago, a Reddit post in r/HellsKitchen had a scathing prediction for "Hell's Kitchen: Battle of the Ages." Respondents said that the show would revert back to boys vs. girls and ditch the young vs. mature approach partway through the season. Viewers of the show know whether or not this prediction has come true yet (no spoilers here). 
Love it or leave it, there is no denying that this novel approach to a long-running show has shaken things up a bit. One can only wonder what other twists and turns Gordon Ramsay and the folks at Fox have up their sleeves.