Jesse Tyler Ferguson On Food Tips And Those Modern Family Holiday Episodes - Exclusive Interview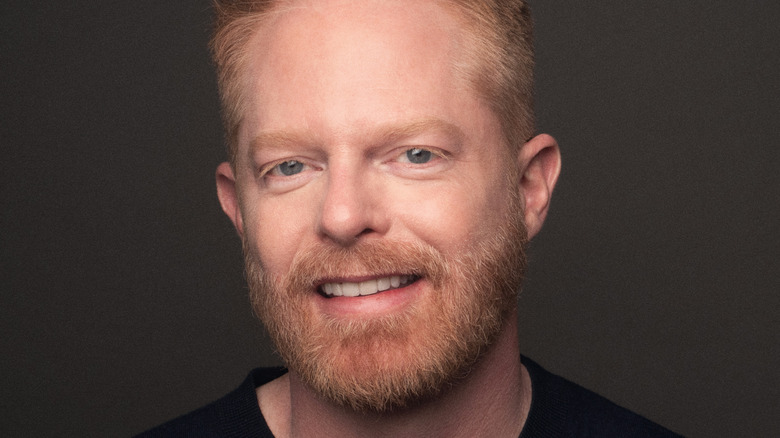 Luke Fontana
The holiday season doesn't stop Jesse Tyler Ferguson. The "Modern Family" actor is a recent dad of two, currently stars in the Broadway play "Take Me Out," and took some time out of his busy schedule to share his best hosting tips with Mashed. Despite Ferguson's acting accolades — including five Emmy nominations and a Tony award — we would argue that the most important accomplishment of them all is his title as a cookbook author.
"Food Between Friends: A Cookbook" features classic California cuisine with a Southern twist that pays homage to his home state of New Mexico. During an exclusive interview with Mashed, Ferguson revealed his holiday plans as he hosts the year's biggest family meals. The sitcom actor also leaned into his partnership with Pernod Ricard, describing his favorite batched cocktail recipe and how he really feels about the never-ending espresso martini trend. He even talked about that time he overslept while shooting a "Modern Family" Christmas episode and named the character he thinks would be the hardest to cook for.
Ferguson is 'busier than ever' this season
I wanted to first off say congratulations on your second child. How does it feel to be a dad of two?
Thank you. It's great. We always discussed having two, so I'm happy that we are now through that. What I'm excited about is after each stage, I can donate the stuff that I've accumulated that I've been holding onto for two years. That's a weird thing to be excited about. I get overwhelmed by clutter, so it's nice to know that I can let go of some of these things. But it's been exciting. It's been fun.
That's wonderful. Now that the holidays are coming up, you have a newborn, and you are starring in the Broadway play "Take Me Out." What do the holidays look like for you this year?
Well, I am busier than I've ever been during the holiday season, especially coming out of this pandemic, where the last three holidays have been a little bit low-key. This is one of the first holidays that I'm going to be having a lot of family and friends coming over and truly hosting again. On top of that, [I'm] doing a Broadway show and being a new father. I tend to sometimes get overwhelmed, but I am always looking for shortcuts and ways to make my life easier when I'm hosting. 
That's why I was so excited to team up with this campaign. It's all about coming together for the holidays, not letting the holidays be stressful, and spending time with loved ones. [It's] taking those moments with your loved ones and coming together for the first time in three years — for me, at least.
You are hosting, then? Good for you — so busy!
I'm flying back and forth a lot these next few months. I will be home for the holidays.
Let guests be their own bartender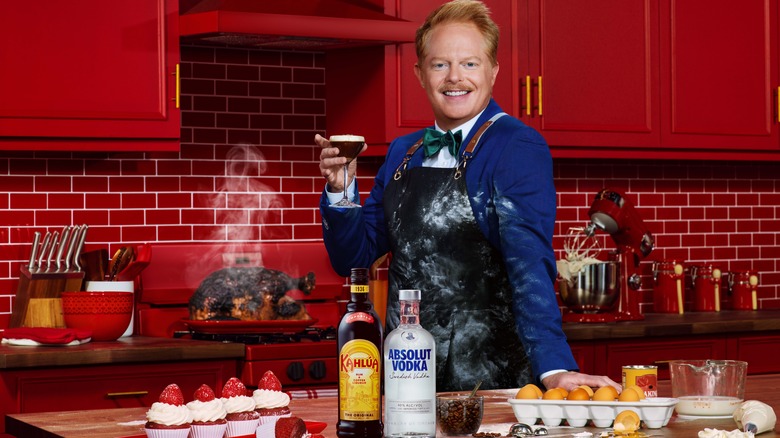 Pernod Ricard
You also recently officiated Sarah Hyland and Wells Adams' wedding. Are they or any of your Broadway co-stars joining in on any of the holiday festivities this year?
We'll probably extend invitations to a lot of those people. They're a lot of fun to be around, and I'm always looking for great opportunities to hang out with them.
It was interesting that one of your holiday tips was to let the guests be their own bartenders. How do you set that up for them? What types of foods and drinks do you include?
I stole this idea from one of my other friends who did it and I loved it. I like to do it with espresso martinis, which is one of my favorite holiday drinks. It's fun to set up a little bar so that they can customize the recipe and make it their own with coffee beans, coconut flakes, or chocolate bits ... cinnamon powder. It's a festive way to spruce up the drink that I make with Absolut and Kahlúa, and they can then take it in their own direction. It's a fun, interactive way to get people socializing: "How did you make yours? What's that floating in your drink?"
With the espresso martini that you mentioned, how do you feel about that trend? Do you think it's an all-year-round drink or just for the winter?
I personally like darker cocktails for the winter and lighter cocktails for the summer. That's my visual go-to. I love an Old Fashioned in the winter, I love the espresso martini, but absolutely — any of these could be had any time of the year.
I love an espresso martini at dinner. As you know, I'm a father of two, and I get tired very easily. It's a nice nightcap to keep me up a little longer and hanging out with my friends instead of wanting to go to bed. That's two of my favorites. 
Another thing I also love to do is batch cocktails beforehand and pre-make them the night before, then put them in the fridge so they're ready to go. Whether it be a punch or a Jameson Black Barrel Old Fashioned or Absolut Kahlúa espresso martinis, those can all be batched ahead. You're taking that time when your guests are there to interact with them and spend time with them and catch up, and you're not playing bartender.
Ferguson on batch drinks and his biscochito cookie bars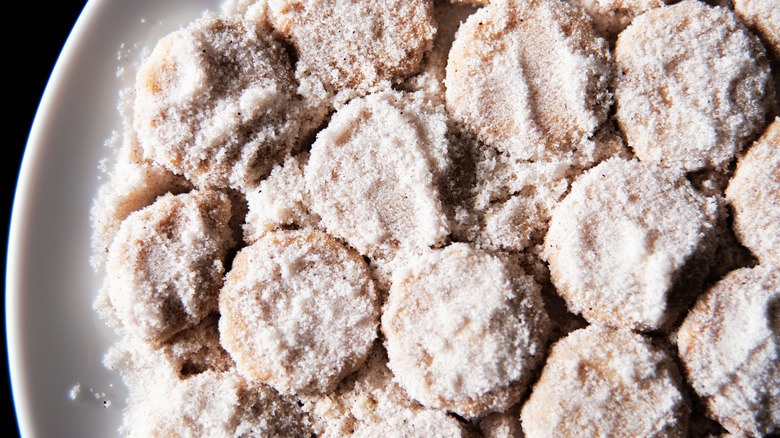 Kayla Blundell/Shutterstock
Would you be able to walk me through a quick cocktail recipe that you would use for holiday parties?
Sure. The Absolut Kahlúa espresso martinis are so easy because it's one part Absolut vodka, one part Kahlúa, one part espresso — or you can use a really strong coffee. I do the whole coffee beans for garnish. It's super simple. This is the thing ... if you put any of these drinks in a big large punch bowl, it's a punch. That's my rule. A Glenlivet Old Fashioned, it's two parts Glenlevit, one-fourth part simple syrup, some bitters, and an orange twist for garnish. Throw some ice cubes in there, and boom, it's a punch.
No one's going to complain when there's alcohol.
No, that's just it.
What foods are normally your specialty on Thanksgiving or Christmas? What are you in charge of?
In past years, I have been micromanaging and like to do it all. I try and Martha Stewart it [and] impress everyone. I'm learning to delegate and to let people help me. I'm learning that it's okay to use pre-made things as well.
I'm a cookbook author, so I go to my own cookbook a lot for things. Some of my favorites for the holidays are ... I'm from New Mexico, so I have these biscochito cookie bars — biscochito is the traditional cookie of New Mexico. I put a twist on that recipe, and that's what I make. I definitely will make those every holiday season because that's what I had growing up.
I have roasted red pepper dip. There's a whole drink chapter in my cookbook that you can turn any of these drinks into a boozy drink. I call them "drinks and dranks." You can turn a drink into a drank if you add a little Absolut, like the cherry limeade cocktail.
I'm learning to let go and let people help me and bring things. I usually want to put it onto a cute platter. Usually, when people bring [things], I like everything to look nice on the table. I'm like, "Let's take it out of that tin foil container and put it on a cute platter."
There's no shame in pre-made holiday foods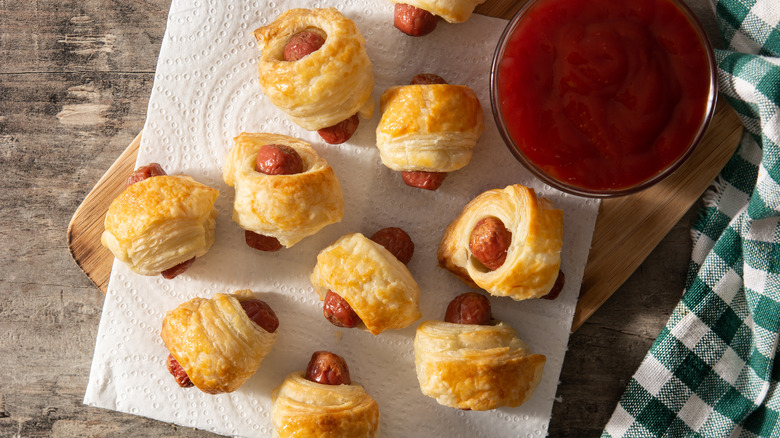 Etorres69/Getty Images
You mentioned your biscochito cookie bar recipe — can you walk me through how to make them? Do you have any tips?
Again, it's a great recipe to make ahead of time. It's basically ... Listen, everything has a lot of butter in it for the holidays; this one certainly does as well. Biscochitos are like a shortbread cookie. My biscochito bars lean more toward a blondie or a brownie. It's a great marriage of two different desserts that I love. The traditional flavor profile is cinnamon and sugar and anise — it has a little bit of a licorice-y flavor. It's in the cookbook. It might even be floating around somewhere online; I'm not sure. But it's a pretty easy recipe to nail. It's pretty great.
You also mentioned before that not everything needs to be made from scratch. What frozen or boxed foods would you recommend people grab?
Anything that is microwaveable is good for me — filo dough stuff, filo dough bites ... It's like how you mix highs and lows when you're decorating your apartment; you can do the same thing in the kitchen. I've made hors d'oeuvres from scratch, and people still want the pigs in a blanket that I heated up from the grocery store ... Sometimes, the stuff that's easier and faster is what those other people want.
Simplicity, right?
Exactly. Also, if I'm making a recipe, I don't scoff at using the canned or the jar garlic that's already minced. Shortcuts — wherever you can find them — is my rule of thumb.
The less time you're in the kitchen, the more time you can spend with everyone else. The food's still going to be good.
That's right. It's going to be great. No one's going to know that you didn't peel the garlic.
The holiday on Modern Family that makes Ferguson 'anxious'
I'm going to switch gears here to a few "Modern Family" questions. Due to its longevity, you shot a lot of holiday-related episodes. Is there a funny behind-the-scenes story that you can recall from one of those episodes? Do you have a favorite?
I loved our very first Halloween episode where I am stuck in the bathroom as Spiderman. That's always been a favorite of mine because I also got to scale a wall. "I feel like an action hero. I feel like Tom Cruise right now. This is insane." 
There is a Christmas episode where we shot it at this mall that was very far away from my apartment. For some reason, my alarm didn't go off that day. I overslept and they were calling me, and I was an hour away from the set. It wasn't like I was keeping a few of my cast members waiting — it was a scene with tons of extras. We were at a mall; there were all these extras that were playing shoppers and people visiting Santa Claus. We had a guy playing Santa there. There were a ton of people.
It was in one of the early seasons of Modern Family. I was like, "Oh my God, I'm going to get fired. This is so unprofessional." I did it, and I felt awful. They were like, "Mistakes happen, but don't do it again." Every time I watch that episode, I get anxious about how long I kept people waiting.
Oh, no! Everyone does it, but when hundreds of people are waiting, it adds to the guilt.
I know. God, of all days to sleep in. I literally kept hundreds of people waiting.
Did you get them all Christmas gifts?
I did not.
Next time. Who do you think would be the most difficult "Modern Family" character to cook for and why?
Probably Gloria. I feel like she would have a lot of opinions about it — she wants bold, spicy flavors. It would be hard to please her.
Learn more about Pernod Ricard's holiday brands on their website, and head to Jesse Tyler Ferguson's Instagram page to keep up with his latest projects.
This interview has been edited for clarity.