Is Hot Butterscotch Coming For Hot Chocolate's Gig?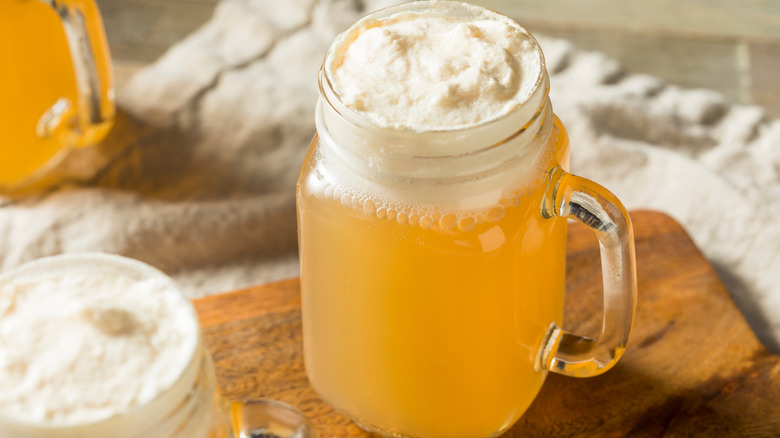 Brent Hofacker/Shutterstock
We may receive a commission on purchases made from links.
Hot cocoa is a classic winter staple that's always been one of the top drinks of choice during the holiday season to warm the ol' bones. There's just something inherently comforting about sipping on a piping hot chocolate and letting its sweet, liquid happiness revive you on a snowy afternoon. Fans of cocoa will infuse all kinds of flavors into their drink, such as mint, chiles, vanilla, orange, or even a splash of rum to give it a fun kick. However, if you've had your fill of hot cocoa and are looking for another equally luscious hot drink to get cozy with this winter, you may want to make it a cup of hot butterscotch.
Buttery smooth with a toasted caramel richness, butterscotch is a familiar favorite that has dwindled in popularity over the years. Your memories of its taste may include your grandparents sneaking you a shiny golden Werther's Original while flashing a mischievous wink. Butterscotch made a strong comeback when the "Harry Potter" series became universally adored, giving muggles everywhere a good reason to whip up a similar tasting Butterbeer. 
The flavor might be overshadowed today by the wide array of new flavor combinations out there, but it's a perfectly sweet substitute if your taste buds need a break from hot chocolate.
Hot butterscotch is as easy as butter, cream, and brown sugar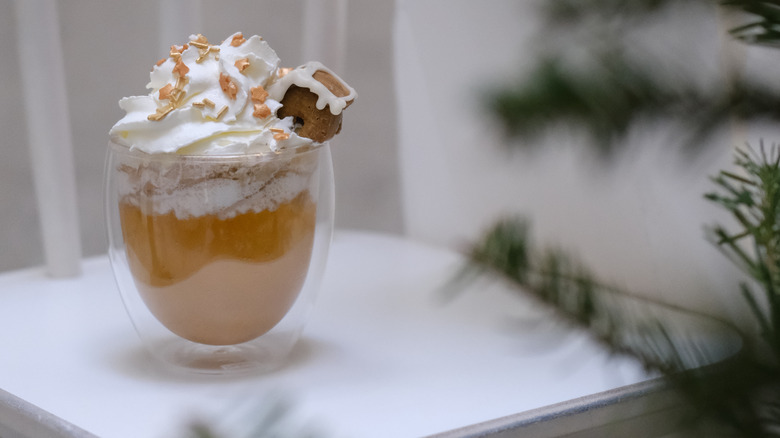 napatch/Shutterstock
Butterscotch started as a hard candy by English confectioner Samuel Parkinson in 1817, though today it is most well-known as a flavor or sauce. The main ingredients are butter and brown sugar, so you can likely make hot butterscotch at home with what you've got in the pantry. Brown sugar contains molasses, so you get that pleasantly complex, caramel taste you can't achieve with plain granulated sugar (via Spoon University). You can pump up the deliciousness with the addition of salt, vanilla, and either whipped or heavy cream.
Michelle Polzine, a fantastic pastry chef and author from San Francisco, enjoys making hot butterscotch by mixing her butter with light muscovado sugar for its caramel undertones (via Epicurious). After the butter has browned and the sugar barely starts to smoke in the pan, Polzine places a drop of her sweet concoction into a cup of water to cool before tasting it to ensure it has the perfect balance of flavors. "It shouldn't be overwhelmingly bitter, but also not sweet at all. You're trying to get it on that line, and tasting it is the only way to do it" (per Epicurious).
Are you craving a heavenly gulp of hot butterscotch yet? It may just become your new go-to treat this winter.