The Worst Cooks In America Dish Bobby Flay Will Never Forget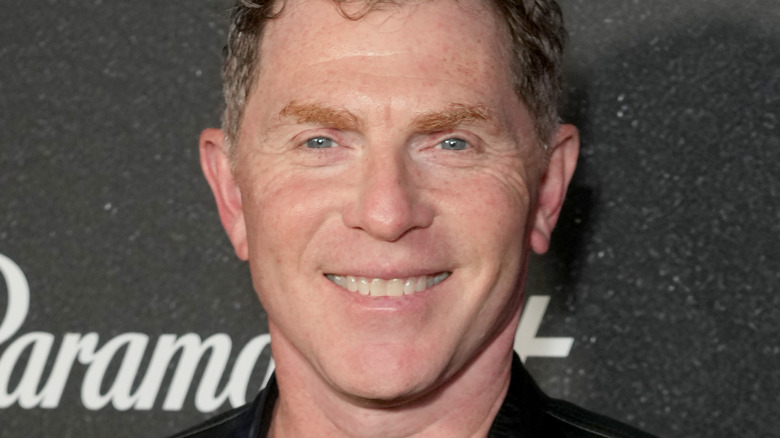 Kevin Mazur/Getty Images
Being the judge of a food competition show is a real gamble of a job. One day, you could be blind-tasting a Michelin-quality dish made by a star like Alex Guarnaschelli on "Alex Vs. America." The next, you could be trying a meal made with a secret Mystery Box ingredient like mashed potato candy and find yourself praying that someone left you an antacid in your dressing room to have after filming is through for the day.
Bobby Flay has been on both sides of the food competition coin. Yes, he has been a competitor almost too many times to count on his own show, "Beat Bobby Flay," and on "Iron Chef," among others. Flay has found himself on the other side of the table as a judge, too. One of the toughest judging gigs in all of television has got to be serving as a coach on a season of "Worst Cooks in America." In the initial episode of a season, the contestants might make their signature dish for the chef-coaches to try (via Food Network). When you see the types of meals these contestants make, it really helps you understand where the show got its name. Food Network just shared a Bobby Flay reaction video that showcased a dish he ate on the show that he called "unforgettable" ... for all the wrong reasons.
Mole spaghetti was not a hit
Food Network shared a video from Season 4 of "Worst Cooks in America," which Bobby Flay reacted to in hilarious fashion in a TikTok. In the video, contestant Aadip Desai can be seen sautéing candy-coated chocolate peanut candies in a skillet. According to Desai, the dish is mole marinara spaghetti, a concoction made from melted chocolate-covered peanuts, jarred marinara sauce, and spaghetti. "This is a legitimate dish I make," he says, "and I've actually made myself sick eating it." Flay takes one bite and says, "Right now, you are the worst cook in America," marking what some might call one of the worst insults on a tv food competition ever. In his reaction video to the clip, Flay can be seen cracking up. "I wonder if that's changed."
We were curious to see if Desai had improved his cooking skills at all since appearing on the show in 2012, too. These days, he's a TV writer, a member of the Writers Guild of America and BAFTA, and a parent (via Aadip's website). As for his cooking? There's not much evidence of it on his Instagram page, but it does look like he at the very least can churn out a plate of fluffy pancakes once in a while. That's better than where he started on "Worst Cooks," so we have a feeling that if Flay were to taste Desai's cooking again, he might not be so critical.