Here's What Happened To The Wine Balloon After Shark Tank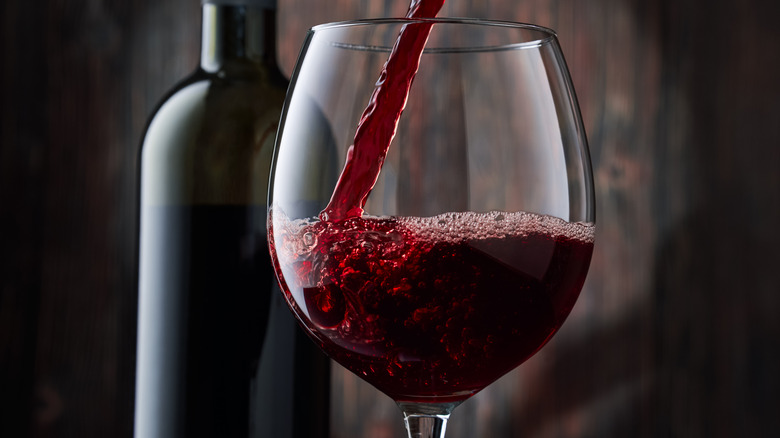 Alexander_Kuzmin/Shutterstock
Have you ever not finished a whole bottle of wine and wanted to save the rest of it to enjoy tomorrow? You try to preserve it, but then later you probably find that the wine has gotten stale and you have to throw it away, wasting an otherwise great bottle of wine. Well, entrepreneur Eric Corti and his wife had the same problem. Corti was tired of tossing out wine that they'd only drunk halfway just because there weren't proper methods of preserving opened wine at the time, according to Air Cork. To solve his problem, Corti got crafty and combined a small balloon with the tube and pump of a blood pressure cuff, creating his own product that he called The Wine Balloon, according to Just Wine.
The Wine Balloon works by lowering the deflated balloon into the wine bottle until it touches the wine. Then, you just need to squeeze the pump to inflate the balloon until it touches the inside of the wine bottle, and there's about an inch and a half of contact between the bottle and the balloon, creating an airtight seal. Corti took months to test his prototype, getting positive responses from testers and going on to further research and improve every part of his invention (via Air Cork). 
Wanting to expand his new business further, he sought the help of some investors by appearing on the popular show "Shark Tank."
The Wine Balloon is a hit on 'Shark Tank'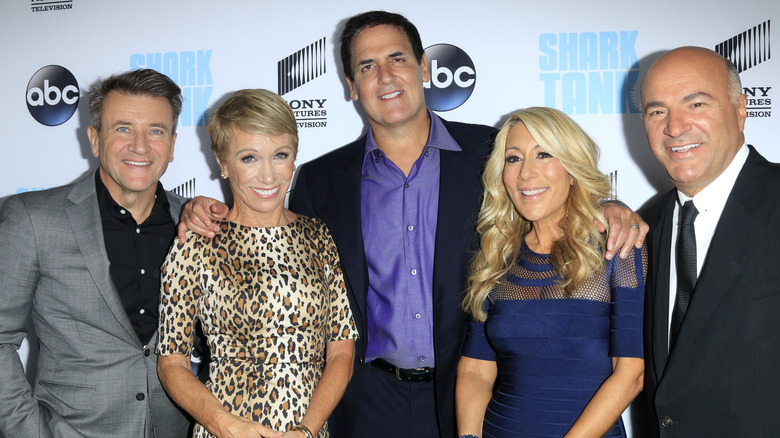 Kathy Hutchins/Shutterstock
Eric Corti brought his invention, The Wine Balloon, to "Shark Tank," where he appeared in front of Kevin O'Leary, Mark Cuban, Lori Greiner, Daymond John, and Robert Herjavec, according to Shark Tank Blog. Countless American entrepreneurs and business owners have gone on "Shark Tank" in the hopes of one (or multiple) of the investors striking a deal with them, catapulting their idea to the next level, per ABC. Corti asked the Sharks for a $40,000 investment in exchange for 30% equity in his business. He then showed the investors how his product worked, and all of them seemed interested. 
O'Leary offers Corti $40,000 if Corti gave O'Leary the right to produce and sell The Wine Balloon with another wine company that sold a similar, less impressive product, per Shark Tank Blog. Greiner also had a huge offer of $500,000 for the entire business with Cuban joining in, bringing the total to $600,000. However, Corti didn't want to give up his business completely and asked for a 3% royalty, which Cuban didn't like. 
Eventually, Greiner and Cuban made a final offer of $400,000 for 100% equity without any royalties to Corti. With all of the pressure, Corti ended up making a deal with both Cuban and Greiner (via Shark Tank Tales).
The Wine Balloon is now The Air Cork
After "Shark Tank," Eric Corti second-guessed his deal with Greiner and Cuban and decided to not go through with it, according to Shark Tank Blog. He also changed the name from The Wine Balloon to The Air Cork after appearing on a similar show called "The Kitchen Inventors," which aired on Food Network (via Just Wine). Patrick Raymond and Steve Greenberg, who are the hosts of the show, made a deal with Corti, suggested the new name, and reworked the product's packaging to make it more user-friendly. 
Corti's deal with Raymond and Greenberg enabled the entrepreneur to distribute and sell his products in various markets, per Shark Tank Blog. Corti's company is very much still in business and makes around $7 million in sales each year as of November 2021.
The Air Cork is ordered in bulk by many wineries and liquor stores, according to Shark Tank Success. Currently, there are four Air Cork options to choose from: one with a burgundy grape-shaped pump, one with a charcoal grape-shaped pump, one with a white grape-shaped pump, and one with a black, barrel-shaped, minimalistic pump (via Air Cork). Each Air Cork is priced at $28.50 as of November 2022, and there is also a three-pack of spare balloons if needed. The balloons are made of latex and won't change the taste of your wine, and it's designed to extend the wine's life by around three days, per Air Cork.