Do Employees At Costco Get To Eat Their Own Samples?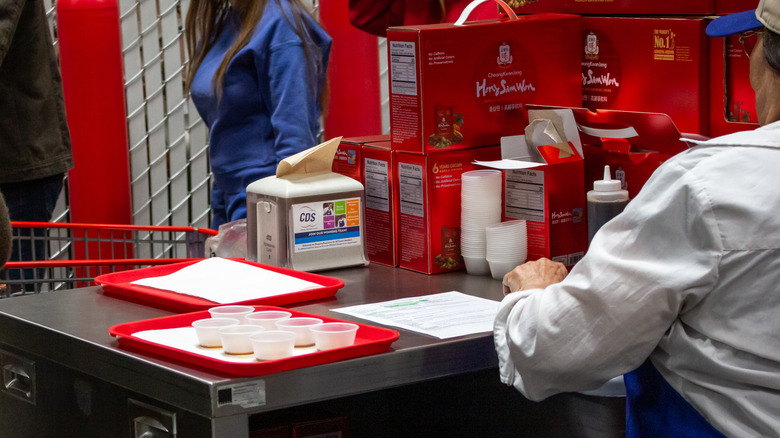 The Image Party/Shutterstock
Let's face it. Even if you have no real desire to purchase a product, you're likely to try a bite if a free sample is offered. That's because everybody loves free stuff, and you can never go wrong with a small snack while shopping. When Marsh Supermarkets revealed to Elite Team Conference its numerous, repeated weekend sampling programs, it claimed that consumers were 68% more encouraged to buy a product after sampling it (per Supermarket News). At the same conference, the polling co.'s president Kellyanne Conway said that "87% of respondents said they were more likely to buy a new item, even if it was more expensive, if they were able to sample it first," according to her company's studies.
According to Shopify, brands offer free samples to introduce new products, expand customer loyalty, and earn brand recognition. It's likely also helpful if the individual handing out the free samples knows how to properly present them. A curious inquirer asked if the employees get to try the samples after a Costco worker encouraged Reddit to "ask them anything."
Free samples teach employees about the product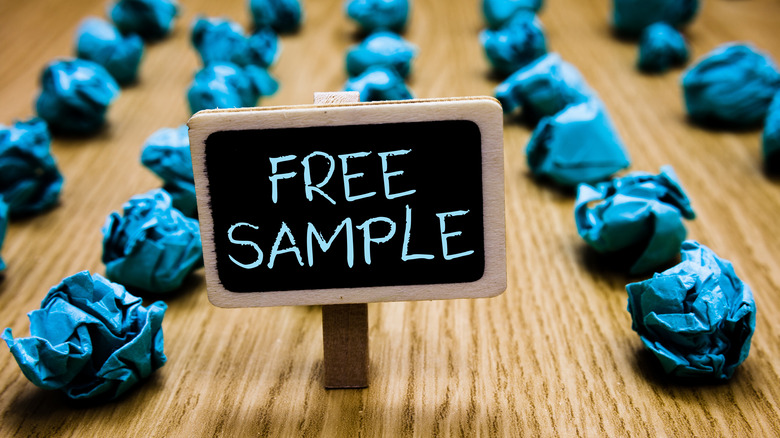 Artur/Getty Images
In an early November Reddit thread, u/Lolplayer65 opened themselves up for questioning on the r/Costco subreddit. "I give out samples. AMA [Ask me anything]," they wrote in the post. This Q&A thread led to one user asking, "Are you allowed to eat any of the samples yourself?" The commenter recalled a time where Costco was making "chocolate chip cookies out of the frozen dough." "I couldn't resist sampling some of those!" they continued. The original poster revealed that yes, the employees could try the samples, but there's a catch. "You have to do it a little way away from the stand and change gloves immediately," they wrote. "It's time-consuming so you can't do it often."
Per Remark Group, there are tons of benefits that come from familiarizing employees with their workplace's products. By allowing workers to sample items, they'll become more passionate about the product, enabling them to speak to customers in a way that's both authentic and personal. When passion for the product increases, sales of the item will surely follow. And if you're jealous of the workers who get to chow down on Costco samples, you may find yourself wanting to grab an application.