Pure Leaf Is Dropping A Limited Edition Iced Tea In Honor Of A New Hallmark Christmas Movie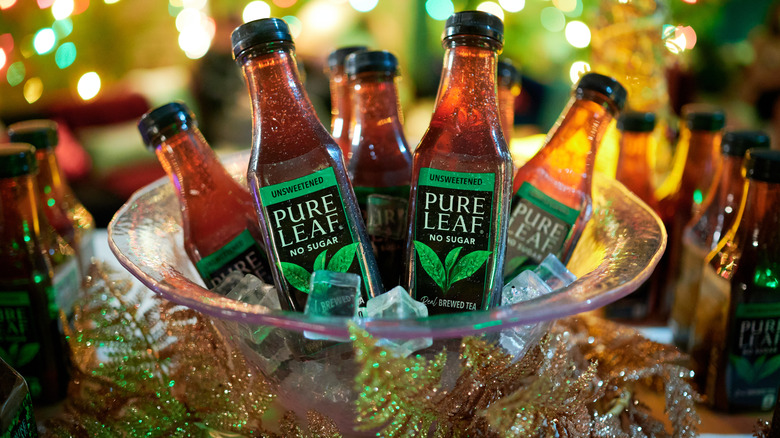 Pure Leaf
When limited-time food and drinks start appearing on seasonal winter menus, you can usually expect peppermint. The most popular Starbucks holiday drink is the chain's peppermint mocha, and this year, Coffee Bean Tea and Leaf's seasonal menu includes plenty of peppermint. 
Wondering why you usually see so much mint this time of year? After candy canes became more popular and accessible, mint became associated with the holidays, which means mint lovers have many beverages and desserts to enjoy around Christmas.
But, if you want to sip on a minty drink that isn't too sweet, there's a new seasonal drink that's going to be launched soon, and this is a product that iced tea enthusiasts will want to have on their radars. In a press release, Pure Leaf announced a partnership with the Hallmark Channel. Pure Leaf is launching an iced tea to go with the upcoming Hallmark movie, "Christmas Class Reunion," which premieres on December 10.
Pure Leaf's limited edition holiday iced tea is called Merry Mint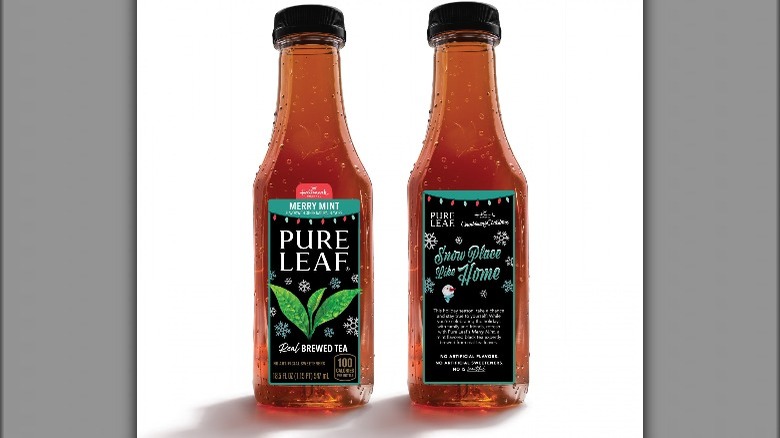 Pure Leaf
Mint isn't just the unexpected ingredient that will upgrade your sweet tea. Mint leaves also work plenty well on their own when you want to brew a hot cup of tea — the herb has been used for thousands of years and may have the ability to reduce stomach and intestinal pain, per Verywell Fit. Since peppermint is also a popular flavor around the holidays, it's no surprise that tea brand Pure Leaf is choosing to incorporate it in its latest seasonal product. Pure Leaf's Merry Mint Iced Tea is a mint-flavored black tea. Although you can enjoy the drink straight out of the bottle, in the press release Pure Leaf also recommends using this tea as a base for cocktails and mocktails.
Want to get a bottle of Merry Mint Iced Tea for yourself? According to Pure Leaf's press release, fans will have to enter a giveaway in order to get the limited edition drink. On Instagram, @PureLeaf will be hosting a giveaway from December 12 to December 31 where followers can enter by commenting holiday emojis on posts. If you're hoping to try this mint tea, the best way to stay in the loop is by following the company's account. For iced tea and mint lovers in Boston, Pure Leaf will be hosting a pop-up event on December 10 with free samples.
Looking for more minty beverages and dishes? Here are more recipes for mint lovers, including cocktails, salads, and savory noodles.