Ellen Pompeo Doesn't Want Anyone In Her Kitchen While Cooking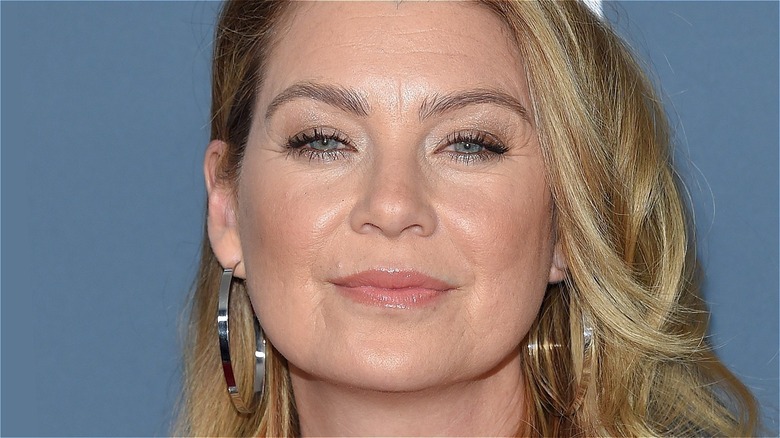 DFree/Shutterstock
When you've been performing life-saving surgeries in a top-notch hospital for almost 20 years, you're due a beach house. And even if you've only been pretending to perform life-saving surgeries in a top-notch hospital for almost 20 years, well, you're still probably more than ready for a beach house. That's true for Ellen Pompeo anyway. Pompeo — who has played Meredith Grey on the ABC series "Grey's Anatomy" since 2005 — was looking for a place to put her feet up at the end of a long day of fake doctoring (or eating at Martha Stewart's Vegas restaurant) when she found a midcentury modern number in Malibu with space for her feet and a boogie board (per Architectural Digest). She and her husband Chris Ivery jumped at the chance to invest in (and completely remodel) a beach getaway for them and their three children, and the rest was history.
Er, modern history since Pompeo decked the halls with boughs of a rare, black, Brazilian marble and replaced the walls with disappearing glass doors. There are enough 1960s and 1970s touches to make sure the beach bungalow maintained that midcentury modern feeling (like the Yves Saint Laurent cutting table that acts as a "kids table" at Pompeo's house, or the vintage Swiss sofa by de Sede). But when Pompeo gave AD a tour of her house (via YouTube), we saw one element of "home" that is as timeless as they come: yelling at the kids to get out of the kitchen.
Evolving thoughts surrounding kitchens and kids
"The kids have a lot of fun at this table throwing food at each other," Ellen Pompeo tells Architectural Digest (via YouTube) as she indicates the aforementioned cutting table, procured from Yves Saint Laurent's 1970s studio. "And then I scream at them," she says, pointing to a gorgeous dining room "from over there." She laughs playfully (and perhaps slightly maniacally) before further explaining her parenting-while-maintaining-sanity ethos.
"I cook," Pompeo tells AD from the kitchen of her Malibu beach house. "A lot. So, I have a lot of rules regarding this kitchen." In fairness, the space is rather small – Pompeo shows us (easily) around the three-burner stove, the earthquake-proofed shelf of apothecary jars, and the sink which, though it does face out to the Malibu bluffs and crashing waves below, is about the size of a cutting board. "I don't like anybody in the kitchen when I'm in here," says Pompeo unapologetically.
Sounds like things have changed since 2017, when the actor showed AD around her Sag Harbour home and said that her perfect Saturday would involve her children "running around, being loud and crazy and asking me for a million things." Apparently, there are very different rules at the beach house: "Nobody is to come around into the kitchen," Pompeo says, pointing out the kitchen counter. "If they want something, they're supposed to stand there, or sit there, and ask me for it. This is my space."