The Best Cutting Boards In 2022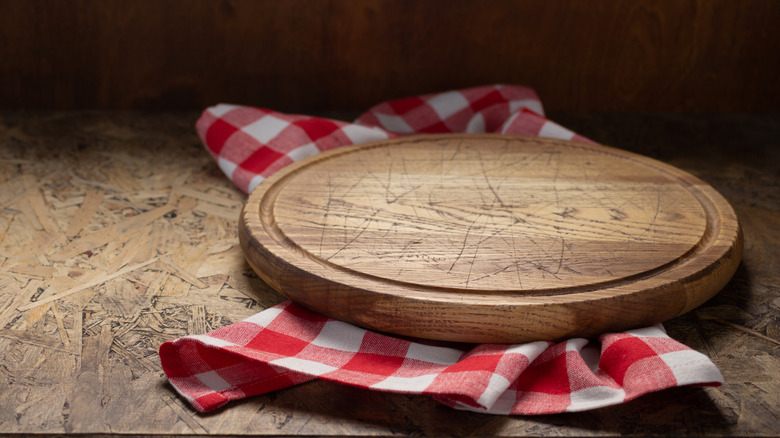 Seregam/Shutterstock
We may receive a commission on purchases made from links.
Today's kitchens are a fascinating mishmash of appliances and equipment, created and developed at various points throughout humanity. On one counter alone you might find the 10,000-year-old mortar and pestle, nestled snugly alongside the 21st century's sleek sous vide wand. Of course, knives are another ubiquitous part of the kitchen, one which both chefs and home cooks take great pride in. Yet, the love and care we invest in our cutting apparatus are rarely reproduced when it comes to selecting and tending to our cutting boards.
This is a strange notion given the fact that cutting boards have been around for just as long as knives have (per RVA Cutting Boards). Indeed, not only do they form the foundations for all your knife activities, but they also determine how a blade is worn, how much food can be prepped, and the visual aesthetic of a kitchen. In short, they contribute a great deal more to the heart of the home than knives do. 
Of course, there is now a plethora of options when it comes to cutting boards, with material type, size, shape, and of course, price point all varying. While having more choice means there is undoubtedly a product perfect for your needs, it also makes finding the right one that more difficult. To ease this process and help you cut through the noise, we have collated a list of the best cutting boards available in 2022.
How we selected products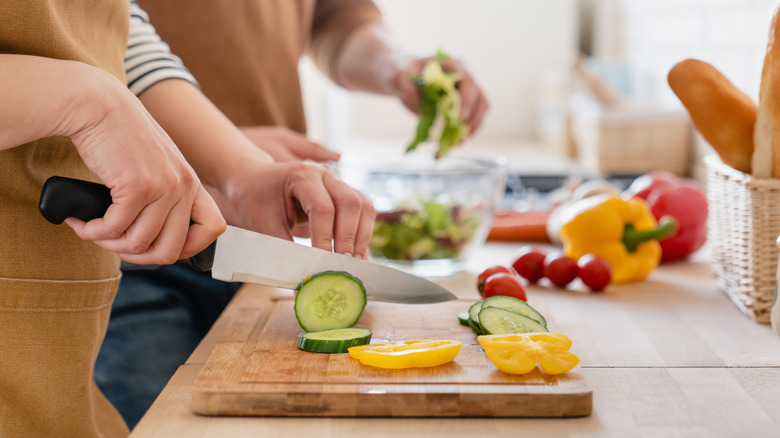 Inside Creative House/Shutterstock
Finding a range of the best cutting boards relies on an ability to understand a number of different points of view. For example, the best board for a large family will not be the same as for an avid camper. As such, we trawled through a range of reviews by both members of the public and industry professionals, in an effort to identify a number of universal factors that consumers valued — all of which are present in the listed boards.
Chief among these was durability; no one wants a cutting board that doesn't last. In fact, many people expect cutting boards to last decades even when undergoing daily use. This led us to omit several prominent brands due to various reports of irregular quality. Additionally, the press influenced our decision-making process as many chefs use these publications to profess a penchant for certain materials and designs — many of which have gone underutilized in domestic settings. Finally, we factored in price, highlighting cutting boards right across the range to ensure that everyone can find a fantastic board that suits their needs.
The best overall cutting board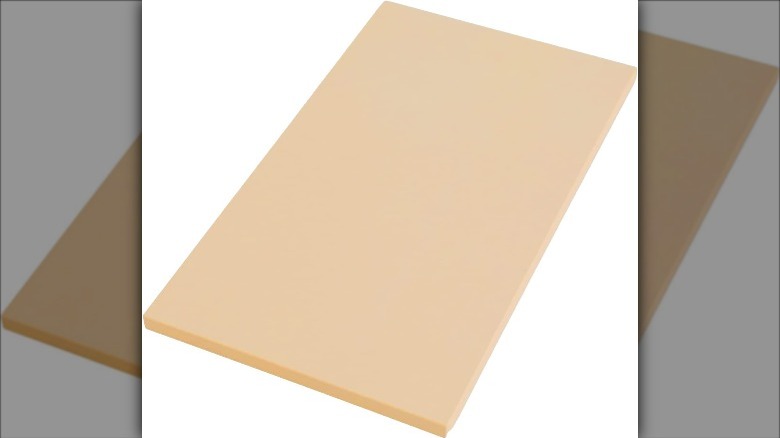 Parker Asahi
The Parker Asahi synthetic rubber cutting board is many a home cook's gateway into the wonderful world of rubber cutting boards. As a favored material of chefs around the world, rubber provides a firm cutting surface whilst absorbing knife strokes, protecting your knife, and ultimately allowing it to remain sharper for longer (per Chef Panko). Aside from preserving your knife's edge, the Asahi synthetic rubber cutting board is extremely resistant to slipping given its grippy material. You can confidently chop away, secure in the knowledge that your board is not going anywhere.
It is true that high-quality, end grain wooden cutting boards provide similar knife-saving and slip-resistant benefits. However, aside from being much more expensive than rubber boards, end grain cutting boards also require a great deal of care, including regular oiling and buttering. In contrast, rubber boards are simple to wash and require next to no maintenance. As reported by NoTrax, even if your board does begin to show marks and cuts, you can simply sand down the face until it is smooth once again.
Purchase the Asahi synthetic rubber cutting board from Amazon starting at $67.97. 
The best budget cutting board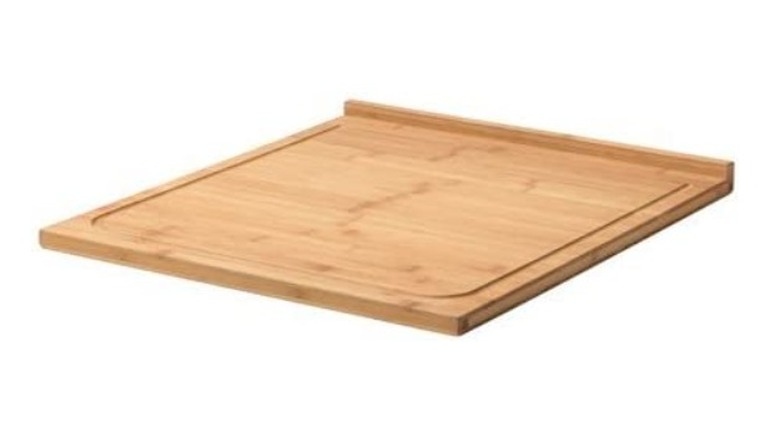 IKEA
IKEA is known for producing a huge range of dependable products at affordable prices, and the Lämplig bamboo cutting board is no different. It is large and includes handy features such as a juice groove and an overhanging lip that helps secure it to the work surface. This makes the board well suited for preparing a number of different ingredients, including meat and vegetables.
Being made from bamboo, the Lämplig chopping board is robust and can stand up to the rigors of life in a busy home kitchen. However, it should be stated that bamboo is not a suitable cutting surface for soft knives as it can damage them. From a sustainability perspective, bamboo wood is a terrific option because it is a rapidly growing plant that maintains its root structure after harvesting, making it an incredibly environmentally friendly material (per Eco & Beyond). This means you can rest assured that the Lämplig bamboo cutting board won't cost you — or the Earth — a great deal.
Purchase the Lämplig bamboo cutting board from IKEA starting at $24.99.
The best portable cutting board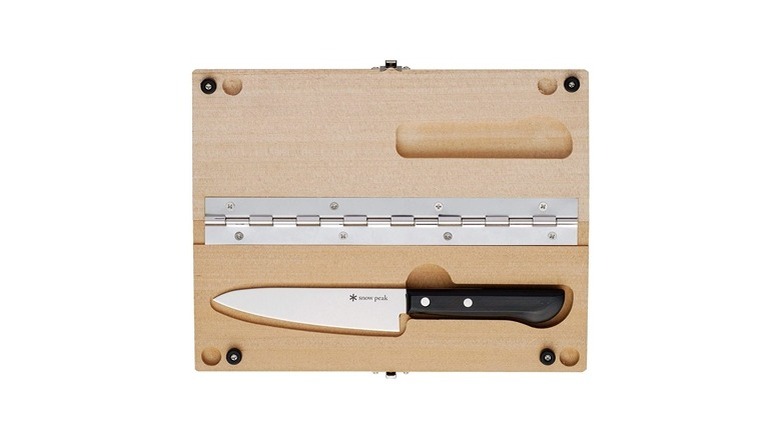 Snow Peak
One of life's great pleasures is settling down by the campfire after a long hike and proceeding to cook up a meal surrounded by nature. Unfortunately, one of life's great pains is lugging bulky kitchen equipment around all day until you reach the campsite. Snow Peak, an outdoor company founded on the west coast of Honshu Island, Japan, has set out to resolve this issue, creating a foldable cutting board that also doubles as a knife holder.
Made from birch, the cutting board is strong and incredibly light, weighing in at 16.6 ounces together with the included knife. This — alongside the compact design — makes the Snow Peak packable cutting board a fantastic option for campers, hikers, and travelers looking to cut down weight and save space. Additionally, due to its charming appearance, the cutting board would not look out of place at picnics, parties, and impromptu barbeques. All that convenience is backed up by the high quality of both the knife and cutting board, which means that you might very well end up using it in the comfort of your own home.
Purchase this packable chopping board set from Snow Peak starting at $44.95.
The best midrange cutting board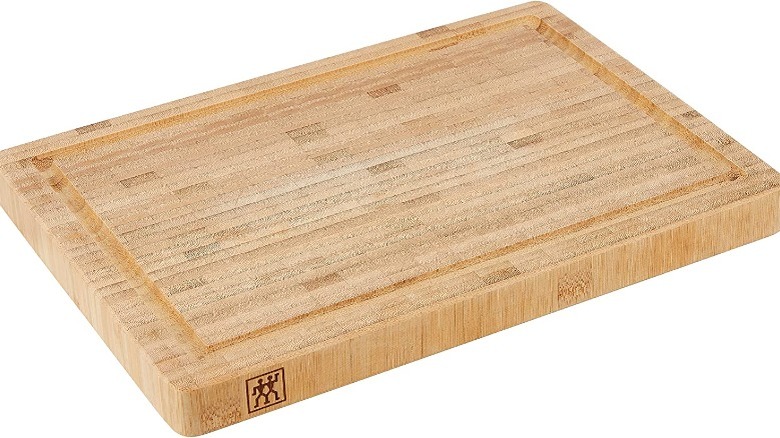 Zwilling
As with Ikea's Lämplig cutting board, Zwilling utilizes bamboo to create a large and effective cutting board at a very competitive price. This bamboo cutting board is perfect for a multitude of uses thanks to its large size, reversibility, and weight. The attractive bamboo finish and a juice groove etched into one side of the board also make this cutting board well-suited to double as a meat platter.
Although the board is not suitable for dishwashers, the extra care it requires is more than made up for by its impressive functionality. A clear emphasis has been placed on both the versatility and durability of the product. Zwilling is well known for its knives which are trusted by numerous industry leaders such as James Beard-winning chef Michael Solomonov (via Men's Journal). As such, the quality of this cutting board (and the knives that grace it) is all but guaranteed.
Purchase the Zwilling bamboo cutting board from Amazon starting at $44.95.
The most durable cutting board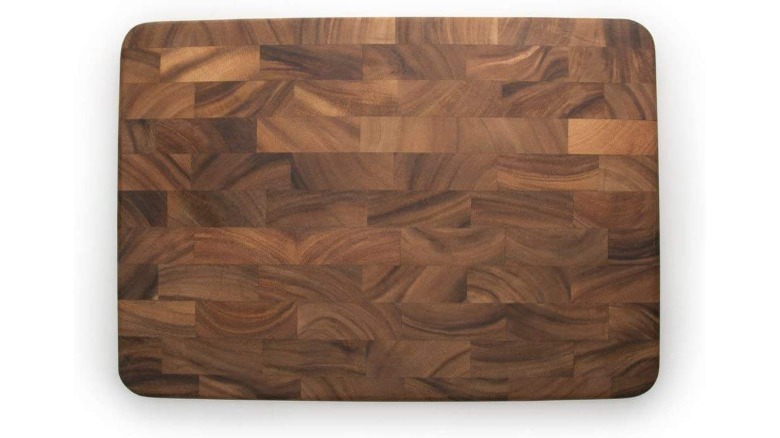 Ironwood Gourmet
Butcher blocks are beefed-up versions of cutting boards that are nearly always thicker, heavier, and more robust (via Kitchen Seer). While these features make them more difficult to handle, their increased mass means that they are extremely durable and suited to a wide range of tasks including — as per the name — butchering meat. The Ironwood Gourmet acacia end grain cutting board manages to combine the durability of a butcher block while maintaining the maneuverability of a cutting board, in what is ultimately a fantastic and affordable product.
As the name suggests, this cutting board is made exclusively from end grain, via a process where pieces of wood with the grain running perpendicular to the surface of the cutting board are glued together (per MTM Wood). This not only creates an aesthetically pleasing checkered effect but also allows knives to cut with the grain. This is much less taxing on both the knife and the wood, with the former's edge being saved and the latter better able to heal (per BirchBarn Designs). However, as with many boards of this nature, the Ironwood Gourmet acacia end grain cutting board can only be hand washed and must not be soaked in water or placed in a dishwasher, making it less suitable for all types of households.
Purchase the Ironwood Gourmet acacia end grain cutting board from Amazon starting at $59.99.
The best-looking cutting board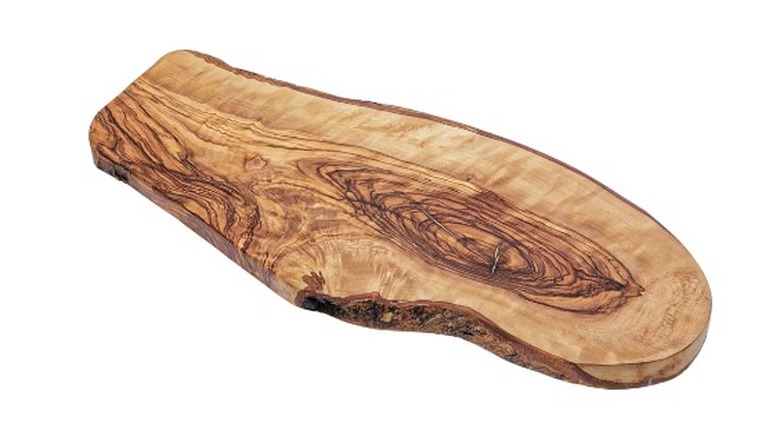 Crystalia
The dramatic, color-contrasting grain of olive wood instantly makes it stand out from the rest. Crystalia's olive wood cutting board sets off the striking grain pattern with a live edge, where the natural sides of the wood are used as the cutting board's border. As such, each olive wood board produced by Crystalia is a functional and unique work of art with a dramatic appearance that makes it just as suitable for serving as it is for slicing.
Aside from its aesthetic, olive wood has an extremely tight grain which makes it non-porous. As such, juices that leak out of food during preparation are not absorbed by the cutting board or imparted onto other foods — there's nothing worse than onion-flavored pineapple. For the same reason, the board does not stain from dark foods (per Kate Chesters Art). 
Unfortunately, olive is also a very hard type of wood and will consequently blunt knives more quickly than rubber and other woods. Furthermore, the twisting nature of the trees makes it difficult to harvest large pieces of timber, which means that only small cutting boards are generally available. With a typically irregular shape and small size, olive cutting boards are usually unsuitable for preparing large quantities of food. Nonetheless, if you are looking for a stunning charcuterie board, this is the obvious choice.
Purchase this gorgeous olive wood cutting board from Crystalia starting at $34.45.
The best cutting board set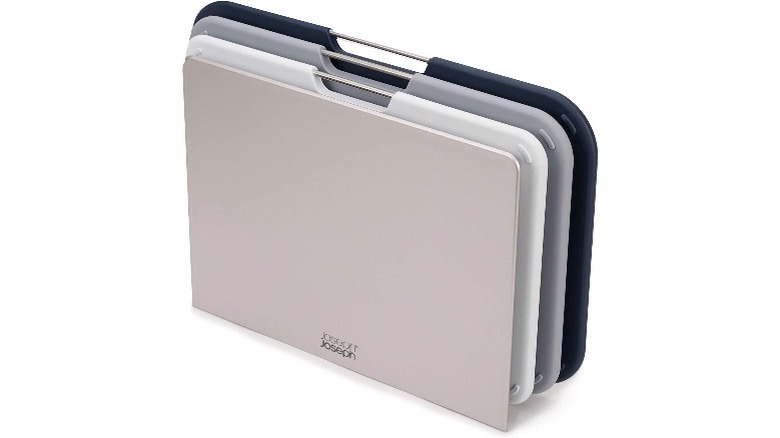 Joseph Joseph
For busy kitchens and people who love to cook, one cutting board often isn't enough. On the other hand, storing multiple clunky cutting boards is not an easy feat to achieve. Enter Joseph Joseph, Red Dot design award winners and purveyors of stylish solutions like this plastic cutting board set. The set of three boards stacks neatly away in a sleek holder, making it a space-saving option that fits the aesthetic of any modern kitchen.
As for their functional features, the cutting boards are color-coded, allowing you to maintain proper food hygiene practices in your kitchen by keeping hazardous items — such as raw chicken — confined to the same board, minimizing the risk of cross-contamination. Unlike many cutting boards on this list, Joseph Joseph's set of boards is dishwasher safe, helping you maximize cleanliness and ensure your kitchen is a healthy and hygienic workspace.
Purchase the Joseph Joseph plastic cutting board set from Amazon starting at $39.99.
The best environmentally friendly cutting board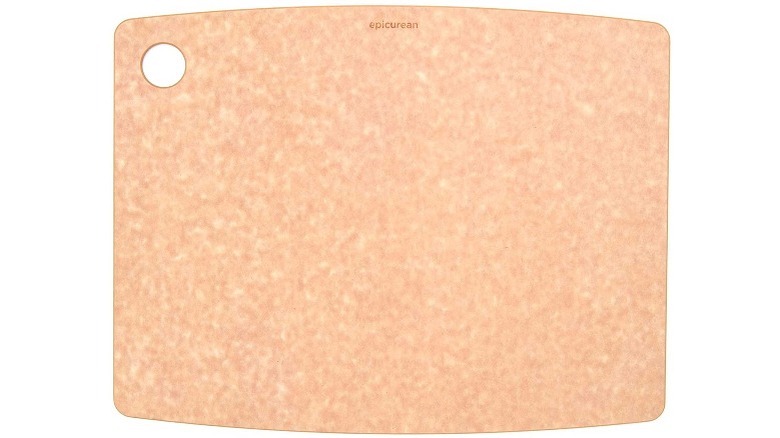 Epicurean
Plastic, wood, and rubber are the big three when it comes to cutting board materials. However, Epicurean has decided to take a different route, constructing a range of cutting boards made from hundreds of sheets of resin-soaked recycled paper. While being eco-friendly, this material does not sacrifice any functionality. As exemplified by thousands of Amazon 5-star ratings, Epicurean's cutting boards have been extremely well received due to the fact that they protect knives and are easy to clean.
Epicurean cutting boards are also incredibly versatile. The fact they can be safely heated to 350 F makes them well-suited to act as trivets, not to mention they are also dishwasher safe. All of these factors have led Epicurean cutting boards to be recognized as some of the best cutting boards on the market, with rave reviews from the likes of The Kitchn, Reviewed, and The Daily Beast.
Purchase the Epicurean Kitchen Series cutting board from Amazon starting at $28.53.
The best professional cutting board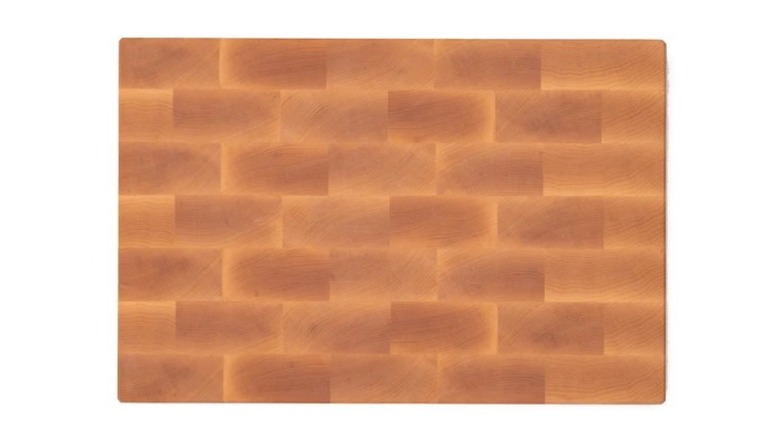 The Boardsmith
Towards the upper end of the cutting board price spectrum, you'll find a number of beautifully crafted items each boasting a range of materials, features, and designs that justify the eye-popping price tag. Investments of this scale demand not only immediate quality but also durability. In short, these products should be heirloom pieces that last multiple decades without faltering quality. Vowing to meet these lofty expectations is The Boardsmith's maple end grain cutting board.
As reported by Misen, maple is seen as the industry standard in the cutting board business, thanks to its robust hardness that can withstand the wear-and-tear of life in a kitchen, while being simultaneously soft enough to protect a knife's fine edges. This cutting board is made exclusively from end grain, with the pieces arranged in a builder's block pattern to avoid weak four-way joins. As an end grain wooden cutting board, it needs a great deal of care and attention to oil, butter, and wash. This when coupled with the high price point makes it unsuitable for many homes. However, as cutting boards, go The Boardsmith maple end grain is the best of the best, with unmatchable aesthetics and functionality.
Purchase this maple end grain cutting board from The Boardsmith starting at $185.00.
The best plastic cutting board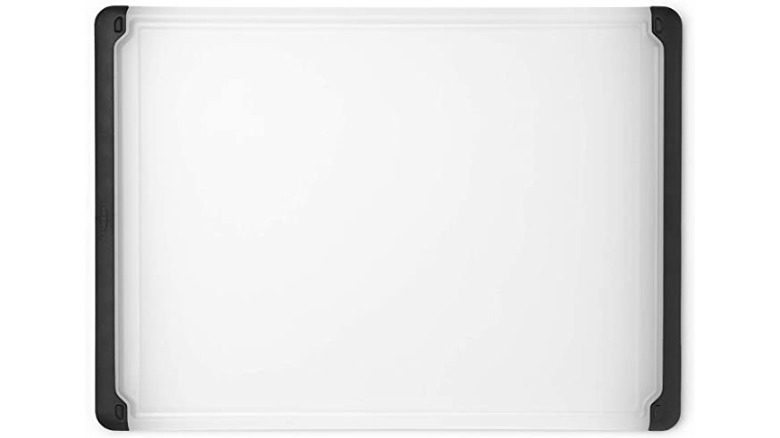 OXO
Plastic cutting boards are the most accessible material on the market, thanks to lower price points, easy maintenance, and a minimal weight. This is not to say that they are inferior to their counterparts. In fact, there are a number of plastic cutting boards that even professional chefs adore. The OXO Good Grips utility cutting board is one of these, and celebrity chef Rick Martinez swears by it when cutting meat and poultry: "The thing that I like about their [OXO's] plastic boards is they have little rubber feet, so the board doesn't move around and they're dishwasher safe [...] They're totally resistant to bleach and the dishwasher, so they're a really great product" (per Thrillist).
The Good Grips utility cutting board is a home favorite right across the United States, thanks to its durability, weight, and large surface area which makes it convenient for preparing a big amount of ingredients. However, it should be noted that extra care must be taken when cleaning old plastic cutting boards as the scars can create environments for bacteria to build up, according to a 1993 study published in the Journal of Food Protection.
Purchase the Good Grips utility cutting board from OXO starting at $18.99.
The best cutting board for your knives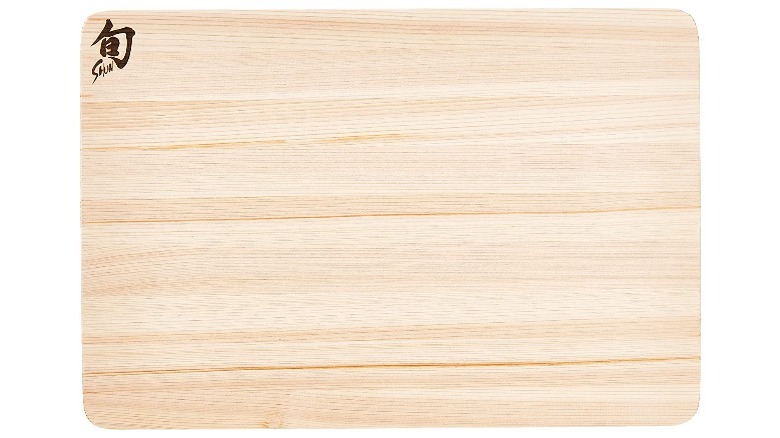 Shun
Hinoki is a Japanese species of cypress tree, which produces a medium soft timber with a sweet smell when harvested (via The Slowdown). Frequently used in the interior of buildings, hinoki is also popular in the kitchen where its softness makes it an ideal material for cutting boards that aim to preserve knife edges. For this very reason, hinoki has been adopted by sushi masters (per Eater New York) and as such, stands as the premium cutting board material to be used when knife care is a priority.
Despite these plaudits, the Shun hinoki cutting board is extremely well priced and easily transportable thanks to the timber's inherent lightness. While hinoki boards should only be gently cleaned in warm water, this does not mean the cutting boards harbor a multitude of bacteria. It so happens that the wood is naturally rich in phytoncides, antimicrobial organic compounds that kill bacteria, fungus, and insects, according to a 2015 study published in the journal PLoS One. As such the Shun hinoki cutting board offers a clean, safe, and knife-protecting surface on which to prepare your food.
Purchase the Shun hinoki cutting board from Amazon starting at $29.95.
The most versatile cutting board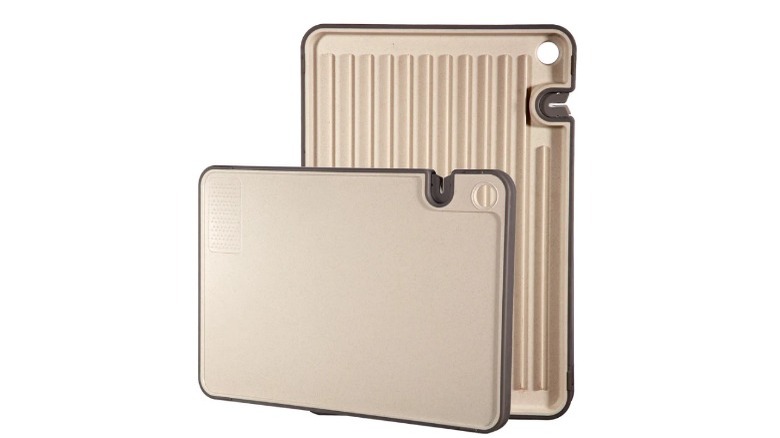 OOU
Multi-functional items are a huge luxury in kitchens where storage and space are often limited. The OOU multi-functional cutting board epitomizes this space-saving approach by incorporating a number of different pieces of equipment into its design. Perhaps the most useful of these is a knife sharpener built into the side of the board, which ensures your knives won't become dull and consequently dangerous (per Cozzini Bros). A small grater is also incorporated on the surface of the board so that ingredients like ginger and garlic can be easily prepared without adding to the washing-up pile. Finally, the board can be flipped to act as a drying rack for other recently washed kitchen equipment.
Fortunately, the focus on these extra details has done little to detract from the quality of the board itself. Not only is the OOU multi-functional cutting board a stable and durable cutting surface, but it also boasts impressive antibacterial properties thanks to the incorporation of Ag+ technology.
Purchase the multi-functional cutting board from OOU starting at $49.99.