How Guy Fieri Dresses Up His Favorite Roasted Brussels Sprouts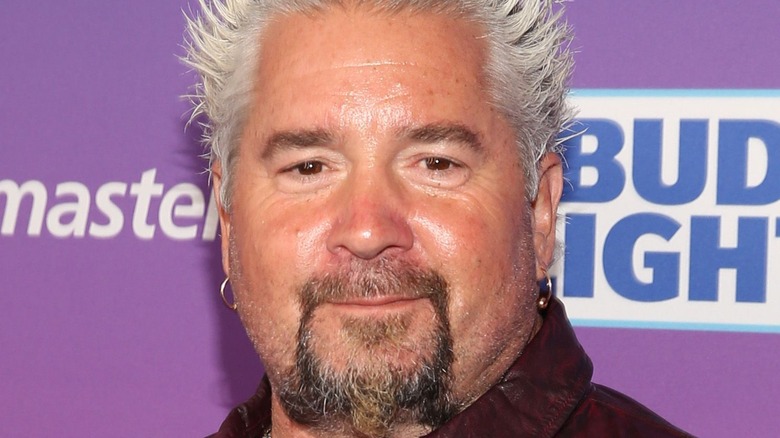 Jesse Grant/Getty Images
With a recipe catalog that includes dishes such as Trash Can Nachos and Pepperoni Studded Lasagna, it may seem like Guy Fieri is a glutton for a decadent meal. That assumption wouldn't be totally wrong; the chef does have an entire show dedicated to seeking out the country's best "greasy spoon" restaurants, after all (via Guy Fieri).
Per Food Network, Fieri has sampled some outrageous eats on "Diners, Drive-Ins, and Dives," like Bacon-Wrapped Love Meatloaf and Bulgogi Masa Fries. However, as it turns out, Fieri's "Triple D" eating habits aren't exactly what they seem. "Everybody thinks I chug down the whole cheeseburger," he said during an interview with People in September. "I'll try two items in a restaurant, three restaurants in a day. By the time I've had two bites of each food, I'm full," he explained.
When he's not shooting one of his many Food Network programs, Fieri stays pretty disciplined, telling People he starts each day with a 6 a.m. workout and practices intermittent fasting. Additionally, the Mayor of Flavortown also follows a diet almost completely free of meat and carbs, which may sound difficult to some. However, considering that Brussels sprouts are one of the two foods Fieri can't live without (the other being soy sauce), we can't imagine he finds the lifestyle all too bad. "You can do just about anything with them," he said during a recent interview with Insider – though there's one particular method that Fieri can't get enough of.
Guy Fieri uses this trick to get his Brussels sprouts crunchy and tender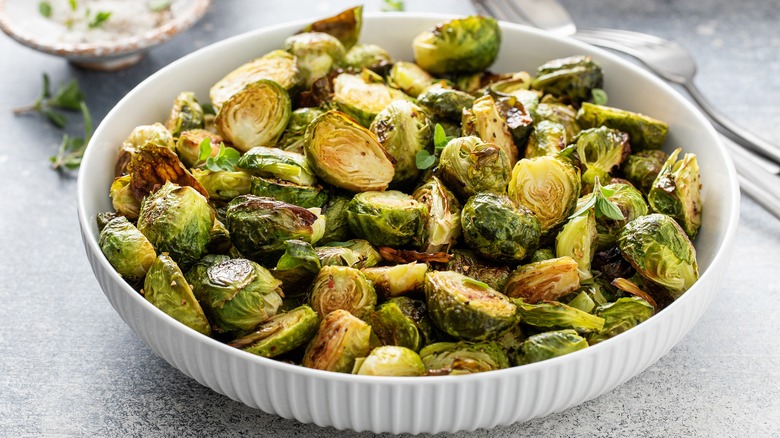 Elena Veselova/Shutterstock
If you're not a fan of Guy Fieri's favorite veggie, don't worry. He understands. "Most people don't like them because, when they were a kid, they had boiled Brussels sprouts," the "Guy's Grocery Games" host explained to Insider. Fieri admitted that he wasn't a fan of this method of preparation, either, though there are plenty of other ways to make the miniature cabbages. "You can do just about anything with them," he said, listing frying and grilling are two other potential ways to make the vegetable Fieri recommends for stretching your budget.
For the Food Network star himself, it's roasted Brussels that he's particularly keen on, which he uses a cookie rack strategically placed on top of a baking sheet is his get "nice and crunchy, while also being really tender." Once they're out of the oven, he uses a combo of lemon juice, lemon zest, and parmesan cheese to dress them. Fieri also suggested the addition of curry or granulated garlic if you're looking to give the veggies an "extra kick."
Fieri also has a few other Brussels recipes, like his Brussels sprouts gratin, which one reviewer said was even enjoyed by their family members who don't like the veg. The chef's bumped-up Brussels sprouts is another fan-fave and incorporates ingredients like pancetta, capers, pine nuts, currants, raisins, and balsamic vinegar a unique flavor combo that sounds perfectly on brand for the Mayor of Flavortown.