Chris Hemsworth's Lively Hibachi Dinner Left Fans Seriously Impressed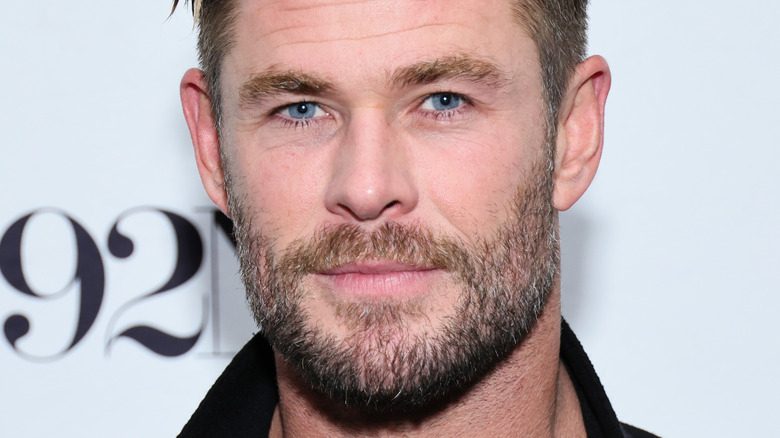 Theo Wargo/Getty Images
Japanese teppanyaki cooking, sometimes referred to as "hibachi-style" in the United States, is a theatrical style of open kitchen cooking and eating food like chicken, rice, seafood, or steak, per Kimono Restaurants. You sit down, order your favorite tidbits, and let the chef entertain you as they set fire to onion volcanoes and live-cook everything while also throwing pieces of food at you for you to catch in your mouth. It sounds silly, but it's loads of fun and a memorable way for you to enjoy a nice dinner with friends or family. That's exactly what Thor was up to a few days ago.
An unsuspecting Chris Hemsworth was in for a treat when he went to a hibachi restaurant with his family. He initially thought it would be a "nice quiet dinner with the family," but it turned out to be a "full blown festival" instead. The actor treated his fans with a bunch of fun videos documenting his boisterous night on Instagram.
Call Chris Hemsworth a hibachi pro
"He's not gonna really cook our food, is he?" Chris Hemsworth said in the first Instagram video as an LED goggles-wearing chef dances to Guns N' Roses' "Welcome to the Jungle" blaring in the background. As carts of ingredients arrive, the actor gets visibly hyped. The second video saw him catching food in his mouth and standing up in triumph after successfully eating three in a row. The fourth one was a miss, prompting the actor to jokingly ask the camera person to turn it off.
Hemsworth couldn't get enough of the chefs dancing to PSY's "Gangnam Style" in the third video. The children stood on their chairs to dance along as the adults cheered them on. Fans were seriously impressed by his food-catching skills. "Only Thor can accurately catch that many shrimps at Benihana ... mines be on the floor," a user commented. "Geesh! Is there anything he can't do?" another fan chimed in. "I wish I was that piece of chicken flying into his mouth ..." one of the fans commented.
Hemsworth in a hibachi restaurant is the entertainment we didn't think we needed but deserved.