The Former Olympic Star Who Sometimes Eats Chick-Fil-A As A Cheat Meal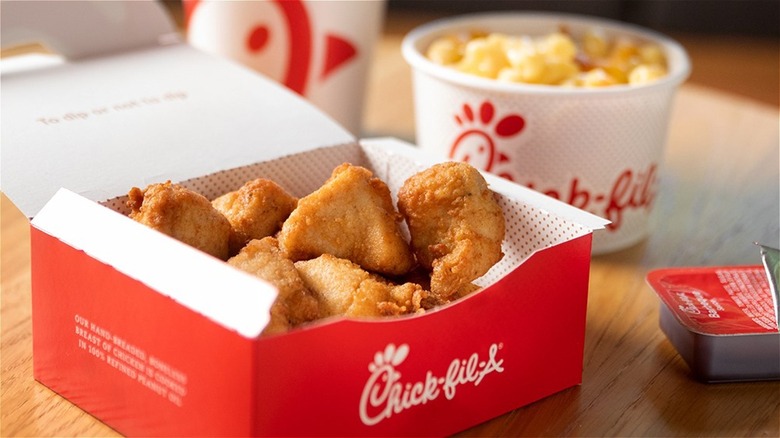 Chick-fil-A
What do Olympic athletes really eat? As you might expect, these elite athletes rely on keeping their bodies in tip-top shape. Taking a cue from computer programmers, they avoid falling into the GIGO trap – this acronym, which stands for "garbage in, garbage out," applies not only to data but also to physical performance. If you begin your day with a dozen donuts and a venti Frappuccino, it's likely you won't be setting any records later, but if you fuel up on high-quality protein and healthy carbs, you're off to a good start.
Cat Osterman, who pitched for Team USA's women's softball team in 2021, is no exception to the rule. She spoke with Us Weekly before the Tokyo Olympics and went into detail about the strict diet she followed as a part of her training regime. Although she admitted, "I don't necessarily count calories," she said that nevertheless, she's "very adamant that I continue to pay attention to what I eat." The pitcher explained that her training breakfast is typically a smoothie or yogurt with fruit and granola, although she might also have eggs, vegetables, and turkey sausage. For dinner, she'll generally cook something herself, but she'll be sure to make it healthy. As she said, "I will substitute zucchini noodles instead of spaghetti noodles or have potatoes or sweet potatoes instead of bread and rice." But for cheat meals, she sometimes eats a certain kind of chicken, just as a certain group of cow mascots intended.
Osterman's a fan of Chick-fil-A nuggets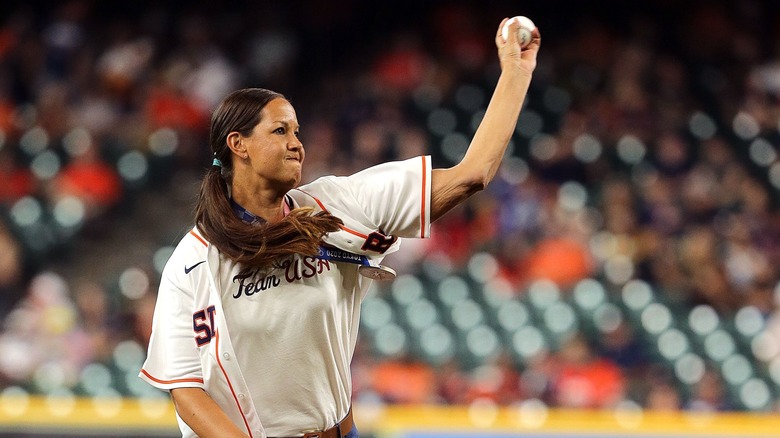 Bob Levey/Getty Images
In the middle of a busy training day, lunch might sometimes be more of a catch-as-catch-can affair. Cat Osterman will go for a healthy salad or sandwich when she's able to do so. Every once in a while, though, perhaps when time is short and she's really hungry, she'll make like the rest of us non-athletic types and go for fast food. Not just any fast food, though. Osterman's chain of choice is Chick-fil-A and her standby order is its chicken nuggets. Even here she opts for the healthy choice, telling Us Weekly, "I try to do grilled chicken as much as possible."
Osterman isn't the only high-level athlete to indulge in this fast food favorite. Milwaukee Bucks star Giannis Antetokounmpo celebrated the team's 2021 NBA Championship with a trip to a Brookfield, Wisconsin Chick-fil-A where he cruised through their drive-thru, trophy in his lap, and placed an order for a whopping 50 nuggets (via Twitter). Forget Wheaties – it seems that Chick-fil-A nuggets may now be the official Lunch of Champions.