The Canadian Costco Dish That Tiffy Chen Swears By - Exclusive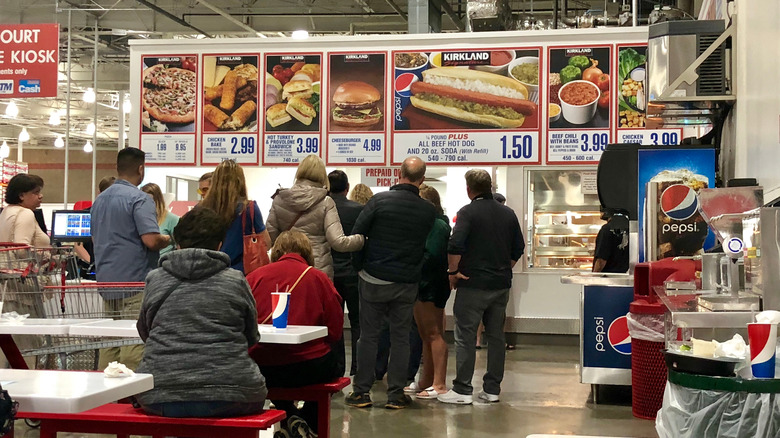 Cassiohabib/Shutterstock
There are two categories of Costco-shopping celebs. Meet category one: those who have been surprised by the paparazzi and gained some Costco street cred for having made a run or two to the discount store. In this group, we'll tentatively put Mandy Moore, who went to Costco at least once in 2011, and Facebook CEO Mark Zuckerberg, who apparently shopped for a TV there once. Category two is made up of true believers in the brand. Oprah gets an honorary spot in this group for geeking out about the store on her show, once. Khloé Kardashian is also a card-carrying member if what she told Jimmy Kimmel can be believed. "My mom and I go together," she once copped to the late-night host. "We're like the first ones there at 6 a.m. when the doors open. We have our big trolly–"
Then there's Vancouver-based food blogger Tiffy Chen, who might be as Costco-savvy as you. While the street food expert behind "Tiffy Cooks" is best known for things like 15-minute soy sauce noodles, sweet and sour pork ribs, and shrimp wontons, she revealed to Mashed in an exclusive interview that she has a special place in her heart for Costco's hot dogs and chicken strips. If you're ever Costco shopping in Canada, she's also got a unique, regional food court recommendation for you.
The number one food to try at Costco Canada's food court
Skip the chicken strips, hot dogs, and pizza next time you venture into a Canadian Costco. You've already delighted in those. "If you're in Canada, you've got to try their poutine. Canadian Costco poutine is one of the best poutines I've had," Chen exclusively dished to Mashed. "The gravy's delicious. The cheese is super melty. Definitely, if anyone's ever in the Canadian side of Costco, [you have] to get the poutine there. It's probably better than any other fast food poutines I've had."
For what it's worth, Reddit largely agrees with the rising star of the food blogging world. One reviewer goes so far as to claim they've tried "all" the other fast food poutines and none live up to Costco's. Trip Advisor users, where a reviewer calls Costco's version of the dish "piping hot and crispy," also seem to agree. 
Convinced yet? Good, because TikTokers have developed the perfect Costco poutine hack. Try ordering your poutine ingredients separately, for healthy doses of crispy fries, cheese curds, and gravy — customizable to your personal poutine tastes.
 Keep up with Tiffy Chen! Follow her on Instagram for near-daily updates and visit her blog for recipe inspiration.