Aldi Dropped A DIY Snowman Cookie That Has Fans Excited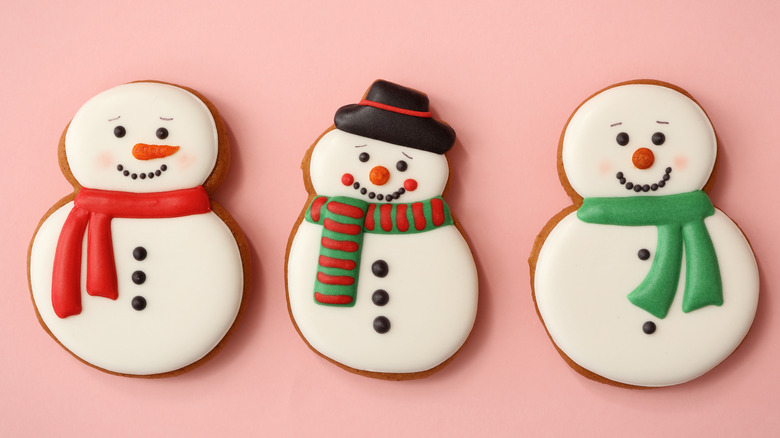 New Africa/Shutterstock
People resent many things about this time of year, from the cold to the darkness to the stormy weather. But no one can deny that there are plenty of iconic and unparalleled winter activities out there. Whether you like ice skating, skiing, sledding, or building snowmen, there are so many ways to find joy during the most wonderful time of the year. Even families and friends in warmer climates can partake in the festive fun by watching holiday movies, baking cookies, and decorating trees.
The only thing better than these activities? Eating foods and treats inspired by winter fun. If you don't want to devour the elaborate gingerbread house you made with your family, you can pick up DoorDash and Carlo's Bakery's Gingerbread Cake instead. While decorating your Christmas tree, you can indulge in some festive Walker's shortbread shaped like pine trees, Santa Claus, and stars (via Food Network). Following an "Elf" watch party, you can sample the Buddy The Elf Spaghetti Meal, which you can purchase through HelloFresh. Lastly, after partaking in a "build a snowman" competition with friends, you can continue the festivities indoors with Aldi's DIY Melting Snowman Cookies.
Aldi's Snowman Cookies can be dairy-free or gluten-free
Do you want to build a snowman? Typically, you need some snow, but not always: Aldi is taking the snowman building indoors with its Dairy-Free Melting Snowman Cookies. The discount grocery store chain took to Instagram to show customers just how to make the most of this DIY cookie bundle.
The post from @aldiusa, Aldi's official Instagram account, included a video tutorial on how to make these 3D snowman cookies. All you need is baking soda, baking cocoa, salt, eggs, sugar, ground cinnamon, mayonnaise, and the sugar cookie mix for the cookies, as well as powdered sugar, eggs & egg whites, and vanilla extract for the icing. Once the cookies have been baked and the icing has been whipped, it's time for the best part: assembling your snowman cookies.
In @aldiusa's demonstration, the instructor created snowman heads from marshmallows and used colored icing to draw carrot noses, stick arms, and buttons down the snowmen's torsos. The full recipe is available on Aldi's website, and it also includes instructions on how to make the cookies dairy-free and gluten-free.
A few people in the Instagram comments section got the ick from the inclusion of mayonnaise in the ingredients list. If mayo is a big no-no for you too, there are lots of other DIY cookie kits out there, including Crate & Barrel's 30-Piece Cookie Decorating Kit, Insomnia Cookie's Decorating Kit, and Cookies by Design's Christmas Decorating Kit, recommended by Food & Wine.