Trader Joe's Fans Are Raving About Its New Gluten Free Cheese Snack Bites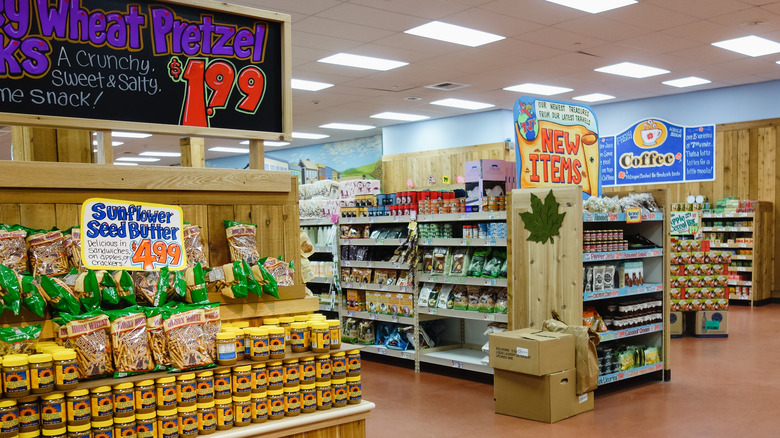 Corinna Haselmayer/Shutterstock
Trader Joe's seems to have snacking down to a science. Whether it's sweet treats or savory delights you're craving, TJ's aims to provide something to satisfy your appetite. According to the grocery chain's website, about 13 new products are on display for the season. While the shelves get stocked with holiday favorites, one new item has year-round appeal.
Trader Joes' Gluten Free Super Seedy Cheese Snack Bites hit shelves this week, according to a post by Instagram account @TraderJoesList. These bite-size snacks feature baked parmesan cheese studded with puffed quinoa and whole peppercorns. The packaging recommends them not only as a cracker-like snack, but also as a crunchy element to crumble over a salad or add to a sandwich. The post indicated that these cheese snacks are both aromatic and tasty. "When you open the bag you get wafted with a very smelly breeze," the caption said, alluding to the parmesan fragrance.
The new item appears to be a mashup between two successful product categories for Trader Joe's: cheesy snacks and gluten-free items. Fans get excited about the chain's oven-baked cheese bites, and they also like the Everything But the Gluten Norwegian crispbread. Based on reactions to this newest release, customers are jazzed about the super seedy snacks as well.
Trader Joe's customers love oven-baked cheese
According to @TraderJoesList, the new Super Seedy Cheese Snack Bites are gluten free and come in a 2.8 ounce-bag for $3.49. Besides the quinoa, cheese, and pepper, this snack contains just three more ingredients: sunflower seeds, pumpkin seeds, and black sesame seeds. Commenters who have already tried them are excited about the nutritional makeup, such as one who wrote, "These are really delicious! And they have a lot of protein," citing the 12 grams of protein delivered by one seven-piece serving. Others had ideas for what to pair with the snack. "This w cream cheese and pepperoni MAAM," another commenter wrote.
Plenty of people prefer to eat the bites on their own. "These are amazing, I ate the entire bag in one sitting. Going back today to stock up," one user said. While @TraderJoesList thought the snacks could use "a touch more peppercorn," others couldn't get on board with the pepper at all. "You had me at cheese @traderjoes and lost me at whole peppercorns!" A similar sentiment was shared on Reddit, where people suggested that young children (and anyone who's not a fan of pepper) might want to stay away from the new item. Overall, most reviews were positive, suggesting that Trader Joe's just might stick to its successful combo of cheese and pepper — like its popular cacio e pepe snack puffs.