Expert Explains Why You Should Serve This Fish Dish During The Holidays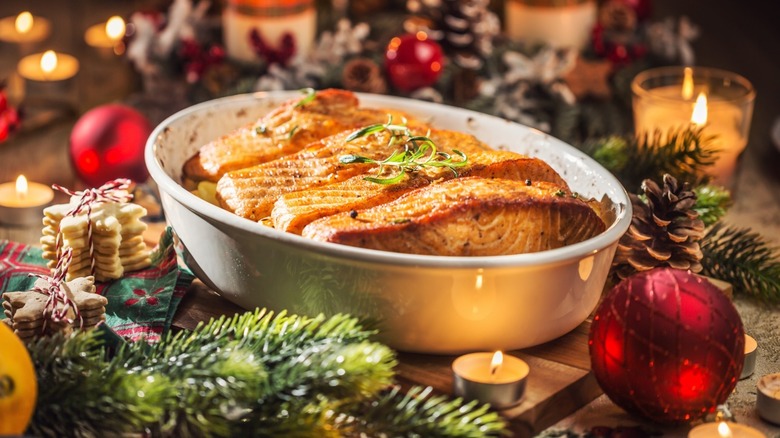 Marian Weyo/Shutterstock
When it comes to the holiday season, those who celebrate tend to have a roster of tried and true recipes that they like to prepare as part of their yearly traditions. If you fall into that camp, it could be fun to consider incorporating something new onto your holiday menu. Joe Gurrera, owner and original fishmonger of Citarella, would like to make the case for a food that you won't be likely to see on most lists of classic American holiday foods: fish.
For many Italian Americans, however, Christmas Eve marks the Feast of the Seven Fishes, where families gather around the table for a seafood smorgasbord, traditionally with seven or more different types of fish, as the name implies. According to Eataly, this tradition dates way back to the Roman Catholic practice of abstaining from meat and dairy leading up to important holidays. In the 20th century, Italian-Americans created the modern Feast of the Seven Fishes to honor this historic practice and their heritage. On board to give it a try? In a conversation with Mashed, Gurrera told us about his favorite fish dish to bring to the holiday table.
Why you should make merluzzo fritto this holiday season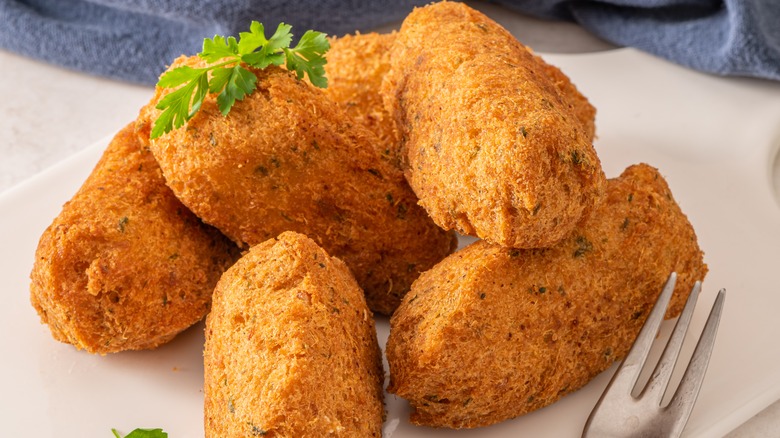 AnaMarques/Shutterstock
For his family's Feast of Seven Fishes, Joe Gurrera always makes sure that fried whiting, or merluzzo fritto, has a spot at the table. This traditional Italian recipe is "an unexpected and delicious choice for a holiday dish," he explains. To achieve the most festive of spirits, Gurrera recommends serving your merluzzo fritto "as part of a spread of fried bites" with cocktail forks, which "encourages gathering around the table and sharing warm conversation amongst family and friends." Well, you can't ask for a more perfect quality of a holiday food than that.
Another reason to give this traditional recipe a try is its simplicity: in addition to your fish, all you need is salt, oil, and flour. "When you're cooking fresh fish, it doesn't take much to make it delicious," Guerrera says. According to the Los Angeles Times, you know you've found a fresh fish at the market when it's clean-smelling with bright, firm flesh and clear eyes. "Holiday gatherings can be stressful, so the simplicity here is a huge plus," Guerrera adds.
How to best serve merluzzo fritto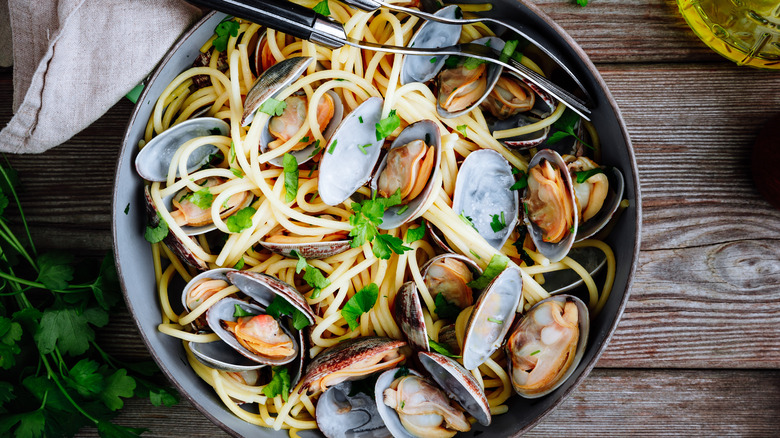 nblx/Shutterstock
Joe Gurrera explains that the beauty of using whiting is that it is flaky, light, and gets perfectly crispy on the outside, while staying moist on the inside, after being cut into small pieces and given the deep-fried treatment. Then, present golden morsels on a platter with cocktail forks. Just make sure to serve this tasty dish while it's hot. "The longer you wait to eat it, the more it loses its intensity and crunch," Guerrera warns.
Alongside your merluzzo fritto, the expert fishmonger recommends serving spaghetti vongole, a.k.a. spaghetti with clams. This classic Italian recipe originated in Naples, where it first appeared in a cookbook in 1839 (via Phase Changes). "I find it's a real crowd-pleaser. For me, vongole is supposed to be garlic, olive oil, clams, and white wine. That's it. If you're like me and like a little heat, add red pepper flakes to taste," Guerrera explains. "It's a wonderful dish to have along with the merluzzo fritto for a holiday seafood feast." 
Looking to take your briny banquet to the next level? "I would also add sides of fried shrimp and fried calamari for more of a selection that guests can linger over while sharing conversation and catching up," Guerrera concluded.