American Shoppers Are Seriously Jealous Of The Donuts At Dutch Dunkin'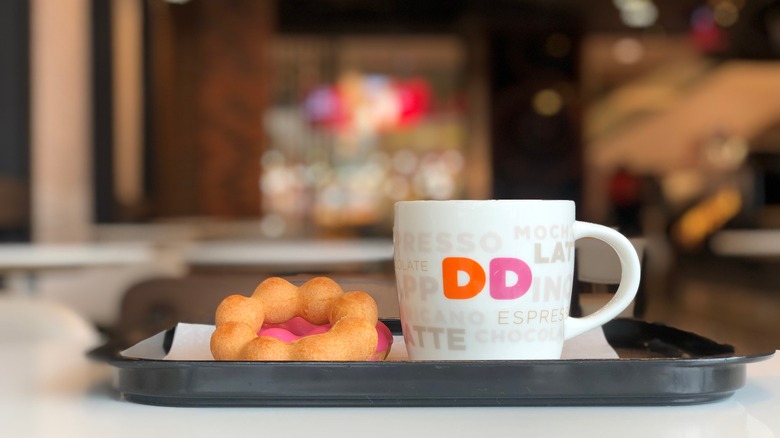 pancha.me/Shutterstock
Although more than 75% of Dunkin' retail locations are in the United States, there are still another 3200 Dunkin' locations that are strategically scattered around the globe. As you might expect, each of these locations offers its own little cultural spin on the classic Dunkin' menu we've all come to know and love.
German Dunkin', for instance, has donuts topped with macarons, Milka candies, and even Kinder Happy Hippos. According to Insider, Indonesian Dunkin' offers a mochi waffle donut, while South Korean Dunkin' includes a sweet red bean-filled donut on its menu. Fun, right?
Of course, we can't talk about the delicious Dunkin' options available in other countries without at least mentioning the Netherlands. Per the U.S. Embassy, Dunkin' opened its first Dutch location in 2017 and offers themed donuts shaped like tulips and windmills. Oh, but that's not all. Dutch Dunkin' also has numerous vegan options, as well as -– wait for it -– a holiday selection second to none.
What's all this fuss about Dutch Dunkin'?
If you've ever stopped by Dunkin' around the holidays, you know the seasonal donuts don't always meet expectations, appearance-wise. That's not to say they don't still taste great, but, well, 2022's pumpkin donuts had TikTok "literally crying," and that tells you everything you need to know.
Dutch Dunkin', however, must be using some kind of magic to frost and decorate its holiday donuts. One Reddit user shared a photo of the Dutch Dunkin' donut lineup, which includes Santas, gifts, gingerbread men, stars, and regular round donuts topped with every kind of cookie and candy imaginable. We'll take one of each, please. Actually, make that two.
Naturally, American Redditors were a bit jealous. One person commented, "All we do for Christmas is add red and green sprinkles to the frosted donuts." Another wrote, "These donuts look way better than the ones in America." However, a third user pointed out that Dutch Dunkin' is "definitely more focused on donuts than on breakfast options." Guess we're off to book a flight to the Netherlands.