Nico Norena's Kinder Cheesecake Recipe - Exclusive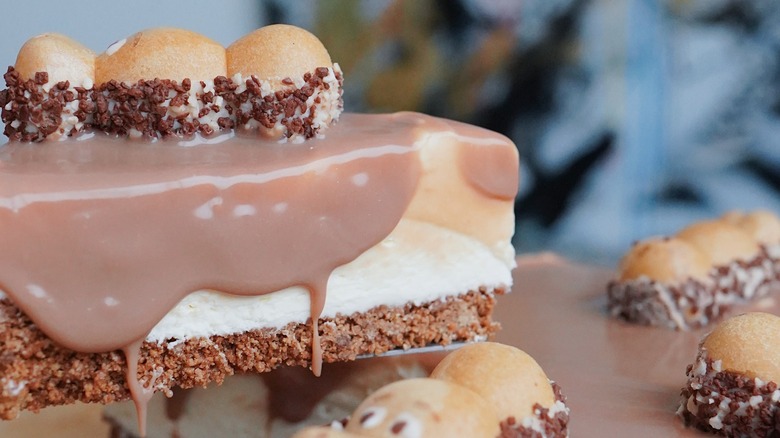 Nico Norena
Food blogger and self-trained cook and baker Nico Norena has a fool-proof answer to your ever-unquenchable sweet tooth. The Forbes 30 Under 30 honoree's desserts are not only unbearably mouth-watering (his social studio is known as The Succulent Bite, after all), but they're also almost too-good-to-be-true easy.
If you're one of his 1.6 million followers on Facebook or Instagram, maybe you've already eyeballed his cheesecakes on his eye-catching reels, wondering if, in fact, they're as effortlessly achievable as they look on video. We're here to confirm that they are. We've exclusively got his Kinder cheesecake recipe, and we dare you to try it out for yourself. It's not only no-bake (!), but it's also, as Norena once told Mashed in an exclusive interview, a stand-out favorite when he was taste-testing among local baking professionals for his recently published cookbook. Say goodbye to painful, 6 to 8-hour bake times and overnight chills. Say hello to rich, silky, Kinder chocolate-infused, and deliciously sweet succulence.
Nico Norena's Kinder Cheesecake Recipe - Exclusive
Turn nostalgic Kinder chocolates into a decadent treat with this recipe, from Nico Norena's debut cookbook, "The Succulent Bite."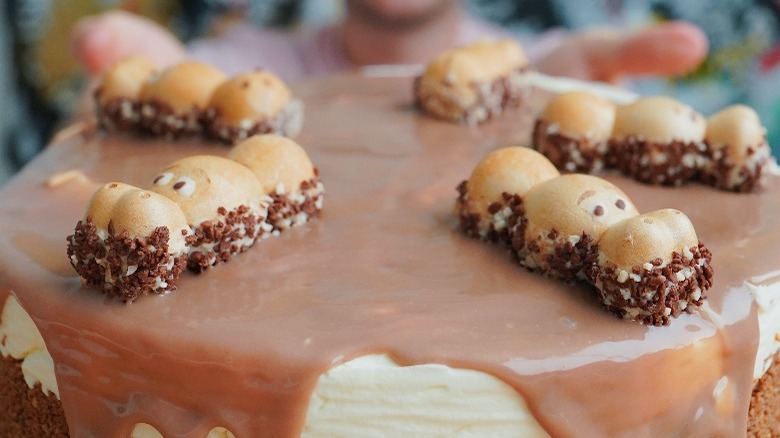 Ingredients
For the crust
15 crushed graham cracker sheets
6 tablespoons unsalted butter, melted
For the cheesecake filling
32 ounces softened cream cheese
1 cup powdered sugar
1 teaspoon vanilla extract
1 cup heavy cream
For the ganache
8 ounces melted Kinder chocolates
¾ cup heavy cream
Directions
Prepare your crust by mixing crushed cookies and melted butter, then shape it in your cake pan and refrigerate.
Mix your cheesecake filling ingredients in a large bowl until well combined. Mix should be smooth and silky.
Pour your mix into the prepared crust and refrigerate for 6 hours.
Melt your Kinder chocolate and heavy cream in the microwave for 1 minute (stopping at 30 seconds to stir) to form the ganache and top your cheesecake.
Slice, serve, and enjoy!
Nutrition
| | |
| --- | --- |
| Calories per Serving | 635 |
| Total Fat | 52.0 g |
| Saturated Fat | 29.9 g |
| Trans Fat | 0.2 g |
| Cholesterol | 146.0 mg |
| | |
| --- | --- |
| Total Carbohydrates | 39.7 g |
| Dietary Fiber | 1.7 g |
| Total Sugars | 27.9 g |
| Sodium | 372.5 mg |
| Protein | 7.2 g |