Salt Bae Has Been Banned From The US Open Cup Final In Light Of His World Cup Behavior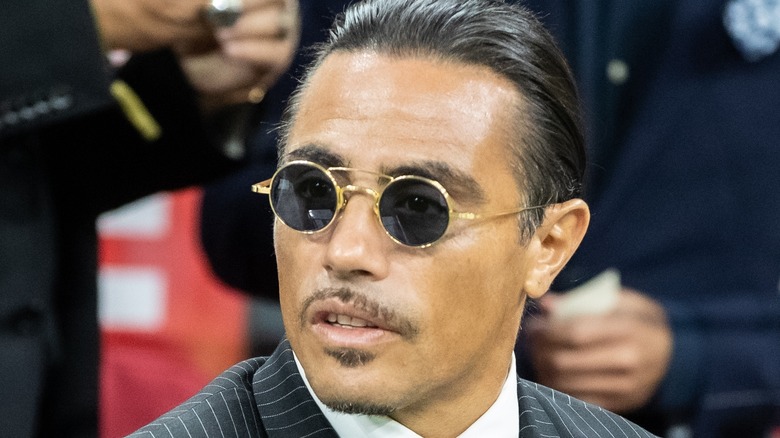 cristiano barni/Shutterstock
Salt Bae, professionally known as Nusret Gökçe, will not be permitted at the U.S. Open Cup final in light of his behavior at the World Cup, per Daily Mail. Salt Bae, a chef who rose to prominence after a meme of him sprinkling salt thrilled the internet in 2017, was seen after the World Cup final handling the trophy, which is prohibited by anybody who isn't a winner, a head of state, or on FIFA's list (via The Sporting News). But simply holding the trophy wasn't what landed Gökçe in hot waters. According to Fox Sports, Salt Bae also kissed the trophy, raised it over his head like a champion, pretended to sprinkle salt on it, and at one point even ripped it from Lisandro Martínez' hands.
After the incident, a FIFA spokesperson said to Mail Online: "Following a review, FIFA has been establishing how individuals gained undue access to the pitch after the closing ceremony at Lusail stadium on 18 December. The appropriate internal action will be taken." Now, Gökçe is receiving further punishment with his barring from the U.S. Open Cup final.
He handled the trophy without permission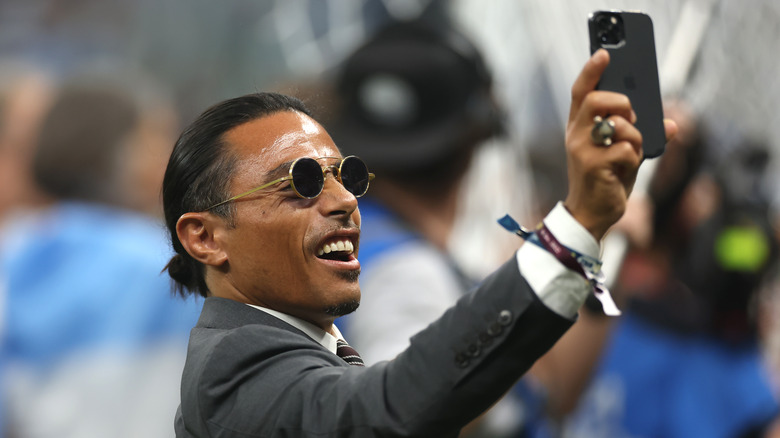 Lars Baron/Getty Images
On Twitter, the U.S. Open Cup revealed Tuesday night that Salt Bae is "hereby banned from the 2023 @opencup final," a decision that many social media users wholeheartedly agreed with. "I stand with this tweet. Salt bae should be banned from everything," one Twitter user wrote. Another comment read, "Watching Salt Bae insert himself in these players special moment is so cringey. I'm glad he's been banned." The U.S. Open Cup, which doesn't hold its final until late 2023, was founded in 1913 and is essentially the United States' version of soccer cups held in numerous other countries (via TheCup.US).
As of now, Salt Bae hasn't responded to the controversy or the banning it resulted in, though he's definitely been alive on Instagram sharing his many photos taken on the World Cup pitch. In one Instagram photo, he's seen holding the World Cup trophy above his head, something that upset many commenters. Some of the responses include, "This is the most disrespectful thing ever," and "Absolute disgrace. You are not even close to being allowed touching that trophy." This could be just the beginning of sports-related bans for Salt Bae.