Ree Drummond's Pancake Hack Is Martha Stewart's Pancake Nightmare
Pancakes: It's what's for breakfast. According to a 2020 survey, 59% of Americans love pancakes, with 12% eating them at least twice a week (via V101.9). Making pancakes at home can be as easy as opening up a box of Hungry Jack, stirring in some eggs and oil, and firing up the griddle. But if you have a little extra time on a Saturday morning — or if you want something that tastes just like Mama made them — you can opt to make pancakes from scratch.
There are tons of recipes for homemade pancakes out there, from classic buttermilk to indulgent chocolate chip. And there are also tons of hacks for how to make the fluffiest pancakes, from the ingredients you choose to the tools you use. Even The Pioneer Woman Ree Drummond has her own secrets for perfect pancakes. Here's the ingredient she swears by when it comes to whipping up a batch of flapjacks for breakfast. Bonus: You may already have it in your pantry.
It's all about the type of flour you use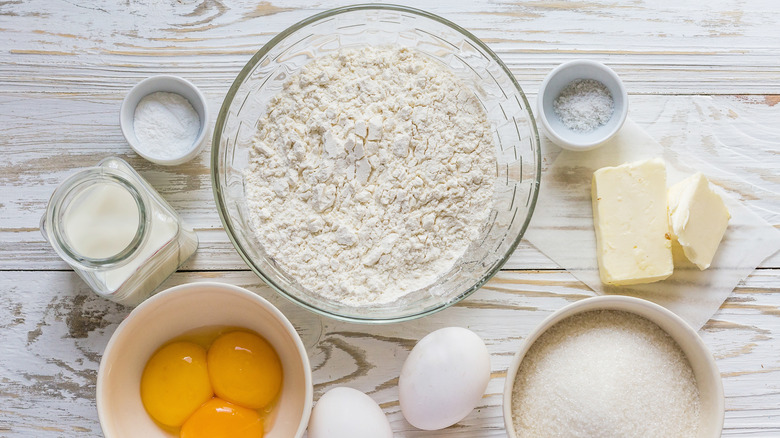 Dzevoniia/Getty Images
If you don't believe that boxed pancake mix is the same as the homemade alternative — or what you'd order at your local diner — Ree Drummond agrees. "Making pancakes from scratch is the only way to go," she wrote on The Pioneer Woman, adding, "I happen to be obsessed with pancakes, and decided not to rest until I came up with the perfect pancake recipe." What makes her recipe different than others? The type of flour she uses. According to Drummond, cake flour is the "essential ingredient" to getting those fluffy pancakes of your dreams, instead of chewy flat ones.
Cake flour has the lowest protein content of all the flour, making it less dense and lighter and airier than other types (via Southern Living). A.k.a. exactly what you want in hotcakes. But while Ree loves subbing cake flour for all-purpose flour in her pancakes, Martha Stewart doesn't agree. Kitchn reports that Martha warns cake flour pancakes get too soggy too fast from syrup — but The Pioneer Woman seems to believe otherwise.