Starbucks Rewards Are Changing, And Customers Won't Be Happy
As we approach the new year, many food companies and restaurants are using the moment to announce some exciting changes to get their customers hyped for 2023. Businesses like Burger King, which promised its members an order of free fries along with any order until June 2023, and Wendy's, which also released a series of promotions including a free Jr. Bacon Cheeseburger on December 30 and an additional Breakfast Baconator with any in-app order on New Year's Eve, are ending 2022 with a bang.
Starbucks is another company that has recently shared some ground-shaking news for customers heading into 2023. According to Starbucks, the company will be making changes to its rewards system. And although this isn't the first time Starbucks is modifying its rewards system, this switch is pretty drastic. In some instances, customers may need to spend more money in order to cash in their stars for freebies.
Starbucks' change incentivizes customers to buy specialty items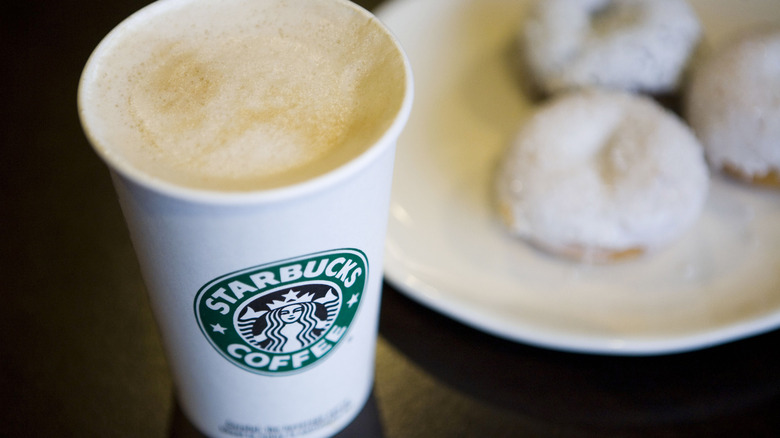 Bloomberg/Getty Images
Previously, Starbucks Rewards changed from its original Gold Card Program to its visit-based arrangement back in 2009, before moving to its current spend-based program in 2016 (via Nation's Restaurant News). This system was again modified in 2019, when the system ditched its "Gold Member" status completely, allowing all customers to reap the same rewards regardless of how frequently they stop by the popular coffee chain (via Delish).
A lot of loyal Starbucks visitors met this change with a bit of frustration, citing that they felt less valued because of the tiers' riddance (via Today). And with the chain's more recent adjustment to its rewards program, their world is about to be flipped once again. Some items, including Starbucks' handcrafted drinks and lunch items, will cost more stars to redeem. Those prices have risen from 150 stars to 200 stars and 200 stars to 300 stars, respectively.
However, not all these edits make it harder to achieve the benefits of being a Starbucks Rewards Member. Certain products, including iced coffee, ice tea, and ham and Swiss croissants will be available at 100 stars, rather than their original price of 150 stars, according to Insider. Customers will have until February 13 to stomach this change, before it goes into place.