The Best Mediterranean Cookbooks In 2023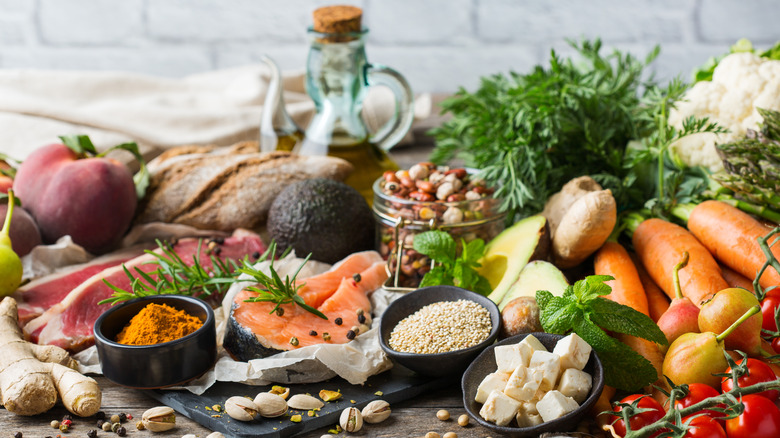 Antonina Vlasova/Shutterstock
We may receive a commission on purchases made from links.
The Mediterranean isn't just one of the world's most glamorous vacation destinations; it's also home to the cuisine that U.S. News & World Report calls the healthiest diet in the world. Though it's often called the Mediterranean diet, this style of cooking is less of a traditional diet and is really a cultural heritage of cooking and eating that happens to bring along a plethora of health benefits. While this does mean doctors may recommend it for people with certain conditions, it wasn't created for health reasons.
What draws most of us to into the flavorful world of Mediterranean cuisine? It's delicious! Still, it's not always the cheapest option for those of us who are not growing our own grains and produce or catching our own fish, and there are some other considerations you should know before starting the Mediterranean diet, too. But don't let that stop you from digging in. 
Of course, you're welcome to try some of the best Mediterranean restaurants in the U.S. if you're unfamiliar with the cuisine and need a sample. However, we know that you'll soon be itching to whip up some of those dishes at home more regularly, so we've sorted through the scads of recipes and tips available today to bring you the best Mediterranean cookbooks in 2023.
How we selected these Mediterranean cookbooks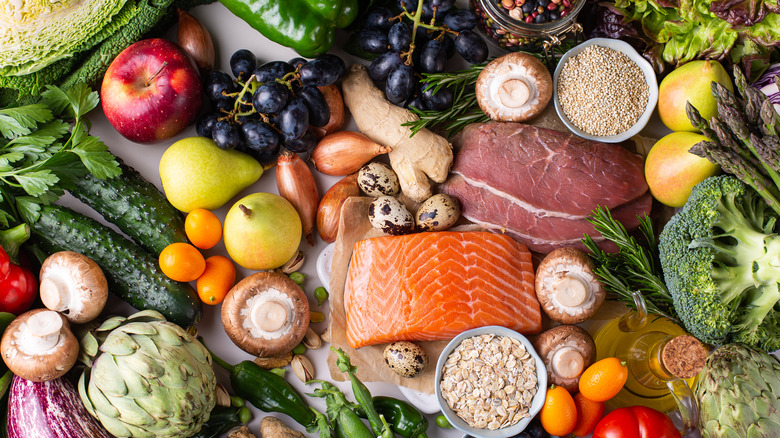 Aamulya/Getty Images
There's no shortage of Mediterranean cookbooks on the market today, so our first order of business was to review as many as possible, looking for several key components. We think the best cookbooks should be easy to understand, feature photos of finished meals for as many of the recipes as possible, and should be filled with accessible recipes that actually taste great. To us, that means you should be able to find a meal's ingredients or worthwhile substitutions easily and prepare the dishes in your home kitchen without too much specialty or professional equipment. We also prefer these volumes to be gorgeous, whenever possible, because collecting cookbooks today tends to be as much about browsing and enjoying the contents as it is about reading and cooking — and there's nothing wrong with that.
From our top choices in each category found below, we also turned to other professional chefs and cookbook reviewers to consider their opinions on each book's practicality and value. We also consulted with health and nutrition sources to back up some claims. From there, we turned to one of the most important groups of all: actual readers. Scouring reviews of verified purchases helped us make final decisions on which books were most accessible and appealing to the widest audience in each category, leaving us with these best Mediterranean cookbooks in 2023.
Best overall Mediterranean cookbook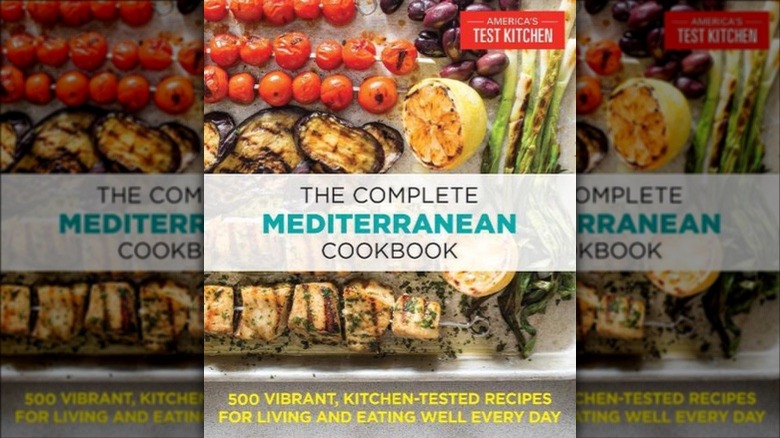 Amazon
The best overall Mediterranean cookbook should provide you with as many recipes as possible, and "The Complete Mediterranean Cookbook" does just that with 500. Including more than the European shores of the Mediterranean Sea, this compendium also covers the cuisine of Middle Eastern and African Mediterranean regions, offering a massive assortment of flavors and techniques to add to your culinary repertoire.
"The Complete Mediterranean Cookbook" was compiled by America's Test Kitchen, known for presenting only well-tested, dependable recipes that are difficult to bungle, and A Love Letter to Food agrees that the recipes found in this book are no exception. Designed with general supermarket staples in mind, you won't have to search high and low for rare ingredients to prepare these recipes. One Target verified purchaser loves the substitutions offered throughout, as well as the helpful tips on cooking techniques and preparation found within the recipes. It's a big book with a ton of practical info and nearly foolproof recipes from all around the Mediterranean, making it the ultimate one-stop shop if you don't have a specialty focus in mind.
Purchase "The Complete Mediterranean Cookbook" on Amazon from $16.92 as of January 2023.
Best Mediterranean cookbook for beginners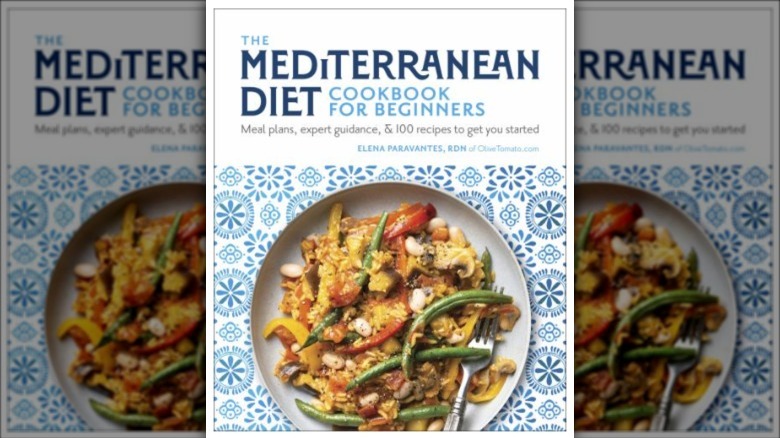 Amazon
Whether you're a new chef who makes beginner mistakes when you cook at home in general or you're just new to the ins and outs of Mediterranean cuisine, there are several reasons you may be looking for a beginner's guide here. If so, "The Mediterranean Diet Cookbook for Beginners" may not have the most eye-catching title on the market, but it's still perfect for you. It comes with 100 recipes designed especially for the uninitiated, as well as meal plans and expert tips for shopping to cooking to make your introduction as painless as possible. This cookbook even comes with tips for adopting a more Mediterranean lifestyle in case you really want to take the plunge into this, um, sea of culture.
Amazon verified purchaser Jane Moore was cooking from the author's website for years before purchasing this Mediterranean cookbook and was pleased that the book's recipes were just as approachable. She also noted that many ingredients could be purchased ahead and frozen, which made shopping and recipe prep even easier. Verified purchaser Yana says she collects cookbooks that often go unread or unused, but that isn't the case with this one. She says it's so good that she prepared many of the recipes shortly after purchasing and has repeated plenty thanks to the simple instructions and delicious results.
Purchase "The Mediterranean Diet Cookbook for Beginners" on Amazon from $13.39 as of January 2023.
Best Mediterranean cookbook for families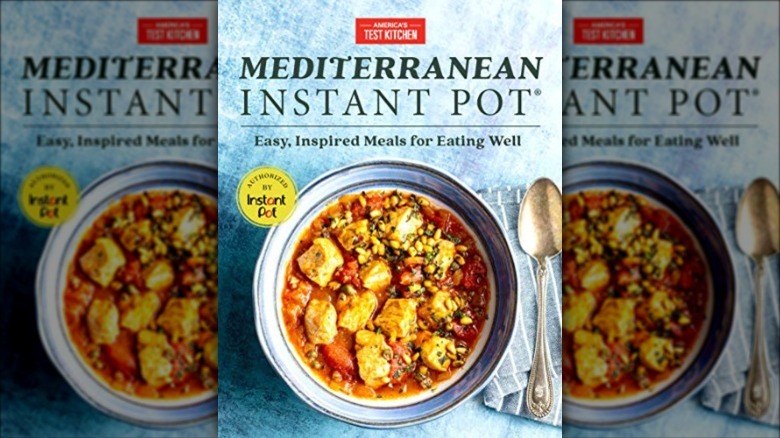 Amazon
Cooking for families, however large or small they may be, presents plenty of unique challenges. From varied taste buds and dietary needs to a simple lack of time for busy caretakers, it's not easy to prepare nightly feasts for everyone in a household. Enter the Instant Pot. These handy gadgets allow home chefs to toss ingredients into a single pot and cook largely without any extra work, meaning families can create large meals with minimal effort (which also frees up time to prepare alternatives for those with special diets). They're already time-saving gold mines on their own, but there are additional Instant Pot hacks that can make cooking, for families or anyone else, even easier.
"Mediterranean Instant Pot" shares nearly 200 pages of recipes and guidance from America's Test Kitchen and is officially authorized by Instant Pot so you won't encounter ill-conceived ideas that don't actually work with the product. Snack Girl says this book makes meal prep much more enjoyable since you don't really have to do any of the cooking once you've placed the ingredients in the Instant Pot, and YouTube reviewer Reviews, Tutorials & Tech says this cookbook not only makes Mediterranean cooking super simple, but provides detailed nutritional information for its recipes, which you may be looking for when preparing meals for growing children or family members with specific dietary needs.
Purchase "Mediterranean Instant Pot" from $23.98 on Amazon as of January 2023.
Best Mediterranean cookbook for weeknights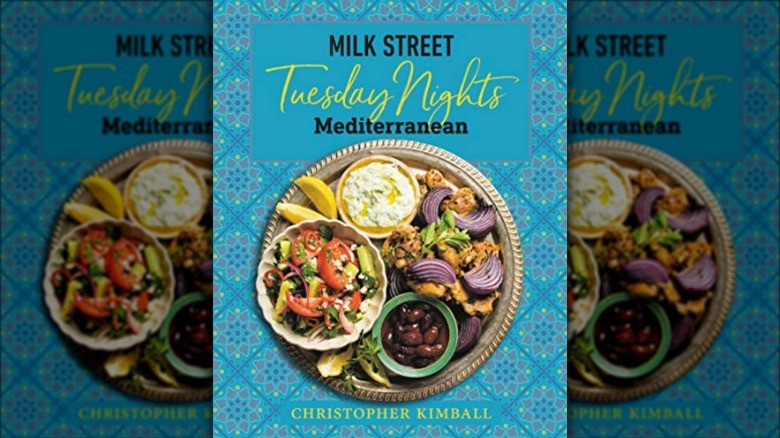 Amazon
How did weeknight cooking become so distinctly separated from weekend cooking? Simple. There just isn't much time for most people — you know, the ones with the sort of jobs that require now-traditional 9-5 schedules — to shop, prepare, and cook elaborate meals after work, especially if they want to actually eat them and get to bed before midnight. This means that weeknight meals should ideally be easy to prepare and quick to get on the table, which is exactly what the "Milk Street: Tuesday Nights Mediterranean" cookbook offers.
Forbes notes that the recipes here aren't just quick to whip up but are further organized into sections of Fast, Faster, and Fastest so the after-work crowd can home in on what fits their time budget best. Portland Book Review, which awards "Milk Street: Tuesday Nights Mediterranean" a glowing five stars, says the recipes are uncomplicated and offer useful tips and guidance to make preparation even easier and quicker in clear, easy-to-follow language.
Purchase "Milk Street: Tuesday Nights Mediterranean" on Amazon from $22.49 as of January 2023.
Best Mediterranean cookbook for keto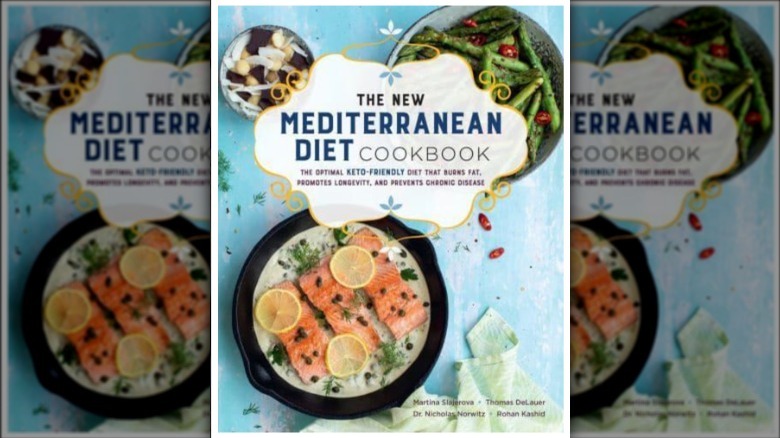 Amazon
While the Mediterranean diet is not a true diet that's meant to help people lose weight, the keto diet is just that. Those looking to enjoy Mediterranean cuisine while also adhering to the keto diet should be on the lookout for recipes that cater to their specific needs. As Healthy Living reports, the keto diet dramatically restricts your carbohydrate intake, which means a lot of the pasta, bread, and other grain dishes that feature in Mediterranean cooking are out. But that's hardly all there is to Mediterranean cuisine, and plenty of Mediterranean cookbooks focus on other, less carbohydrate-rich areas.
"The New Mediterranean Diet Cookbook" was specifically written for keto followers, offering 100 recipes to span the full day, including snack time. Keto-Mojo reports that this book is packed with nutritional information that explains exactly how the recipes are beneficial, and that many of the recipes have extremely high ratios of fat to protein (despite what you may have learned about fat elsewhere, it's considered to be an optimal addition to the keto diet). Best of all, Amazon verified purchaser Steven Miller says the recipes aren't just healthy, but they're delicious, too, calling them "restaurant quality," and good for use on special occasions.
Purchase "The New Mediterranean Diet Cookbook" on Amazon from $12.10 as of January 2023.
Best Mediterranean cookbook for busy people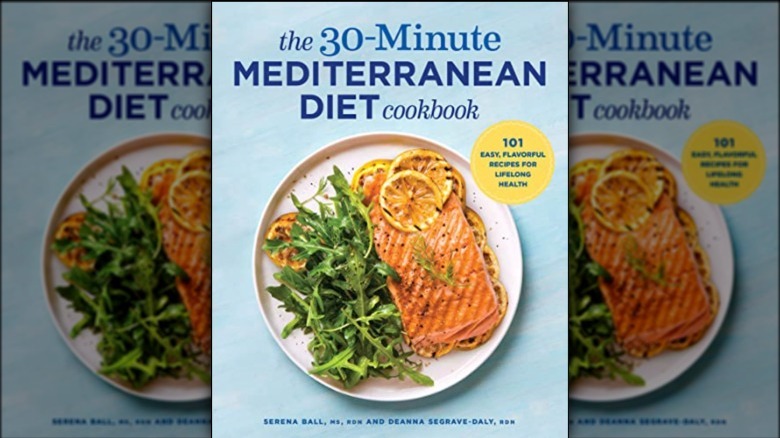 Amazon
Okay, we know what you're thinking. We've already mentioned plenty of busy people trying to get meals ready, from family caregivers to office warriors. That's true, but there are scores of other people who are busy with things other than children and jobs, and they don't necessarily have the same needs as these important categories. For the rest of you time-crunched chowhounds, we've dug up the best Mediterranean cookbook for your busy lifestyle. That would be "The 30-Minute Mediterranean Diet Cookbook," filled with 101 easy recipes that are ready to go in a half hour or less.
As Seattle Book Review details, "The 30-Minute Mediterranean Diet Cookbook" isn't just a dinner book, but a volume that also covers breakfasts, desserts, sides, and more in 12 large sections. It also comes with ingredient tips and prep tricks that help keep times within that half-hour boundary without sacrificing quality. Amazon verified purchaser Bonnie laments that many so-called 30-minute recipes don't include pre, so she's often been frustrated by the real length of time they actually take, but loves that the recipes in this cookbook are truly accomplished within a half hour or less from actual start to actual finish.
Purchase "The 30-Minute Mediterranean Diet Cookbook" on Amazon from $8.99 as of January 2023.
Best Mediterranean cookbook for heart health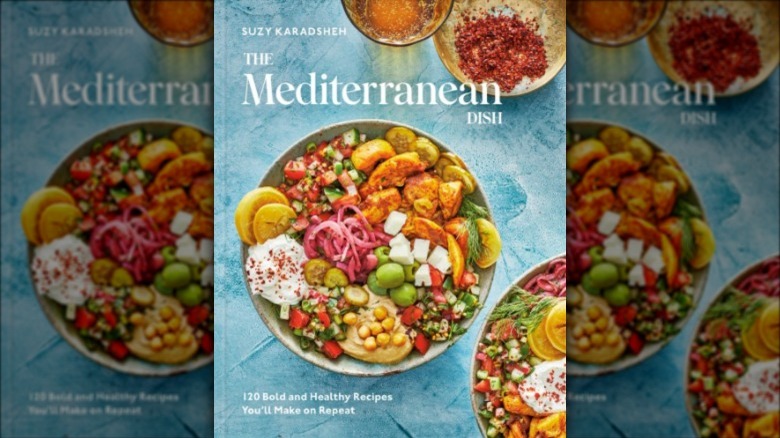 Amazon
Despite what we said about the Mediterranean diet not being in line with what most would consider an actual diet, its health benefits are so abundant that it can lead doctors to recommend it to patients with a variety of conditions. Among those, the Mediterranean diet is well known to be associated with greater heart health (via Mayo Clinic). If you're here because your doctor told you to start eating more Mediterranean-style dishes, or just because you're generally interested in maintaining better heart health through your daily diet, then "The Mediterranean Dish" can help.
From early Mediterranean food blogger Suzy Karadsheh, the 120 recipes in "The Mediterranean Dish" bring heart-healthy dishes to home chefs with no special skills required, as noted in the Publishers Weekly starred review of the author's debut. Amazon verified purchaser Mary C Stilling says her doctor recommended the Mediterranean diet after diagnosing her with heart disease. She's not only found the recipes in this book to be delicious, but they get five stars from her fussy husband, too.
Purchase "The Mediterranean Dish" on Amazon from $22.75 as of January 2023.
Best Mediterranean cookbook for diabetics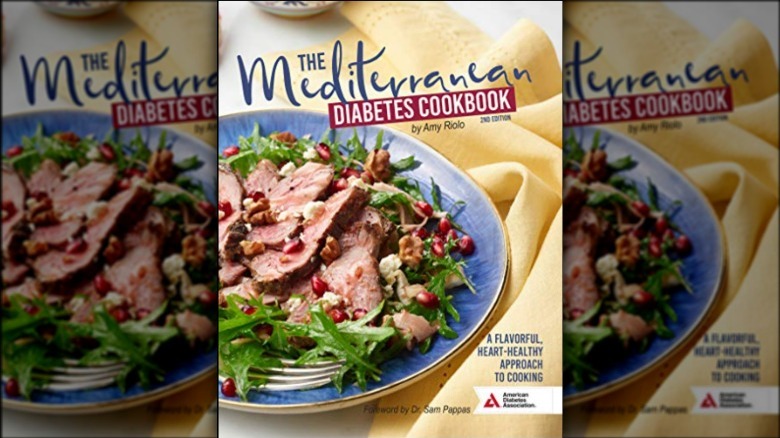 Another health condition that can benefit from the Mediterranean diet is type 2 diabetes, thanks to the diet's potential weight loss and blood sugar benefits, as reported by Everyday Health. "The Mediterranean Diabetes Cookbook, 2nd Edition" is an update to the popular 2010 first edition, incorporating insight on advances in nutritional understanding alongside dozens of new recipes and cooking tips.
In what is potentially the best praise for any form of healthy food, Amazon verified purchaser vicki payson remarks the finished recipes are so great that you can't tell how good they are for you. Barbara Goodheart, another Amazon verified purchaser and diabetes educator, appreciates that this book doesn't make false claims about curing illnesses, but simply offers recipes that are beneficial to diabetics (and to almost anyone else, for that matter). She also loves that some of the recipes can be prepared in as few as 5 minutes since she admits to not being a major fan of the culinary arts, herself.
Purchase "The Mediterranean Diabetes Cookbook, 2nd Edition" on Amazon from $34.35 as of January 2023.
Best Mediterranean cookbook for vegetarians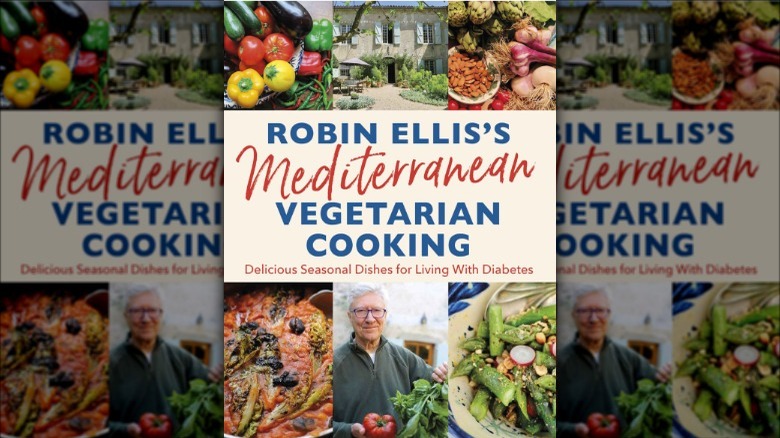 If the first thing you think of when considering Mediterranean cuisine is seafood, you're not far from the truth. The Mediterranean diet is often fish-forward, with plenty of other types of seafood included, too. But what if you're a vegetarian with a health condition who could benefit from this culinary culture? Or what if you simply love the other flavors of the Mediterranean but don't eat meat or fish? Fear not: There are several cookbooks made just for you, and we think "Robin Ellis's Mediterranean Vegetarian Cooking" is the best. By the way, as this book was originally intended to assist those with type 2 diabetes, consider it our second choice for the category above, too.
Rest assured you don't need to be diabetic to appreciate this Mediterranean cookbook. One Amazon verified purchaser, who noted that they are not diabetic, gave the book five stars, saying that it's one you'll actually use, not just shove on a shelf and forget. They also appreciated how easy it was to understand, and that it was organized by season — especially helpful for a book focused on ingredients that grow. YouTuber Tricia Cusden also noted that this book isn't just a feast for the stomach, but for the eyes, too, thanks to exceptional food photography courtesy of the author's wife.
Purchase "Robin Ellis's Mediterranean Vegetarian Cooking" on Amazon from $17.99 as of January 2023.
Best Mediterranean cookbook for weight loss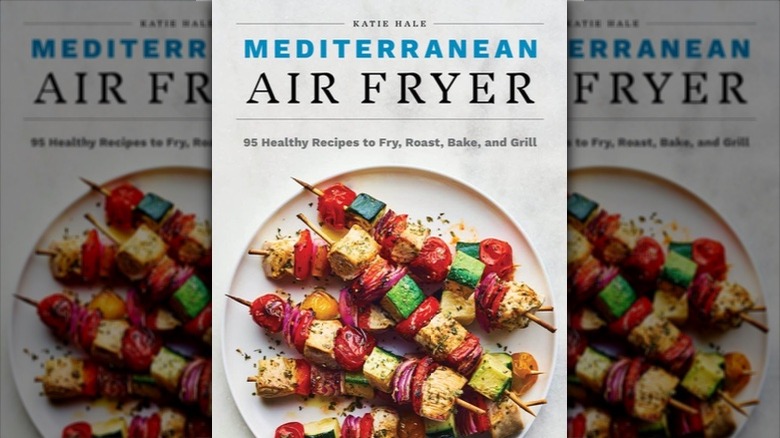 Amazon
As noted above, there's plenty about the Mediterranean diet that can make it a useful tool for shedding pounds when needed or desired, so it's not unreasonable that you may be here on the hunt for the best Mediterranean cookbook for weight loss. What may be more surprising is that our top recommendation here is an air fryer cookbook, but keep in mind that air frying is nothing like traditional frying methods, particularly when it comes to deep frying, which uses extreme amounts of fatty oil to prepare foods. Air frying achieves practically the same effects as deep frying, only with the help of circulating air instead of a ton of oil, instantly cutting down on the fat and calorie content of finished dishes, as reported by Healthline.
Purchasing and using an air fryer is not enough to achieve your desired weight loss results, though. If you're still cooking unhealthy food in it, you're not going to get very far. You must know what to do with your fryer after you get it, and the "Mediterranean Air Fryer Cookbook" sets you on an excellent path. Amazon verified purchaser The Holy Mess loves using this book to maintain their 100-pound weight loss. Fellow verified purchaser Penny is on a super strict diet but is still able to cook from many of the recipes within this book thanks to its health-conscious focus.
Purchase the "Mediterranean Air Fryer Cookbook" on Amazon from $17.59 as of January 2023.
Most unique Mediterranean cookbook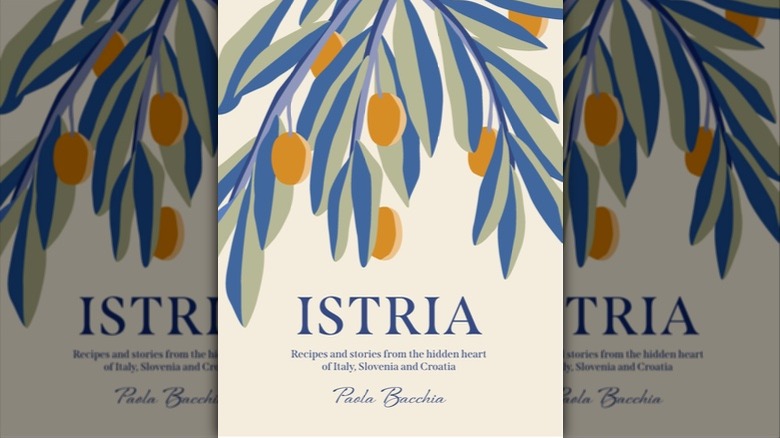 Amazon
If you're shopping for someone with a pretty deep understanding of Mediterranean cuisine already, or you are that person yourself, we have a cookbook that we think will still open some exciting new culinary doors for you. Among the least discussed Mediterranean culinary regions is Istria, historically covering the northernmost reach of the Mediterranean and encompassing parts of modern Italy, Slovenia, and Croatia. This is the Mediterranean cuisine covered in Paola Bacchia's "Istria," and we're willing to bet some of it is new to almost everyone.
As National Geographic notes, Istrian cuisine is a mashup of Mediterranean influences and styles not found in other, better-known Mediterranean food cultures, widening the repertoire for any Mediterranean-focused home chef. Still, as celebrity chef Nigella Lawson said in her review of "Istria," novelty for the sake of novelty is no good, but this cookbook transcends novelty and offers truly worthwhile new recipes in a beautiful package that will educate and impress even the most esteemed chefs.
Purchase "Istria" on Amazon from $35 as of January 2023.
Best Mediterranean cookbook for seafood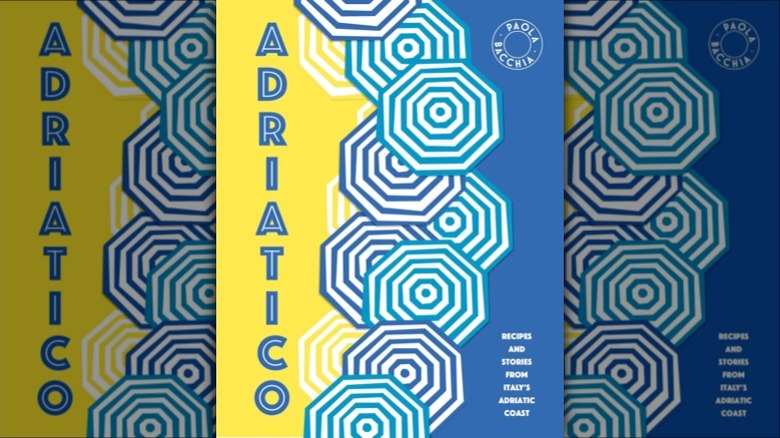 Amazon
From the same accomplished author as "Istria," "Adriatico" covers the cuisine not just of one special space, but all of Italy's Adriatic coast. (Yes, the Adriatic Sea is part of the Mediterranean Sea.) At first glance, seafood lovers may be alarmed to see just two pages devoted to seafood in the book's enticing table of contents, but if they dig a little deeper they'll be relieved to find that this book is a true trove of seafood recipes. These early pages are simply a detailed description of the many types of seafood found within, and the following seven sections are rife with such recipes. After all, as Shared Kitchen reminds us, seafood is the uniting factor behind all cuisines found along the Adriatic Sea.
Amazon verified purchaser Mark Ainsworth gives "Adriatico" five stars and, having visited some of these parts of Italy and calling the Adriatic one of his favorite culinary regions in the world, affirms the recipes are authentic to what he loves about Adriatic cuisine. While you're sure to find a bit of seafood in most of the books listed here, this is the ultimate Mediterranean cookbook for the serious seafood lover.
Purchase "Adriatico" on Amazon from $35 as of January 2023.