Boozy Creations For Your Instant Pot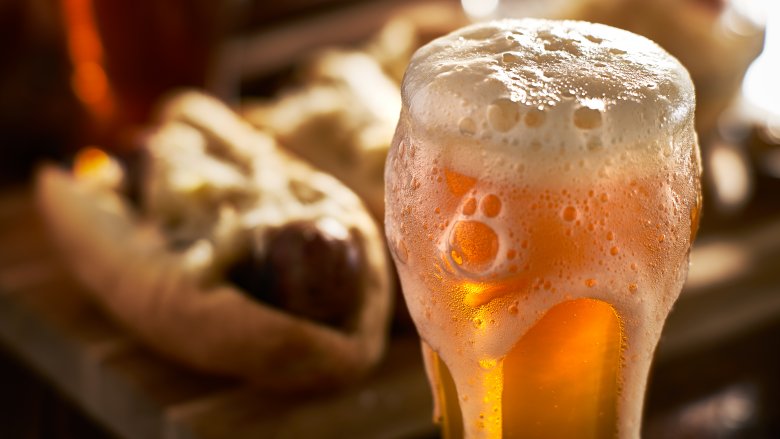 Shutterstock
There are so many things you can do with your Instant Pot, it can be tough to single out just what recipes you're going to try next. There's breakfast, lunch, dinner, and dessert, of course, but there's also another category we absolutely have to talk about: booze.
We don't necessarily mean making booze, but we do mean infusing beer and liquors into some of your favorite dishes. We're also talking about taking some of your favorite cocktails — some that might normally take hours or even days to make — and switching it up so they're something you can make in a matter of minutes whenever the mood strikes. Sounds too good to be true, right? It's not, so let's talk about how you can incorporate some of your favorite beers and booze into your Instant Pot meals.
But first, a word of warning. Since you're going to be cooking with alcohol, take some extra precautions when you're doing your pressure releases. Make sure you're in a ventilated area, and that there are no open flames nearby. You're probably going to be releasing some alcohol vapor, so just be aware!
Guinness meatballs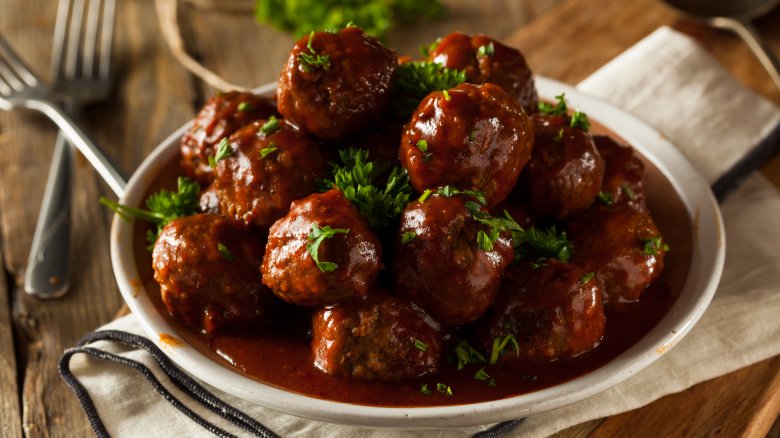 Shutterstock
Meatballs can be a fun way to switch it up from the usual hamburgers or meatloaf, and there's no reason to stick with tried and true favorites when you can add a healthy helping of Guinness — or any other dark stout — for a fun twist.
Start by mixing up your meatballs, and if you don't have a go-to recipe, try a half-beef, half-pork meat mixture with seasonings like cumin, garlic, onion, cayenne, and a handful of Panko breadcrumbs as a binder. Portion into meatballs, and move them to your Instant Pot. Then, add your liquid. You can definitely opt for a booze-free version of this, but for our purposes, we're going to use a combination of your favorite BBQ sauce and around half a cup of beer. Your meatballs should be mostly covered, then just cook for seven minutes on high, do a 10-minute pressure release, and done! The meatballs should be cooked through (check, though, as this could vary depending on your meatball recipe and the size you're making them) and your beer-and-BBQ sauce will be thick and delicious.
Bourbon chicken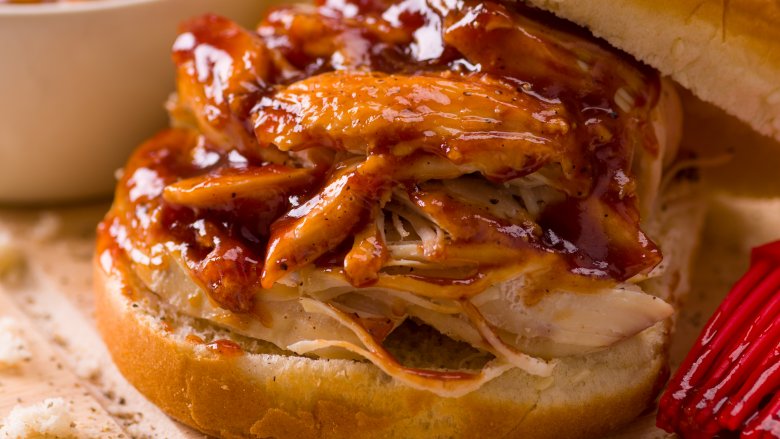 Shutterstock
Pulled pork might get all the attention, but how about some pulled chicken? Serve it up on a roll, on tacos, or over rice, and it might just be a new favorite.
Start with thawed chicken breasts, and put them raw into your Instant Pot. In a separate bowl, mix up equal parts bourbon, ketchup, water, soy sauce, and brown sugar. If you'd like an extra dash of sweetness, add honey to taste. (You can also add in spices and seasonings, like cayenne, red pepper flakes, garlic, and onion.) Pour your mixture over your chicken breasts, cook for 15 minutes on high, then open and shred your chicken. If the sauce is still thin, switch to the saute setting and simmer until it's thickened to the consistency you're looking for. Leave it on the thin side for rice, make it thicker for sandwiches, and feel free to adjust the amount of bourbon, honey, and other spices so it's as sweet or as boozy as you like.
Beer chili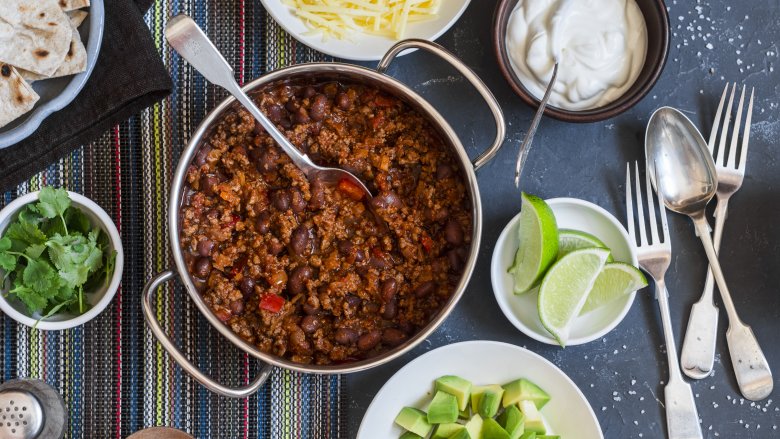 Shutterstock
Beer chili is more an idea than a recipe, and that's what makes it great. Basically, you're just going to throw your ingredients in, cook for around 20 minutes on the Chili setting, and you're done! It really is that easy, so let's talk beer.
Add as much or as little as you like, but you should probably start by adding a whole 12-ounce beer to the mix. There's no right or wrong beer to choose — adding a lager is going to give you a very, very different flavor than if you go for a darker beer. Just choose something you like, and build from there. Use ground beef, pork, or even ground turkey for a lighter, healthier chili, and add things like red beans, hot peppers, diced celery and onions, corn... really, add any and all of your favorite chili ingredients (or what you happened to have on hand). Chili — especially beer chili — is a great way to use up some of the leftovers on the night before you go grocery shopping, and let's be honest — this sounds a lot better than a mix-and-match sort of garbage plate, doesn't it?
Limoncello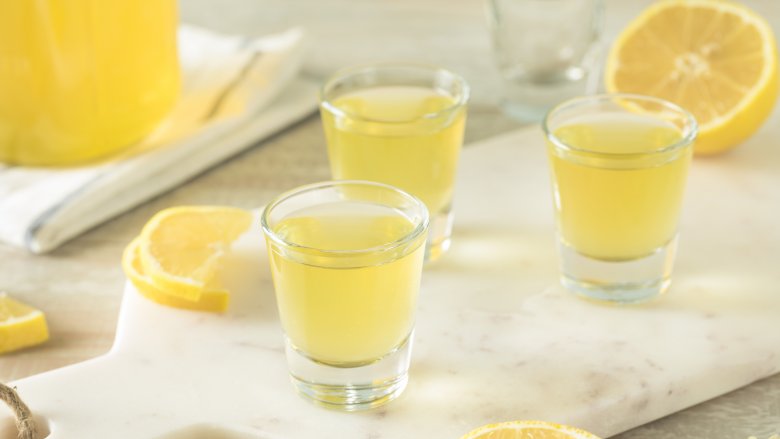 Shutterstock
Limoncello is essentially lemon and vodka, and normally, it can take weeks for all that lemon flavor to infuse into the vodka. The Instant Pot does it in just 30 minutes, and all you need to do is take your lemons, and cut off the peel (avoid the white part, as that'll impart a weird bitterness if it sneaks in). Fill a few canning jars with vodka, put in as much of the peel as you'd like, screw on the caps on set them on the metal rack in your Instant Pot. Next, let the Instant Pot run on a 30-minute manual pressure cycle and a full natural release. At the end, you'll have your base for limoncello! Once it cools, add some simple syrup to sweeten it up (and you do keep some of that in the fridge, right?) and best of all, it'll last for months either in the fridge or freezer.
While we're talking limoncello, let's talk cocktails. Try mixing it with a dash of bourbon and some orange bitters for a sort of limoncello sour, or add it to your gin and tonic for a delicious twist on an old favorite. What's more perfect for those hot summer evenings?
Beer can chicken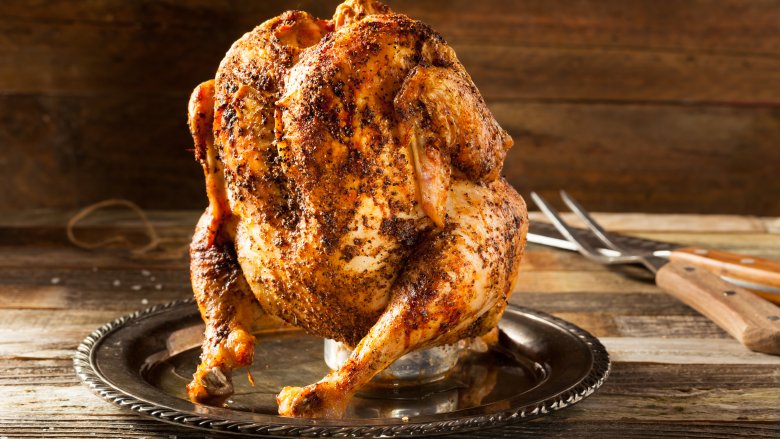 Shutterstock
What camping trip is complete without a beer can chicken?  If you can't make it camping — or if the craving strikes when you're not setting up a tent — you can definitely make this one in the comfort of your own kitchen.
Prep your whole chicken just like you would if it was heading for the grill, and pick your beer. Pop the top, slide the can inside, and balance it on the bottom of the Instant Pot. It might take some maneuvering, but that's all right. Add a cup of water and some veggies — chunked carrots, celery, and onion — then just cook on high pressure for 30 minutes. A natural pressure release later, and your beer can chicken is done.
There are a couple other tips that go along with this one, too. The skin isn't going to be super-crispy, and if that's a deal-breaker, pop it under a broiler for a few minutes to add that extra crisp. You can make a booze-free version of this, too, using a can of soda instead of beer.
Beer cheese soup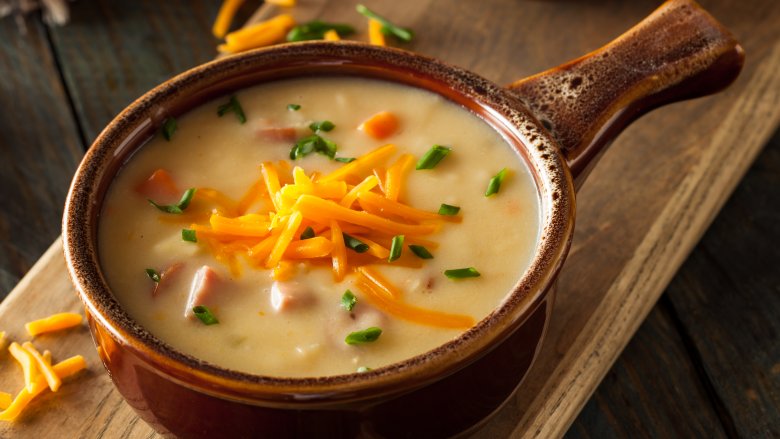 Shutterstock
Try beer cheese soup once, and you'll find it's something you'll want to add to your regular rotation. It's not just great for lunch or dinner on a chilly day, it's also perfect to dish up and eat on the couch with a side of pretzels for dipping. It's easy and it's versatile, too — there's no right or wrong beer to use, and you can definitely experiment with the cheese.
Start by sauteing carrots, celery, and onions in the bottom of your Instant Pot. Add your seasonings as you stir — try mustard powder, onion, and garlic — and once your onions have cooked through, add chicken stock, a dash of Worcestershire sauce, a few tablespoons of butter, and a bottle of beer. Close, cook for six minutes on high, then wait through a natural pressure release. Now, it's time to add the cheese, a bit at a time. Let it melt, and keep stirring to thicken the soup. Once it's the consistency you're looking for, serve it up right away.
Beer brats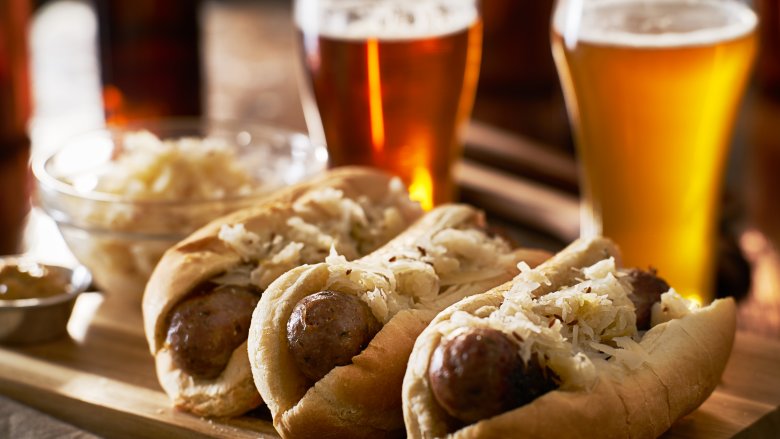 Shutterstock
Who out there doesn't love a good Oktoberfest celebration? The beer, the brats... and the beer brats. Pick up some classic German sausage at the butcher and you can have an at least semi-traditional Oktoberfest with help from your Instant Pot. It'll take a bit of planning ahead, but not a terrible amount. All you're going to need to do is leave your beer out and open overnight, so it loses carbonation. Get creative — choose a favorite lager, or mix-and-match a few complimentary beers for a completely different kind of flavor.
Then, just pour your beer into the Instant Pot, put your sausages into the steamer basket, and cook on high for 25 minutes. Do a slow release, and you'll end up with steamed sausages that not only keep their snap, but that are infused with some awesome Oktoberfest flavor. Grab some buns and your sauerkraut, slather on some spicy mustard, and dig in.
Apple brandy cranberry sauce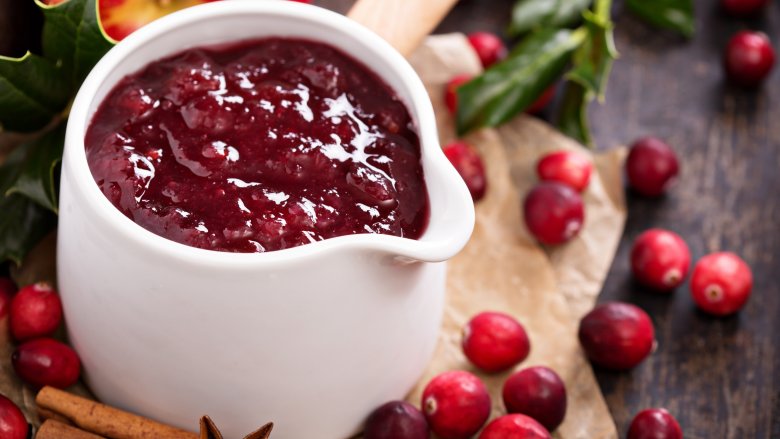 Shutterstock
Cranberry sauce can be the most questionable part of any Thanksgiving dinner — you know, the dish that people take just to be polite. But get creative with it, and you might find guests going back for seconds.
The Instant Pot basics are easy. Just add your cranberries, orange juice, orange zest, a bit of cinnamon, and a dash of salt, then cook for six minutes and release for 10. Once that's done, open and stir on saute for a few more minutes until the cranberries break down and the sauce thickens to the consistency you're looking for.
This is where the fun begins, too. Add some apple brandy for an extra kick, and you definitely don't need to stop there. Stir in some orange liqueur, some grenadine, some red wine, or even some bourbon for a cranberry sauce that just might have people asking for the recipe along with seconds and thirds.
Wine-braised short ribs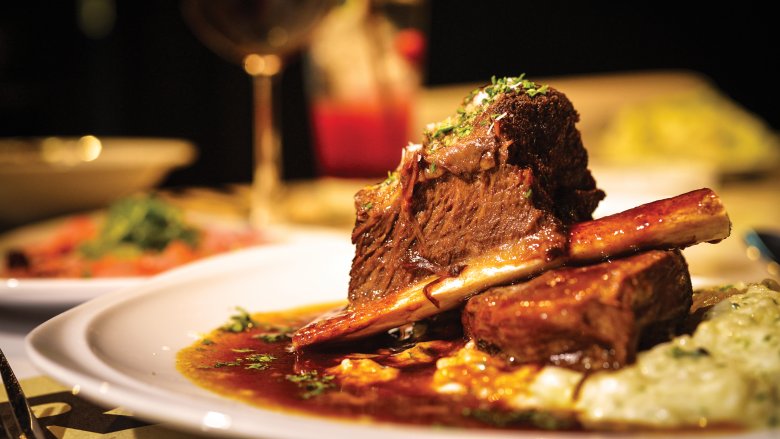 Shutterstock
There's one trick to making the perfect braised short ribs in the Instant Pot: sear them first, with olive oil on the saute setting (you can also marinate them overnight, but it's not a necessary step). Once your short ribs are seared, take them out and set them aside while you start to cook your veggies — carrots and onions — and once those have started to cook, put your short ribs back in on top. Add your stock, salt and pepper to taste, and as much wine as you'd like. Make sure your ribs are covered, then cook on high for 40 minutes. After a 15-minute natural pressure release, your ribs will be done.
Even after the ribs are done, you can let it simmer for a little while longer to make sure they've absorbed all that delicious flavor. You can also opt to thicken your sauce a bit with some cornstarch or even some molasses, cook a little longer, then serve over rice, polenta, or mashed potatoes, cauliflower, or turnip.
Beer-pulled turkey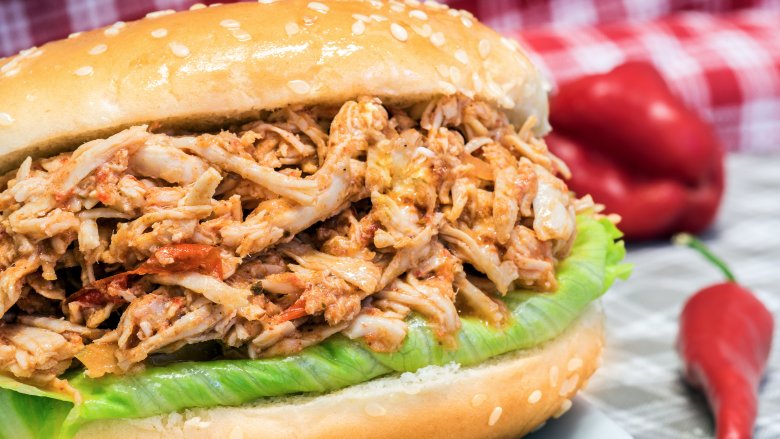 Shutterstock
If you think of turkey as being just for Thanksgiving, this simple idea will definitely change your mind. There are a few different ways you can do this, so let's talk dark meat first. A few pounds of turkey thighs can be cooked from raw in about 45 minutes. If you opt to go this way, add your thighs and fill the rest of the way with a dark port beer, and — depending on what kind of beer you choose — you can compliment that with brown sugar, molasses, mustard paste, tomato paste, and salt and pepper to taste. Once they come out, the meat will all but fall off the bone.
Alternately, you can do the same thing with white meat. Just pick up a turkey breast, fill the same way, and cook. The only thing you'll need to be careful of is monitoring cooking times, as it's going to vary based on the size of your breast. Use a meat thermometer to make sure the inside is up to temp before you shred, then serve on a roll with some of the sauce, or use them for tacos.
Guinness beef stew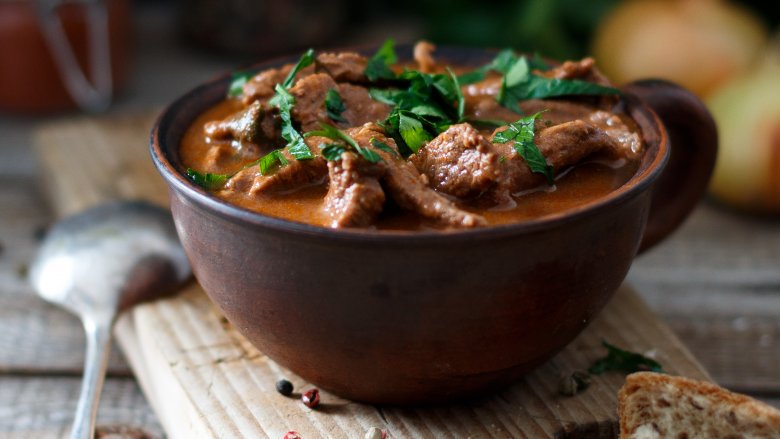 Shutterstock
Beef stew is another old classic that can benefit from a little added booze, and if you've never added some Guinness to yours, try it and you may never go back. The Instant Pot makes it super easy, and you just need to start by sauteing the beef just long enough to brown it on the outside. Then, cover with a mix of beef stock, Worcestershire sauce, onion powder, garlic, salt and pepper, and other seasonings (like thyme, mustard, and bay leaf) to taste. Add your beer, too, and while you don't have to use Guinness, you should definitely opt for a dark stout.
Cook on the Meat/Stew setting for 30 minutes, then do a quick release and, if you like, add in your carrots, onions, and potatoes. Cook for another 4 minutes on high, and that's it! If the gravy isn't quite thick enough, you can use some cornstarch to thicken and simmer for just a few more minutes, then it's ready for the bowl.
Coq au vin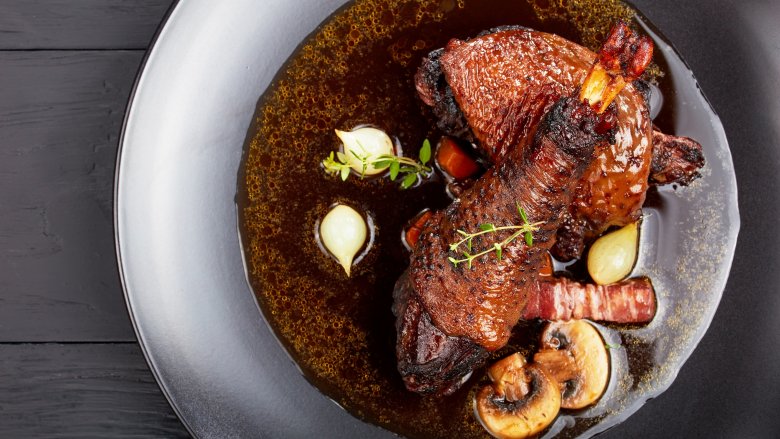 Shutterstock
A traditional coq au vin is made with a rooster, but it you can't find one of those at the grocery store, you can use a small chicken or something like a Cornish game hen — as long as the bird will fit into your Instant Pot, you're good to go!
You can start by marinating your bird, but it's not necessary. When you're ready to cook, saute a few tablespoons of butter until it's bubbling, then put your bird in. Let it saute for a bit — the goal is to crisp up the skin — then add your carrots, shallots, rosemary, and garlic. Add your broth — a mix of wine, chicken or vegetable stock, and seasonings to taste — to the pot, then start by cooking on high pressure for 25 minutes and set for a 30-minute pressure release. Here's where it gets a little tricky. That's just a general sort of guideline for a bird that's around three pounds, but if you go much bigger than that, you'll need to add about 6 minutes per pound to the cook time. It's not exact — check the internal temp of your chicken before you serve.
Mulled wine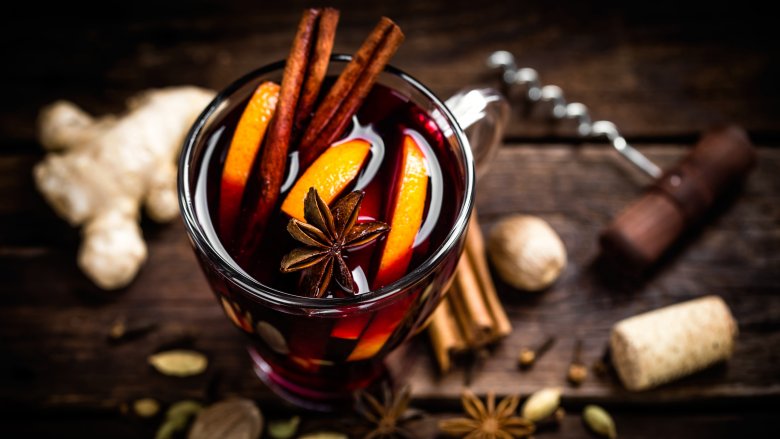 Shutterstock
Mulled wine — or gluhwein — doesn't have to be just a special holiday treat. Making the perfect batch isn't difficult, but there is one rule you should always keep in mind when you're making it: never boil your wine, only warm it. It's that rule that makes this the perfect drink to make in the Instant Pot!
First, mix up your wine. Start with a heavy, flavorful red, but don't bother getting a super-expensive bottle. You're going to add so much to it that it doesn't really matter, and if you happened to pick up a few affordable bottles on your last trip to Aldi, this is the perfect use for them. Then, add your traditional spices: nutmeg, cloves, star anise, and a few cinnamon sticks. Toss in an orange, cut into slices, and add a similarly prepped apple if you like. Cook on high for just a minute, do a natural pressure release, and you can let this one sit on "keep warm." Pro tip: add a shot of rum, brandy, or bourbon to the glass before you serve, and it'll warm you right up!