PopCorners Breaking Bad Super Bowl 2023 Commercial Reunites Walter, Jesse, And The Kingpin
"Breaking Bad" fans rejoice! Even though everyone's favorite science teacher-turned-meth king Walter White died in the show's finale, fans will get another chance to see actor Bryan Cranston's character on-screen with Aaron Paul's Jesse Pinkman (per Refinery 29 and Forbes). Cranston had previously teased the forthcoming ad in a cryptic Twitter post showing himself in his character's signature garb, amidst a merciless desert background and holding a big blue bag of PopCorners chips. The image was captioned "Breaking soon," followed by the date of the 2023 Super Bowl, heavily implying an ad was on its way from Cranston and the chip brand.
Though some fans have been speculating that this could mean a new season for the show, we think between the release date, the sponsorship, and the new information released yesterday, a Super Bowl ad is more likely. While you may not be super familiar with this brand of popped corn chips, PopCorners is clearly going big this year with some help from the iconic "Breaking Bad" duo.
Reuniting one of TV's favorite teams
Now we know for certain that actor Aaron Paul's Jesse Pinkman will be joining Bryan Cranston on Super Bowl Sunday, thanks to a hint-filled YouTube teaser trailer released by PopCorners on January 19. The clip shows Paul seated in a lawn chair looking out at the desert, munching down on a bag of PopCorners chips while wearing a hazmat suit. Beside him is an empty chair, suggesting he's waiting for someone. As the shot pans out, we see a bullet-holed trailer, where Paul and Cranston's characters kept themselves busy cooking meth in the show's first few seasons (per Forbes). If you look closely, you can see the duct tape over the bullet holes on the door. Now that's attention to detail.
As the shot pans out, Paul's phone rings, and he answers, "Yo, what's up?" implying that chair is for someone. The ad ends with the show's theme music and "02.12.23" on the screen. While the real ad, for which this is in itself an ad, will play then during the Super Bowl, it doesn't end there.
New details and new stars join the all-star ad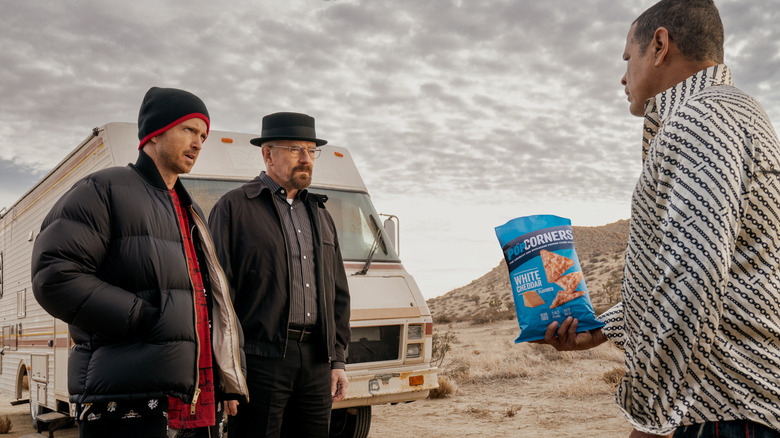 PopCorners
PopCorners didn't stop there, as the brand is really pulling out all the stops to steal fans of chips and salsa during the big game. In a new promo released just on January 26, called "Ignition," we see Bryan Cranston's Walter White and Aaron Paul's Jesse Pinkman riding together in the RV that was teased in the previous trailer (per ET Canada and YouTube). After a few seconds of banter, the title comes up saying "Breaking Soon" in the classic "Breaking Bad" font.
The brand released two more major nuggets of information about the upcoming ad that should have fans in a tizzy. What would our heroes do without a worthy antagonist? Admittedly, White is, according to Movie Web, the ultimate antihero. But even antiheroes need antagonists. And fans will be seeing the return of Season 1 and 2 villain, Tuco Salamanca, played by Raymond Cruz (per Variety). Additionally, this reunion will be directed by the show's creator, Vince Gilligan (per IMDB). PopCorners appears ready to hit it big with "Breaking Bad" fans, and hopefully score some new fans.