Cinnamon Toast Crunch Sounds Off As New Bugles Flavor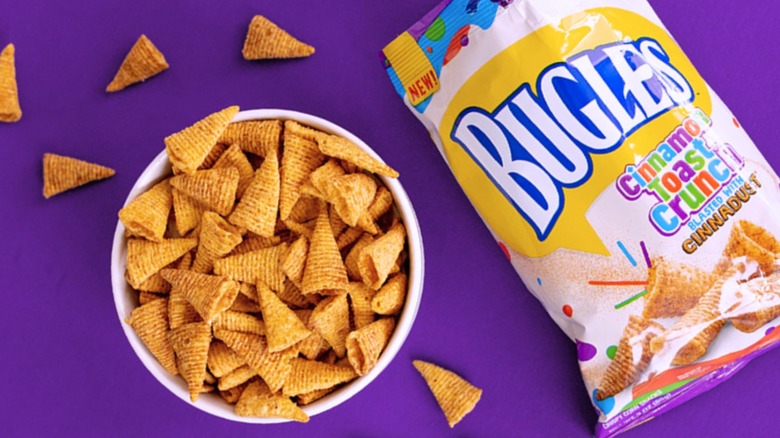 General Mills
Cinnamon Toast Crunch has been touted as a favorite cereal of Americans as Pattern reports that Cinnamon Toast Crunch was the most in-demand cereal on Amazon U.S. marketplace in 2021. And what's not to like? It's crunchy, there are cinnamon swirls on each textured square, and the taste of cinnamon lingers in the milk long after you've finished the solid cereal. And, if you just can't get enough of this sugary cereal, luckily for you, there are other Cinnamon Toast Crunch products to try, including yogurt, oatmeal, and popcorn.
If you've long ago finished your breakfast and it's starting to approach the lunch hour, chances are you're looking for a snack. Bugles are a tasty and fun choice – we mean, who hasn't played around with a Bugle on their finger? Debuting in 1964, Bugles were one of General Mills' first snack foods to hit the market (via General Mills), and today there are numerous popular flavors including nacho cheese, Hidden Valley ranch, chocolate peanut butter, and even churro.
What's even more exciting is that these two snacks are now coming together to create a brand new product that snackers and sugary cereal aficionados alike are bound to spring for (via Brand Eating).
Find Cinnamon Toast Crunch Bugles at a convenience store near you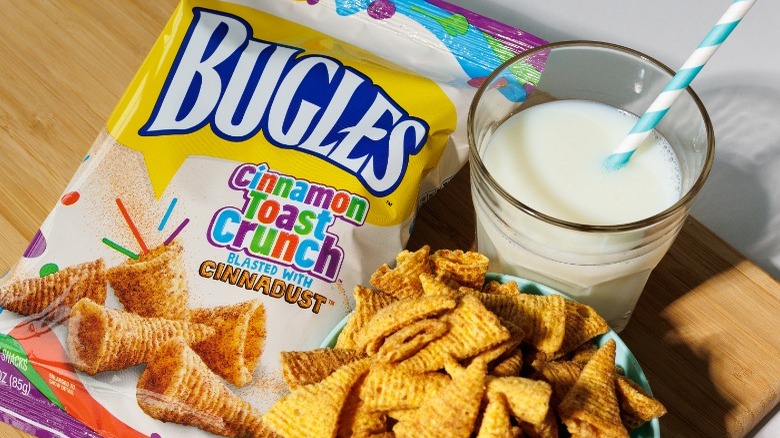 General Mills
Per Brand Eating, General Mills has released a new product that's a marriage of the cinnamon flavor goodness you associate with Cinnamon Toast Crunch and the infamous corn chip Bugles: Cinnamon Toast Crunch Bugles. The new creation features the shape of a traditional Bugle, but, as the bag states, is "blasted with Cinnadust," a Cinnamon Toast Crunch seasoning released in 2020 sold in Sam's Club Stores (via Brand Eating).
Instagram accounts @buglememes and @cinnamontoastcrunch announced the launch of the new product, calling it "the perfect sweet and salty combination," featuring a pic of a bag of the chips next to a glass of milk, suggesting the perfect drink to wash them down with. Fans littered the comments with plenty of heart-eyed emoji, voicing excitement for the release of the new snack. "Omg the crossover I never thought I needed," wrote one Instagrammer while another commented, "Both of you, TAKE MY MONEY!!!" One person was optimistic about the potential success of the chips, writing, "Y'all might be onto something."
Three-ounce bags of Cinnamon Toast Crunch Bugles can be found in convenience stores for about $2.99.