Price Gouging Could Be To Blame For Sky-High Egg Costs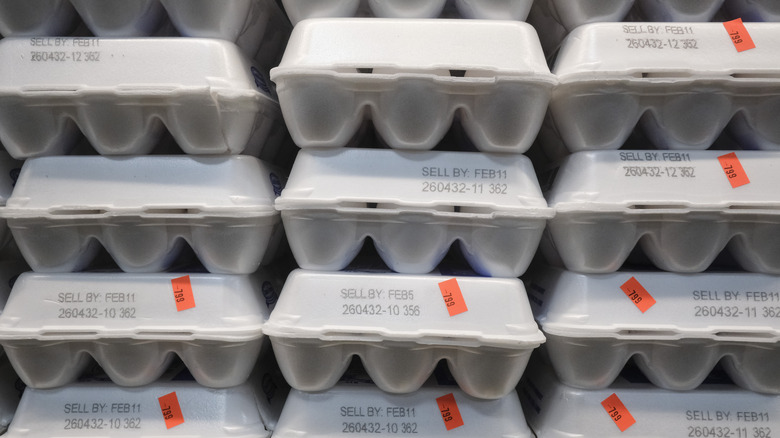 Bloomberg/Getty Images
Once known as a staple of budget-friendly cooking, eggs have become a new luxury, as egg prices went through the roof for the third time late last year. While in December 2021 the average price of a dozen eggs in the U.S. was a super affordable $1.79, by December 2022, that price had risen to a dizzying $4.25 (per U.S. Bureau of Labor Statistics). Over the past year, the price of a dozen eggs has risen 138% (per Time).
You may have noticed sky-high prices at the grocery store this past year, and that's no surprise. Inflation hit a 40-year record high this past June and hovered nearby well into the fall (via U.S. Bureau of Labor Statistics & NextAdvisor). Groceries were one of the areas people felt inflation the most, and even as general inflation began to cool, food inflation remained high. According to the Consumer Price Index report for December 2022, overall inflation fell 0.3% to 6.5% over the previous month while food inflation continued to rise 0.3% over the previous month and 0.6% over the month before that, hitting 10.4% in December. Groceries specifically hit 11.8%. But 11.8% is still nothing compared to the change in the price of eggs. While the price of a dozen has gone up 138%, the CPI records inflation in egg prices as a still astounding if not quite as astounding 59.9% increase from December 2021 to December 2022.
Egg prices: coincidence or collusion?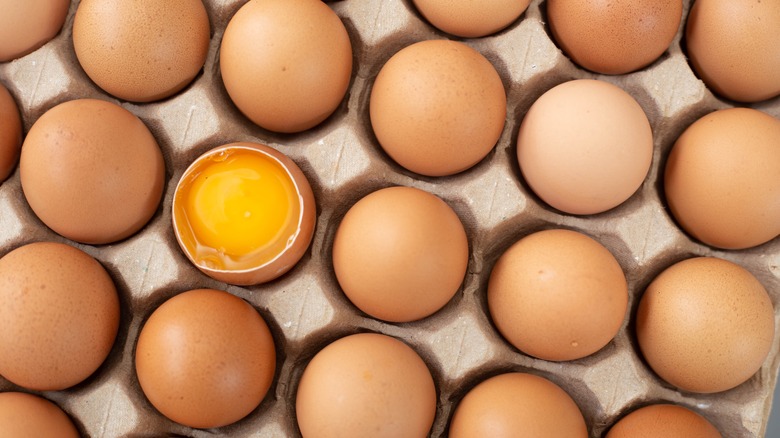 Parkin Srihawong/Shutterstock
So where has that 138% increase in the price of a dozen eggs come from? Inflation has played a part, as well as rising feed costs, supply chain issues, and, of course, the big player in this egg price crisis, the Avian flu outbreak (per Time & TribLive). 58 million birds have been wiped out by the disease in the past year, and of those nearly 40 million were egg-laying hens (per NBC News). How did we lose so many? 
When any bird becomes infected on a commercial poultry farm, the whole flock has to be put down and the facility disinfected in a laborious and time-intensive process that can last for months. In total, the U.S. stock of eggs is down 29% from what it was a year ago, but farm advocacy group Farm Action claims it's not as simple as sick birds and downed flocks. According to the group, large producers used the Avian flu as a scapegoat. 
In a letter to Federal Trade Commission Chair Lina Khan, Farm Action is accusing egg mega-producer Cal-Maine Foods of "apparent price gouging, price coordination, and other unfair or deceptive acts or practices" in the hopes that the FTC will investigate. Cal-Maine, which produces Eggland's Best, Land O' Lakes Eggs, and Farmhouse Eggs, is the U.S.'s top egg producer (per Hendrix Genetics). Despite conditions that would logically create a stressful year for America's largest egg producers, Cal-Maine experienced profit growth of over 600% over the same quarter a year ago.