Hormel Captures Chili Cheese Dip In New Game Day Beer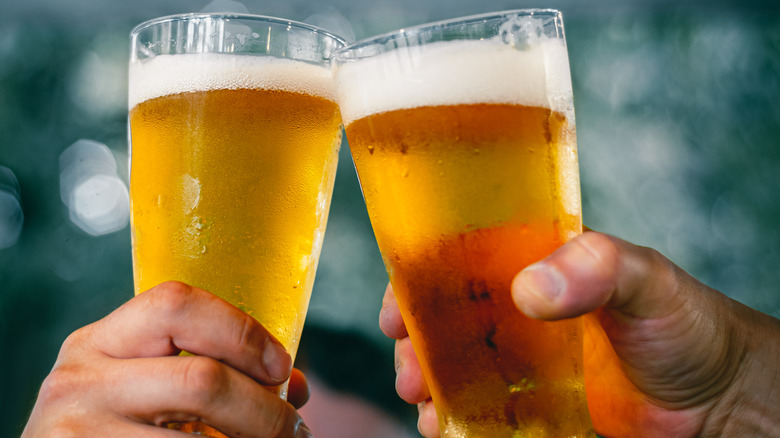 siamionau pavel/Shutterstock
Super Bowl Sunday is upon us, and it's not just a big day for football fans, but snack enthusiasts, too. Common Super Bowl Sunday food traditions include plenty of All-American flavors — potatoes of all configurations, comical homemade takes on fast food, plenty of decadent dips like buffalo chicken and classic queso. On top of all of the indulgent snacks at every Super Bowl party, there's usually a solid stock of beer. It's no surprise that people drink a lot of beer during the Super Bowl; in 2018, Treehugger found that enough beer was consumed during the big game to fill nearly 500 Olympic-sized swimming pools. This year, food and snack manufacturer Hormel Foods decided to get a cut in on the beverage market with an all-new, maybe eyebrow-raising brew. 
In a January 24 press release, Hormel announced the collaboration (which is happening in partnership with Minneapolis-based Modist Brewing) and that the two companies would be releasing a limited edition Chili Cheese Brew for Super Bowl Sunday. And we don't mean that this beer simply pairs well with chili cheese dip, though it's possible that it does. No, we mean it has flavor notes of actual chili cheese dip. Strange as this may seem, Hormel promises an ick-free, highly sippable beer that will be a welcome addition to any football feast.  
What does it actually taste like?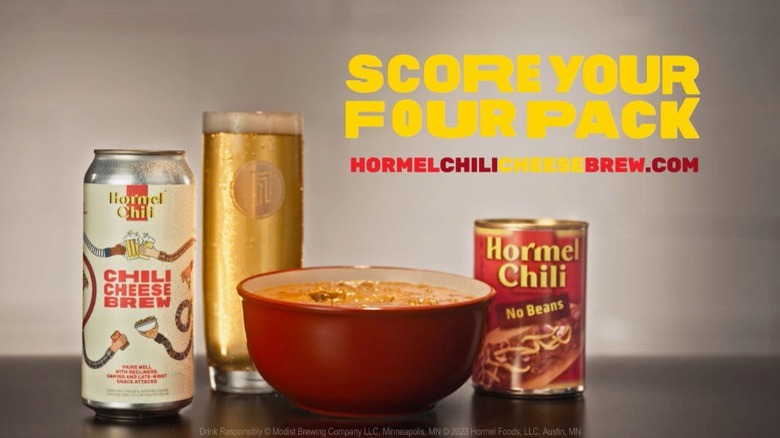 Hormel Foods
Chili cheese dip is a pretty popular choice on game day, and can be happily enjoyed with tortilla chips, potatoes, veggies, and just about anything else you can get your hands on. Hormel has its own prepackaged chili cheese dip, and the company's new American lager is meant to emulate its flavor notes. In Hormel's press release for this new unconventional type of beer, it states that the drink is corn chip-based and has some spices and cheddar cheese notes. If drinking cheese and spices doesn't sound like your cup of tea, consider the popularity of beer cheese. Beer cheese is made up of melted cheese, spices, and of course, beer. The earthiness and funk of the booze plays off of the salty, creamy, rich cheese mixture. 
The brew is making a splash over on Reddit. "That sounds so horrible I had to read the article twice to make sure I was reading it correctly," one commenter declared, while another noted his friend tried it and said it "was pretty tasty and not overpowering the way you'd think." If you're curious, you can order a 4-pack from Hormel's website as of January 24. The press release does confirm that the chili cheese beer will ship in time to be enjoyed during the Super Bowl on February 12.