Tom Colicchio's Super Bowl 2023 Tacos, Explained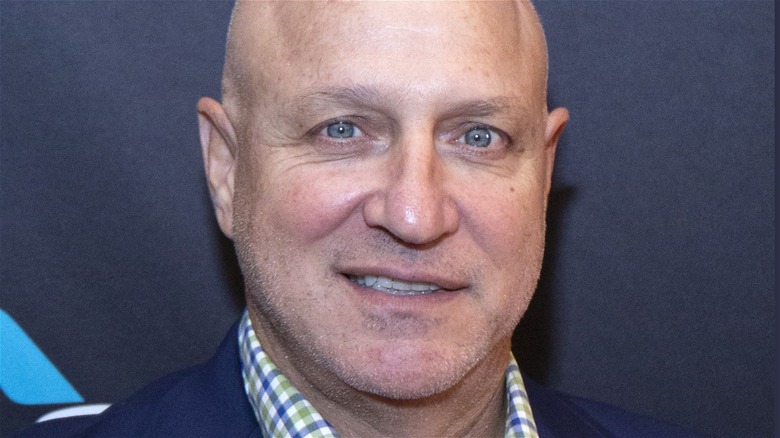 Santiago Felipe/Getty
The 2023 Super Bowl may not be until February 12 (via NFL), but that doesn't mean that players, football fans, Rihanna stans, and game day snackers aren't already making plans for the big day. Doritos is already teasing a secret celebrity in their Super Bowl ad, and party hosts are brainstorming their most epic Super Bowl party food ideas. So what's on the menu?
The most popular Super Bowl snack according to Instacart is a humble bag of chips, while some states prefer items like cheeseburger sliders, chicken wings, and Buffalo chicken dip (via Google Trends). But Tom Colicchio, one of the star judges and mentors of "Top Chef" and a restaurateur in his own right, has something else planned for the big game. His Craft restaurant in New York City offers a Super Bowl Spread once a year, and if the menu is anything to go by, then for Colicchio the top Super Bowl snack has got to be tacos with a side of nachos and margs for good measure.
Tom Colicchio's tacos are already sold out
Tom Colicchio's Craft restaurant started its "Craft At Home" program locally in New York during the first year of the COVID-19 pandemic. In 2021, Craft introduced its first Tom Colicchio Super Bowl Spread package (per The New York Times), and it was successful enough to return in 2022 (via Instagram) and 2023. Each package is priced at $155, and includes the supplies for making 20 tacos, including tortillas, braised mojo pork and braised brisket, salsas, slaw, guacamole, black bean salad, tortilla chips, and more. There's also an optional cocktail package add-on, for an additional $56. Both the food and cocktails are enough for four hungry football fans. 
Though Colicchio confirmed on Twitter that the taco spreads were available this year, with reservations opening on January 26, the Craft Restaurant website says that Super Bowl ordering is already closed. It's also only available for local pickup, so if you're not in New York City, you're doubly out of luck. However, those who have tasted the spread in the past had rave reviews. "It was SPECTACULAR," one Instagram user said. If your appetite for tacos has been stoked, but you want some more traditional game day food too, you're not totally out of luck. Taco Bell's chicken wings are making a return in time for Super Bowl LVII, and you can get 20 tacos there and an order of wings for a lot less money than you'd spend on Craft's Super Bowl Spread.