Mashed Survey: The Best Rice And Beans According To Fast Food Lovers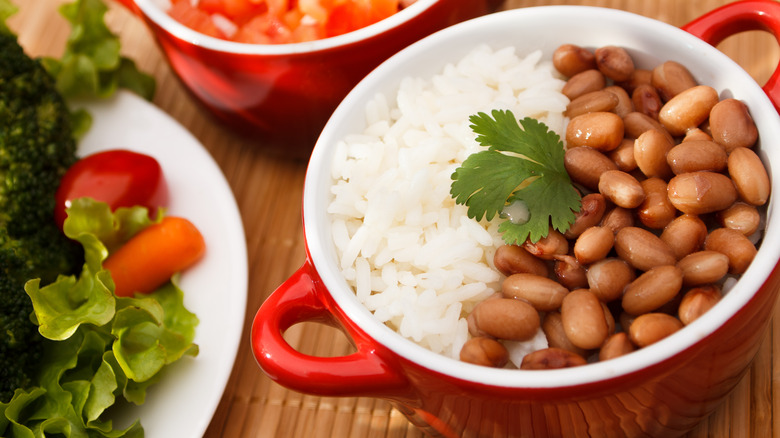 Diogoppr/Getty Images
Rice and beans can be a satisfying side or a stick-to-your-ribs meatless main dish. While it's usually sold in side dish sizes at restaurants, a quick hack to turn it into a main dish is to order, too. And this creamy, flavorful food is nutritious as well. Rice and beans eaten together form a complete protein (per Heart.Org). Both beans and rice lack some necessary essential amino acids to form a protein. But put the two together, and a little science happens- – you get a complete protein.
While both rice and beans (separately) were on the menu at the original Popeyes franchise locations, the original Popeyes menu looked completely different. Popeyes original rice and beans were rice dressing and barbeque beans, it was only over time that the restaurant took on its now-familiar cajun flavor (per So Yummy!). According to So Yummy, Taco Bell's original menu didn't include their famous rice and beans, either. But now both of these brands' rice and beans are considered classics of the genre. So what fast food joint makes the best rice and beans?
The best rice and beans in the game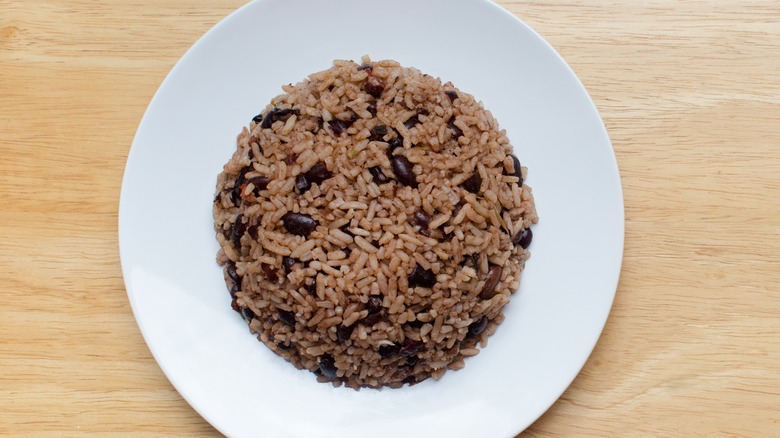 Mabelin Santos/Shutterstock
For the connoisseur, we asked 622 Mashed readers what they thought the best rice and beans out there today is, and here's what they had to say. The Qdoba rice and beans have the fewest fans, taking fewer than 50 votes and less than 8% of the vote. Taco Bell was the next least popular, bringing in a respectable 10% of the vote. Moe's Southwest Grill's take on the classic dish brought in 11% of the vote. Chili's got up there with nearly 80 loyal fans, bringing it close to 13% of the total.
In second place, with 106 votes, were the creamy beans and rice from Popeyes, clocking in at 17% of the vote. However, taking home a landslide victory was Chipotle's rice and beans, with an astounding 41% of the vote and a remarkable 257 votes. While a side of rice and beans isn't a formal menu option at Chipotle, if you order it, you'll get the same flavorful beans that make up their burritos and bowls (per Reddit).