The Original Popeye's Menu Looked Completely Different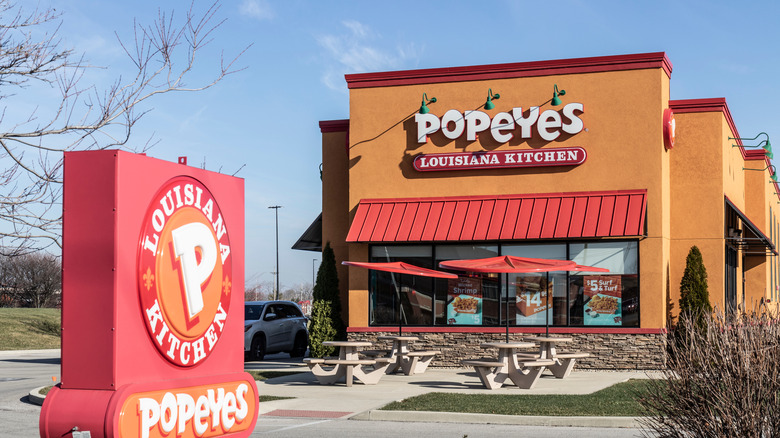 Shutterstock
Popeyes is one of the several powerhouses of fried chicken in the United States, squaring off against KFC, Chick-Fil-A, BoJangles, Zaxby, Raising Cane's, and Church's. With its unique style of New Orleans-inspired dishes in addition to its popular flagship chicken, Popeyes has established itself as an easy way to get down-home Louisiana cooking with fast-food convenience.
But way back before its famous take-out box of chicken and biscuits were even dreamt up inside of a marketing executive's head, there was a time when the Popeye's menu was a bit more exotic than your average fried chicken shack. From the moment when Popeye's founder Alvin Copeland opening the first Popeyes in 1972 (via Popular Timelines) to the first buttermilk biscuits introduced in 1983 (personally tested by founder Al Copeland himself over the course of several months to ensure their flaky perfection, says 64 Parishes), Popeyes truly did everything it could to stand out against the other fried chicken giants of the day.
Popeyes may have looked like a fledgling among the growing giants of fast food, especially Kentucky Fried Chicken, who was literally the colonel of chicken in the day. But, the key to success lied within the secret, New-Orleans inspired recipe for some of the spiciest, crunchiest, and most flavorful chicken Louisiana, and soon the world, would ever see.
The first Popeyes: flamboyant and fried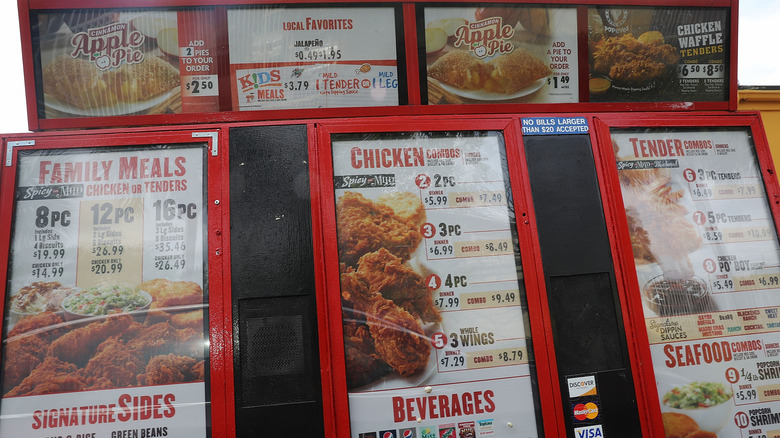 Joe Raedle/Getty Images
In 1976, the company opened its first franchise restaurant in Louisiana (via Popeyes), boasting a rather colorful menu to start. According to So Yummy, not only was there the obvious fried chicken, but the company boasted a variety of clams, "livers and gizzards," rice dressing, BBQ beans, cole slaw, onion rings, French fries, a chicken taco, corn on the cob, peppers, pudding, and apple pie. Gizzards? Clams? A chicken taco? Quite a far cry from the chicken, cajun fries, and biscuits of today. But it was a start, and a successful start, at that. (Check out an image of that early menu at So Yummy.)
True, you may not be able to order clams from Popeyes today, but signatures such as French fries, corn on the cob, beans, and apple pie are still on the menu, along with everything else that makes Popeyes a favorite. In May 2020, the company's same-store sales soared by 40% (via CNBC), and QSR ranks Popeyes 13th among the top 50 highest-grossing quick-service chains in the country in terms of average unit volume. The chain's chicken sandwich seems to be driving some of the increased success. Perhaps it's good marketing, perhaps good chicken, or perhaps it's just seeing those Popeyes joints shaped like French Quarter houses that makes us think of the fantastical rich culture of New Orleans and the deliciously tempting taste of Cajun cooking right in our own backyards.